NOTE: The below Blu-ray captures were taken directly from the Blu-ray disc.

ADDITION Studio Canal Blu-ray March 2016: This is a 4k-restored 2-disc Blu-ray edition from Studio Canal, and it will, no doubt, be one of the most-anxiously awaited releases of the entire year - as Cinephiles await the value of this stacked package. Firstly, excuse the less-orthodox manner of this comparison - the size (10 digital editions) required us to diverge from our usual format. The restoration had the master - taken right from the camera negative but while in decent shape had some folds and breaks on a few dozen frames. The 4K digitization was able to get as close as possible to the 35mm resolution. People will debate the colors (too dark? too much teal/blue?) but I can only tell you this - after watching both on my 60" system the Studio Canal 4K restoration, 1080P, is a gigantic leap over the LionsGate / Maple Films Blu-ray from 2010 - that I had issues with. Beside the 4K-restored the 2010 BD looks extremely thin, boosted and has artifacts while the new Blu-ray has a beautiful rich thickness that has a strong film-like sense. The, much, darker look seems far more accurate and authentic to this reviewer. The stills don't do this transfer justice (look at the four captures at the very bottom of this webpage for a more impressive representation) and in-motion this is a revelation after suffering the many sub-par transfers of RAN. I watched this in awe. And the transfer seems to grow on you the more you view it.

Studio Canal gives the option of a DTS-HD Master 5.1 surround at 2181 kbps (16-bit) or a similar, lossless, 2.0 channel transfer option - plus English, French or German DUBs - also in uncompressed. The unforgettable score is by iconic Tôru Takemitsu (Hiroshi Teshigahara's Pitfall, Antonio Gaudí and Woman in the Dunes, Masahiro Shinoda's Pale Flower, Masaki Kobayashi's Kwaidan

plus Rikyu, Shohei Imamura's Black Rain, Kurosawa's Dodes'ka-den etc. etc.), Even at 16-bit the lossless sounds majestic and powerful - meshing with the film's epic visuals to create a hypnotic, almost overpowering, presentation. There are optional English, French or German subtitles and the disc is region 'B'-locked.

On the first Blu-ray disc - sharing the dual-layered transfer with the feature film is a 9-minute French-language piece on the specifics of the 4-K restoration. It's very informative and detailed documenting the difficulties and successes - it has optional subtitles. On the second Blu-ray disc (also dual-layered) we get the full edition of AK - Chris marker's 75-minute look at the making of RAN - as found on both the 2005 Criterion and 2006 Optimum DVDs. Akira Kurosawa: The Epic and the Intimate is another French documentary film (as found on the LionsGate Blu-ray) that contains interviews with some European filmmakers and their view of Kurosawa. It touches upon his relationship with his crew and working methods - from that standpoint it is highly interesting. It runs 42-minutes. Akira Kurosawa by Catherine Cadou runs almost 1/4 of an hour in French with subtitles. She is known for her translation work with Kurosawa (Press conferences etc.) and on Kurosawa's Way (2011), Our Little Sister (2015) and Dreams (1990). Art of the Samurai runs over 40-minutes and gives some excellent historical background. There are interviews with the , the Director of Photography - Mr. Ueda runs about 10-minutes - cinematographer Shôji Ueda talks about the storyboard preparation, meticulous colors in costumes etc., an informative piece of an overview of Kurosawa's career from Michael Brooke for 16-minutes along with representations of King Lear to RAN. We also get a 21-minute conversation with Ms. Mieko Harada who discusses her important role as Lady Kaede in RAN - it's inception, how she got the job, rehearsal adjustments etc. (Japanese with English subtitles.) Fans of the film might appreciate a 1/4 hour stage appearance at Tokyo International Film Festival 2015 introducing the 4K-restoration and the, almost hour-long The Samurai - an English language film talking about the historical context of the samurai spirit, and its rigid code celebrated and admired in present-day Japan (as also found on the LionsGate Blu-ray).

My only excessively fastidious reservations of this new release are a lack of commentary and the use of only 16-bit audio - as opposed to 24. I will reiterate that I can't speak to the colors of this 4K-restored Blu-ray release but, in my opinion, the image was, by far, the best I have ever seen Kurosawa's RAN in-motion in my home theater. Nothing leads me to believe anything has been manipulated or there are any biases, diverging from its original source . This makes this the definitive digital presentation for this epic film and the extensive supplements (approaching 5 hours worth) add essential value. Our highest recommendation. It has elevated to being a must-own Blu-ray.

***

ADDITION LionsGate / Maple Films Blu-ray Feb 2010: Firstly, unlike other Studio Canal Collections - RAN apparently has a different disc in North America (with a later release date) than the UK (Optimum) and French (Studio Canal) versions from Europe. Unlike those earlier Blu-rays this is region 'A'-locked. From what I can tell we (North America) simply lose Catherine Cadou's 15-minute 'Akira Kurosawa' supplement (probably a rights issue) but I strongly suspect the dual-layered VC-1 video transfer is exactly the same.

People have come to expect such a lavish film with remarkable and striking colors should escalate to a more dramatic HD presentation. Unfortunately, for a variety of reasons, this new Blu-ray doesn't excel visually to the heights that some may have anticipated. Some general points I'd like to make:

1) Some reviewers have stated the video transfer is a duplicate of Universal Studio Canal's 2007 French

HD-DVD disc previously available HERE simply because it is VC-1. It obviously cannot be as the feature file size on the Blu-ray is almost 44 Gig - exceeding the capacity of the now defunct format.

2) While there is edge enhancement, I had to zoom in quite extensively to find evidence of the halos produced by that practice. It looks to me like they are more inherent in the print than produced by the new transfer. But, saying that, it does exist and those sensitive to it may make issue. It didn't seem anywhere near as prominent as on the SC HD-DVD.

3) It is significantly sharper with more film grain than the DNR'ed Jesnet Japanese Blu-ray.

4) The grain is inconsistent and clunky and there is some chromatic shifting going on with edges showing color traces that shouldn't be there.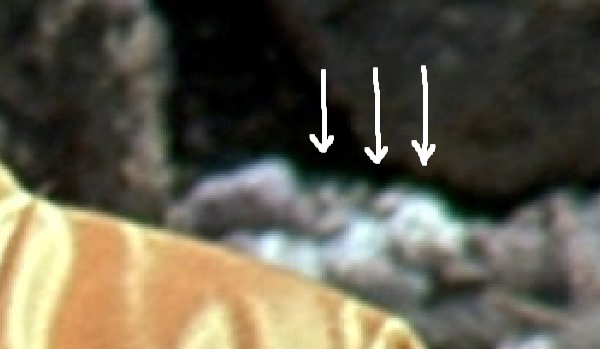 5) Most color - especially reds are vastly improved (most accurate) from all editions but still not as vivid as some may recall theatrically.
Sent in email: "I have to admire your tenacious comparisons of the endless editions of RAN. The Lionsgate BD looks more nearly what I remember of the film's appearance. But none of them looks quite right. This leads me to believe that the original materials are compromised and the colorists were working from problematic sources."
So, this being my 9th edition of Kurosawa's film, I must admit that this new Lions Gate Blu-ray is the best one I own. It is hard to accept, especially for films we reveres so highly, that this may be the best it will look with available elements. I don't have any information to suggest that it will look better with more restoration - or that the original elements are not irrevocably compromised although only 25-years old. At times the presentation is less than satisfying but for the most part it looked better than I have ever seen - digitally speaking.
Audio-wise I was reasonably impressed with both the HD-DVD and Jesnet Blu-ray and I think this Lions Gate rendered sound is probably on a par. It's a healthy DTS-HD Master (original Japanese) 5.1 track at 1813 kbps. I have no way to make a quantitative comparison - so rely on my crusty ears - sampling segments from 4 of the editions. This Blu-ray audio is often more impressive than the video treatment. There are a handful of lossless foreign language DUBs too - and some subtitle options - including English. Surprisingly my Momitsu has identified it as being a region 'A'-locked (not playable in regions 'B' or 'C'). When setting my player to region 'B' or 'C' I received this message:

Supplements are quite strong - all duplicated from the European release. We don't get a commentary but included is almost 4 hours of featurette/documentary extras. AK - is the exhaustive French documentary, also available on the Optimum SE DVD package, with 'fixed' English subtitles running almost 1 1/4 hours in SD. Akira Kurosawa: The Epic and the Intimate is another French/ documentary with some Japanese audio again with 'fixed' English subtitles running just shy of 50-minutes in SD. The Samurai - deals with cultural and artistic representations of the 'Samurai' in both Japanese and world history. Similarly Art of the Samurai - - over 40 minutes - has Jean-Christophe Charbonnier discussing art-direction accuracy from weapons to costumes for RAN. There is a French Trailer for 2-minutes and a 20-page liner notes booklet with photos, cast/crew information and David Jenkins' essay "World Gone Wrong: An Introduction to Akira Kurosawa's Ran". The disc is also BD-Live functional - untested at this time.

So, we can grumble, but it doesn't do us much good. It is imperfect, but despite it's flaws - more bothersome to certain individuals - it gave me a majestic presentation on my 60" Kuro plasma. If you are less prone to pulling out the magnifying glass during viewing you may also appreciate this less-subtly flawed release that is the most film-like of all compared editions. The extras alone seem worthwhile in my opinion. We won't give it a resounding endorsement but at $25 I'm prone to suggest a purchase - especially for fans of the director.

Steve says in email: "I thought I'd write to tell you I saw the print of "Ran" at the Film Forum here in NYC yesterday (Sunday) just hours after reading your comparison review of the new Blu-Ray. The frame grabs from the Blu-Ray were etched in my mind as I watched the film, which was being billed by the FF as "made from the original camera negative - the most vivid print of "Ran" ever exhibited in this country." Indeed, it looked stunning. I thought, based on the few frames you posted, that they were very accurate to the film experience, in all aspects of color, luminosity, and black density. "Ran" has, as it should be, an undeniable film look with grain as part of its canvas. While I haven't seen the Blu-Ray, and therefore not aware of any detailed technical concerns, the replication of the palette of the film I saw on-screen seems to be, from your frames, and my eye, accurate.". (Thanks Steve!)

***

ADDITION Jesnet

Blu-ray Feb 2009: This new Blu-ray seems flawed to me. Either it has come from a non-HD source (up-converts from SD sources!) or has been boosted and has heavy DNR. I have issues with the image quality. Click on the 2nd large capture below (with horses) and see how flat and plastic this dual-layered Blu-ray presents itself. Surely RAN should not look this hazy - colors seem frequently altered (although some will tell us more accurate to theatrical - I defer to them) and detail is uncompromisingly dampened with what appears to be compression artifacts. There are light damage speckles. Even the edge-enhanced French HD-DVD may have been superior.

On the positive colors do exhibit the striking vibrancy that I have heard was apparent in theatrical (at times look amazingly brilliant) but see in the last large capture both fire and flags appear boosted although this tends to support the Criterion scheme. It looks far better in motion - and the more I watch it the better I like it. I'd love to hear from individuals who have experience with seeing this theatrically.

Once again there are no English subtitles (only Japanese) and I can find no extra features on this disc.

At this point, this is a thumbs down - if the lack of English subtitles wasn't enough of a deterrent. Stick with the Criterion or Optimum DVD packages - as discussed below - and let's wait for someone to get this right - a premium choice for high-definition.

Gary Tooze

***

ADDITION: Optimum (2-disc) - Region 2- PAL November 2005': - This new transfer by Optimum is very beautiful. It differs significantly from the previously UK Region 2 Warner transfer, as the Warner appears to have some contrast boosting affecting the colors. It also differs from Criterion Region 1 transfer, as Criterion has a richer, darker image, yet is more compressed than Optimum, as when you zoom in, Criterion reveals more visible compression artifacts than Optimum. To be honest, I do not recall the deep colors of Criterion from my theatrical experience many years ago. To me, there always have been a pale element to the colors, thus I am inclined to favor the Optimum.

Sound is a remixed and cleaned 2.0 Dolby Digital Mono, which has no noise and is very solid. There also is a 5.1 Dolby Digital track, but I do prefer the 2.0 Mono, as there is no real surround or separation on the 5.1.

The additional material is the same as on Warners R2, namely the 71 minute documentary by Chris Marker, here presented in 1.66:1 16x9. It is a superb documentary and needs no comments.

***

ADDITION: Criterion - November 2005 - Initial first impressions are - The Criterion has the sharpest appearance (see capture # 2- the clothes) and the colors have the most natural, non-manipulated look. At times the image is much darker than the other 5 releases although this is not consistent. There doesn't appear to be any cropping on the Criterion release and of course the package is super-stacked with extras. From what I have heard of the commentary so far it sounds wonderful, but I will report back when I have more time to thoroughly get to all the extra features. I've seen Marker's 'AK' and it alone is a magnificent addition. It appears that all other releases show varying degrees of contrast boosting (generally speaking). This Criterion DVD looks just fabulous on my system and I am confident that they have once again risen to the occasion and given us another definitive edition of a masterwork film in the digital medium. Bravo!

******

ADDITION (APRIL 2005 - Universal R2) - I'm a little confused these days so I can't really decide on this issue. The Universal screen captures sent to us are from the rental edition - a single disc with no extras, soon to be sold as a double disc package HERE. It looks excellent. It is not as bright as the corresponding Warner, which I am unsure whether it has had a small degree of contrast boosting or not. Skin tones look better to my eye in the Universal (pinkish red in the Warner). But knowing Kurosawa's penchant for vibrant colors I also lean towards the Warner, although to be honest I leave it to you to decide yourselves between the more muted Universal or the brighter Warner. No other editions are as sharp as these two. When we can obtain the listing of extras in the upcoming Universal we will post them here.

ADDITION (MAY 2004 - Twister and Warner R2) - It is not as noticeable in the reduced screen caps, but the Warner is a pretty clear winner in image. The Twister also looks quite good, and we thought both transfers were from StudioCanal, but they are different. Maybe for some reason Twister recompressed their transfer slightly. In the battle scene with the large volume of smoke there are some slight compression artifacts visible. The Warner Region 2 appears to have been worth the wait. That is our selection.

The Fox/Lorber edition is a mess. The colors have been fiddled with, contrast turned up in spots and subtitles are VERY poorly displayed as well as burnt in. The WellSpring MasterWorks edition in the Kurosawa Boxset ( also set for individual release in April - 03 ) is anamorphic with two well-done commentaries / option for 5.1 and original soundtracks and a much tighter image. Each capture below shows further evidence of the improved WellSpring quality. This is an easy choice for Kurosawa fans.

I cannot explain the discrepancies in the times unless the Masterworks edition did not adjust for the PAL speedup.