(Phillip Noyce, 1994)
Paramount Studios
Review by Gary W. Tooze
Video
Video codec: MPEG-4 AVC
Video resolution: 1080p
Aspect ratio: 2.35:1

Audio
English: Dolby TrueHD 5.1
DUBs: French: Dolby Digital 5.1
Spanish: Dolby Digital 5.1

Subtitles
English SDH, English, French, Spanish, Portuguese, none

Disc
50GB Blu-ray Disc
Supplements:
Featurette: Behind the Danger - 26:34
Trailer (HD)
Disc
43.0 Gig
2:21:15
Disc: 50GB (dual-layered)
Released: July 29th, 2008
Standard Blu-ray case
16 chapters
Product Description:
Harrison Ford returns as intrepid CIA agent Jack Ryan in this critically acclaimed box-office smash from the producers of Patriot Games. When his mentor Admiral James Greer (James Earl Jones) becomes gravely ill, Ryan is appointed acting CIA Deputy Director of Intelligence. His first assignment: investigate the murder of one of the President's friends, a prominent U.S businessman with secret ties to Colombian drug cartels. Unbeknownst to Ryan, the CIA has already dispatched a deadly field operative (Willem Dafoe) to lead a paramilitary force against the Colombian drug lords. Caught in the crossfire, Ryan takes matters into his own hands, risking his career and life for the only cause he still believes in - the truth....
****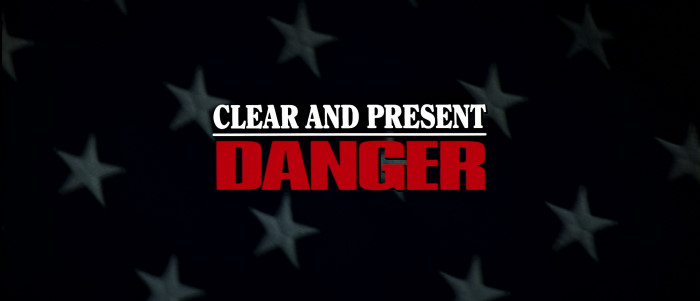 The Film:
Taming the eyeball-glazing prose of Tom Clancy's "
Clear and Present Danger
" with the same brisk efficiency they brought to "
Patriot Games
," the makers of this latest espionage thriller have made their first-rate work look easy. And clearly, it was anything but. No amount of exercise under the hot sun will beat the workout involved in following this story, with its dozens of locations, interchangeable-sounding character names (Cutter, Ritter, Clark, Ryan, many more) and high-tech military jargon. A film with a "cellulose encased laser-guided bomb" for a conversation piece is not to be watched casually.
Yet "
Clear and Present Danger
" (photographed crisply by Donald M. McAlpine and scored by James Horner) looks so lean and moves so vigorously that it actually seems streamlined most of the time. As directed by Philip Noyce, who also did "
Patriot Games
," this becomes another fast, gripping spy story with some good tricks up its sleeve, and with a much more economical style than that of Mr. Clancy's best-selling novel. Three distinctive screenwriters -- Steven Zaillian ("
Schindler's List
"), John Milius ("
Apocalypse Now
") and Donald Stewart (co-writer on "
Patriot Games
" and "
The Hunt for Red October
") -- deliver dialogue that is both colorful and swift.
Excerpt from Janet Maslin's review at the NY Times located HERE
Video: NOTE: The below Blu-ray captures were ripped directly from the Blu-ray disc.
Although noise is still present to a minor degree this may be the best looking of the 4 Jack Ryan Blu-ray releases from Paramount. It's imperfect as far as
Blu-ray
goes but obviously detail and colors are far in advance of the SD SE from May 2003. The MPEG 4-AVC image quality looks very competent and skin tones seem a bit red at times but I could be getting picky. I can't add too much more than simply viewing the captures (and the full resolution ones - linked to the resized below). Like
Patriot Games
,
The Sum of All Fears
, and
The Hunt For Red October
, this came out on HD as part of the
Jack Ryan Collection
(reviewed
HERE
) but once again this must be an improved image as the feature film on the
Blu-ray
takes up a hefty 43.0 Gig of the dual-layered disc - far more than the capacity of an entire HD-DVD. Bottom line - I think this film looks strong but still not quite matching more modern productions I have seen put to
Blu-ray
. I don't have any strong complaints of DNR (I'm not sensitive to it) but some may note the noise depending on the size of their viewing system. On my 43" plasma it looked pretty sweet... if not totally stunning.
Screen Captures
CLICK EACH BLU-RAY CAPTURE TO SEE ALL IMAGES IN FULL 1920X1080 RESOLUTION
Audio: The Dolby TrueHD 5.1 lossless sound track gets a bit more of a workout than some of the others in the series with quite a few explosions and gunfire. Certain effects (explosions, helicopters etc.) can move rather aggressively to the rear speakers but I wouldn't say it is overly dynamic. There was some Dvorák as well as South American music in the soundtrack as well as the poignant use of "America The Beautiful". Voices are always clear and clean. Like the other Blu-ray's there are two 5.1 DUBs if required. There are also optional English SDH, English, French, Spanish or Portuguese subtitles available.
Extras: Duplicated from the Special Edition SD is a lone 26 minute featurette (no commentaries). Behind the Danger has the standard input from cast and crew - a fair amount from director Phillip Noyce. There is some behind the scenes footage included. So, nothing new but there is an HD trailer.
Extras
BOTTOM LINE: Personally speaking this may be my second favorite effort in the series after The Hunt For Red October. Ford is the same as always - ditto for the innocuous Anne Archer, but Willem Dafoe add his usual dark-side charisma and it's refreshing to the president portrayed as an asshole. The Blu-ray transfer make the film look better than ever for home theater viewing and that may be enough of a reason to indulge. It's an above average political thriller.
Gary Tooze
July 26th, 2008