(Phil Alden Robinson, 2002)
Paramount Studios
Review by Gary W. Tooze
Video
Video codec: MPEG-4 AVC
Video resolution: 1080p
Aspect ratio: 2.35:1

Audio
English: Dolby TrueHD 5.1
DUBs: French: Dolby Digital 5.1
Spanish: Dolby Digital 5.1

Subtitles
English SDH, English, French, Spanish, Portuguese, none

Disc
50GB Blu-ray Disc
Supplements:
Commentary by director Phil Alden Robinson and cinematographer John Lindley
Commentary by director Phil Alden Robinson and novelist Tom Clancy
Featurette: The Making of The Sum of All Fears - 28:59
Featurette: Creating Reality: The Visual Effects of The Sum of All Fears - 28:59
Trailer (HD)
Disc
36.9 Gig
2:03:41
Disc: 50GB (dual-layered)
Released: July 29th, 2008
Standard Blu-ray case
16 chapters
Product Description:
Ben Affleck is ready for action, commanding the role of CIA agent Jack Ryan in this thrilling adventure based on the Tom Clancy bestseller. America's Cold War fears are rekindled after the President of Russia dies and is succeeded by a man with a cryptic past. But East-West tensions erupt when the CIA suspects that renegade Russian scientists are developing more nuclear weapons. Mobilised into action by CIA Director William Cabot (Morgan Freeman), Jack Ryan (Affleck) follows a danger-ridden trail to a shocking conclusion: terrorists plan to provoke a war between the U.S. and Russia - by detonating a nuclear bomb at a championship football game...
****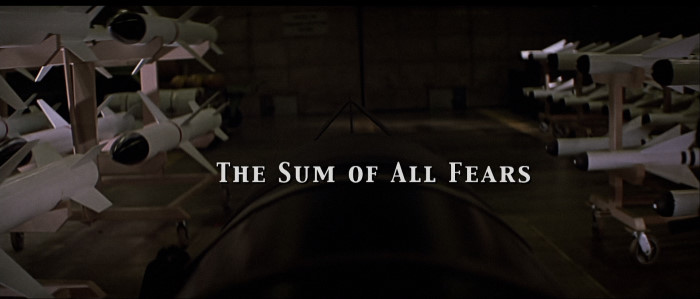 The Film:
The movie is based on another of Clancy's fearfully factual stories about Jack Ryan, the CIA agent, this time a good deal younger than Harrison Ford's Ryan in "A Clear and Present Danger" and played by Ben Affleck. It follows the ancient convention in which the hero goes everywhere important and personally performs most of the crucial actions, but it feels less contrived because Clancy has expertise about warfare and national security issues; the plot is a device to get us from one packet of information to another.
The story: In 1973, an Israeli airplane carrying a nuclear bomb crashes in Syria. Many years later, the unexploded bomb is dug up, goes on the black market, and is sold to a right-wing fanatic who has a theory: "Hitler was stupid. He fought America and Russia, instead of letting them fight one another." The fanatic's plan is to start a nuclear exchange between the superpowers, after which Aryan fascists would pick up the pieces.
The use of the neo-Nazis is politically correct: Best to invent villains who won't offend any audiences. This movie can play in Syria, Saudi Arabia and Iraq without getting walkouts. It's more likely that if a bomb ever does go off in a big city, the perpetrators will be True Believers whose certainty about the next world gives them, they think, the right to kill us in this one.
Excerpt Roger Ebert's review at The Chicago Sun Times located HERE
Video: NOTE: The below Blu-ray captures were ripped directly from the Blu-ray disc.
Being a newer film than the other entries in the Jack Ryan series I think I was expecting a little more visually, from the 1080 resolution. It looks very good - miles ahead of the SD SE from 2002 but even the 'dramatic bomb detonation' wasn't as visually arresting as I was anticipating. On the positive, the MPEG 4-AVC image quality looks very competent but the manner it was shot shows background noise to a much higher degree than viewers will appreciate - this was true of the HD and SD editions as well. It's akin to grain, but unfortunately is not. Colors, notably at the football game sequence, were very vibrant. Skin tones seem a bit red at times. I can't add too much more than simply viewing the captures (and the full resolution ones - linked to the resized below). Like
Patriot Games
, and
The Hunt For Red October
, this came out on HD as part of the
Jack Ryan Collection
(reviewed
HERE
) but once again this must be an improved image as the feature film on the
Blu-ray
takes up a hefty 36.9 Gig of the dual-layered disc - far more than the capacity of an entire HD-DVD. Bottom line - I think this film looks strong but still not quite matching more modern productions I have seen put to
Blu-ray
. It seems transferred flawlessly but perhaps the manner in which it was shot didn't bring the detail to the usual forefront of notice-ability with not that many stellar moments. Thumbs up - just don't expect 2007-2008 film-to-
Blu-ray
standards. I guess 6 years does make a difference but to be fair I doubt anyone will complain about how
The Sum of All Fears
looks on
Blu-ray
(aside from the noise issue and that might depend on how large you were projecting it.)
Screen Captures
CLICK EACH BLU-RAY CAPTURE TO SEE ALL IMAGES IN FULL 1920X1080 RESOLUTION
Audio: Once again the Dolby TrueHD 5.1 lossless sound track sounded quite adept... and certain effects (explosions, helicopters etc.) have some aggressive probing of the rear speakers. In fact the audio may have been the strongest part of my viewing experience. Jerry Goldsmith's score along with such inclusions as Puccini's "Nessun dorma" and yet a different Verdi opera addition, sounded clean and crisp. Voices are always clear and clean. There are two 5.1 DUBs if required. There are also optional English SDH, English, French, Spanish or Portuguese subtitles available.
Extras: Duplicated from the Special Edition SD are two separate audio commentary tracks - both decent: one from director Phil Alden Robinson and cinematographer John Lindley, and the other is from Robinson, again, paired this time with author Tom Clancy. Clancy is interesting when he chirps up and fans should give this a spin. There is also some strung-together featurettes with titles like 'A Cautionary Tale' detailing production, another on casting and a couple on the visual effects of planes and the bomb etc. . So, nothing new but there is an HD trailer.
Extras
BOTTOM LINE: I don't mind Affleck but this whole film didn't gel with him in the lead. Thankfully support from the likes of Morgan Freeman bring it back up a notch. The political aspects are always strongly nuanced but the 'bomb' seemed a bit like cheesy overkill to try to support the weaker aspects. The disc supplements, although not new, are still very good with the commentaries worth indulging. I don't think it's the best of the Jack Ryan entries - but a decent way to spend a couple of hours on a Hollywood thriller and as for this Blu-ray transfer - it makes it look better than ever - without a doubt the best way to watch this in your home theater.
Gary Tooze
July 24th, 2008