(Philip Noyce, 1992)
Paramount Studios
Review by Gary W. Tooze
Video
Video codec: MPEG-4 AVC
Video resolution: 1080p
Aspect ratio: 2.35:1

Audio
English: Dolby TrueHD 5.1
DUBs: French: Dolby Digital 5.1
Spanish: Dolby Digital 5.1

Subtitles
English SDH, English, French, Spanish, Portuguese, none

Disc
50GB Blu-ray Disc
Supplements:
Featurette: Patriot Games Up Close (25:14)
Trailer (HD)
Disc
35.6 Gig
1:56:44
Disc: 50GB (dual-layered)
Released: July 29th, 2008
Standard Blu-ray case
16 chapters
Product Description:
Harrison Ford stars as Jack Ryan in this explosive thriller based on Tom Clancy's international best-seller. His days as an intelligence agent behind him, former CIA analyst Jack Ryan has traveled to London to vacation with his wife and child. Meeting his family outside of Buckingham Palace, Ryan is caught in the middle of a terrorist attack on Lord Holmes a member of the Royal Family. Ryan helps to thwart Holmes... assailants and becomes a local hero. But Ryan's courageous act marks him as a target in the sights of the terrorist whose brother he killed. Now Ryan must return to action for the most vital assignment of his life: to save his family...
****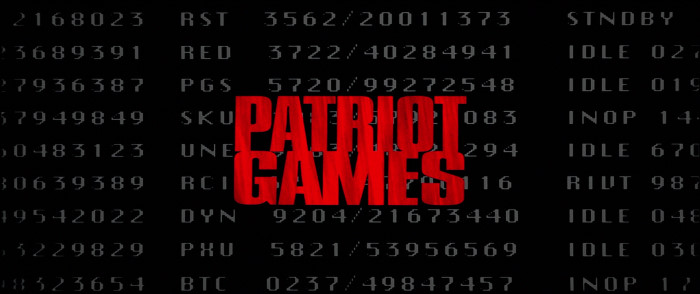 The Film:
Made between
The Fugitive
and
Air Force One
,
Patriot Games
was Harrison Ford at the peak of his post
Star Wars
/
Indiana Jones
popularity. As in those other two movies, Ford plays his patented "average family guy" caught up in something big and dangerous. Even though his character's only differences are their occupations, Ford's charm still draws you in and you still, of course, root for him to succeed. Both Alec Baldwin and Ben Affleck have played the role of Jack Ryan, but Harrison Ford found the most success with it.

In Patriot Games, former CIA analyst Jack Ryan is in London to make a speech and do some sight seeing with his wife and daughter. Fate steps in and Jack becomes a hero saving a member of the royal family from some terrorists. In the process, he shoots and kills one of the terrorist leaders' brother. The terrorist, Sean, changes his focus from the British royals to getting revenge on Jack by going after his family. With the help of his friends in the U.S. government, Jack goes about protecting his family and capturing Sean.
Excerpt from ThreeMovieBuffs.com located HERE
Video: NOTE: The below Blu-ray captures were ripped directly from the Blu-ray disc.
The MPEG 4-AVC image quality looks solid and impressive. This dual-layered 1080P BRD transfer has strong soft palette colors and a high levels of detail. I can't add too much more than simply viewing the captures (and the full resolution ones - linked to the resized below). Contrast seems very adept and fitting of the film's 15+ year age. This came out on HD as part of the
Jack Ryan Collection
(reviewed
HERE
) but this must be an improved image as the feature film on the
Blu-ray
takes up a whopping 35.6 Gig of the dual-layered disc - more than the capacity of an entire HD-DVD. Bottom line - it looks superior than I anticipated but is a small notch below modern film transfers on
Blu-ray
. Either way it looks far better than it ever has before for home theater devotees. If you are so inclined - you can see the pores of Harrison Ford's skin (Anne Archer too).
Screen Captures
CLICK EACH BLU-RAY CAPTURE TO SEE ALL IMAGES IN FULL 1920X1080 RESOLUTION
Audio: The Dolby TrueHD 5.1 lossless sound track sounded quite adept... and the explosive scenes of the film (there are a few) were adequately supported by the impressive track. Dialogue was clear and consistent. The James Horner soundtrack had some subtleties and some punch at times. There are two 5.1 DUBs if required. There are also optional English SDH, English, French, Spanish or Portuguese subtitles available.
Extras: There is only one viable extra and it appears to have been taken from one of the SD editions. In a 25 minute 480p featurette entitled Patriot Games Up Close a few of the behind-the-camera crew give input on the creation of the film with some production details etc. There's nothing that really grabs you but for those keen - it is available. There is also an HD trailer, but that it all.
Extras
| | |
| --- | --- |
| | |
| | |
| | |
BOTTOM LINE: This is a typical Harrison Ford / Jack Ryan thriller but far from the best of the series. The Blu-ray does its job without a hitch. If you are in the mood this can be a good popcorn night at the home theater. Nice to see James Earl Jones and Richard Harris - not to mention Sam Jackson and Polly Walker who makes for a pretty sexy baddie. This Blu-ray won't disappoint in terms of the video and audio transfer but they seem to have skimped on the supplements a bit. Fans should enjoy - the rest may wish to pass.
Gary Tooze
July 16th, 2008