(John McTiernan, 1990)
Paramount Studios
Review by Gary W. Tooze
Video
Video codec: MPEG-4 AVC
Video resolution: 1080p
Aspect ratio: 2.35:1

Audio
English: Dolby TrueHD 5.1
DUBs: French: Dolby Digital 5.1
Spanish: Dolby Digital 5.1

Subtitles
English SDH, English, French, Spanish, Portuguese, none

Disc
50GB Blu-ray Disc
Supplements:
Commentary by director John McTiernan
Featurette: Beneath the Surface (cast and crew interviews) - 28:59
Trailer (HD)
Disc
41.1 Gig
2:15:08
Disc: 50GB (dual-layered)
Released: July 29th, 2008
Standard Blu-ray case
16 chapters
Product Description:
Based on Tom Clancy's bestseller, directed by John McTiernan (Die Hard) and starring Sean Connery and Alec Baldwin, THE HUNT FOR RED OCTOBER sweats with high-tech anxiety and the tension of men who hold Doomsday in their hands. A new technologically-superior Soviet nuclear sub, the Red October, is heading for the U.S. coast under the command of Captain Marko Ramius (Connery). The American government thinks Ramius is planning to attack. A lone CIA analyst (Baldwin) has a different idea: he thinks Ramius is planning to defect, but he has only a few hours to find him and prove it - because the entire Russian naval and air commands are trying to find him, too. The hunt is on! ...
****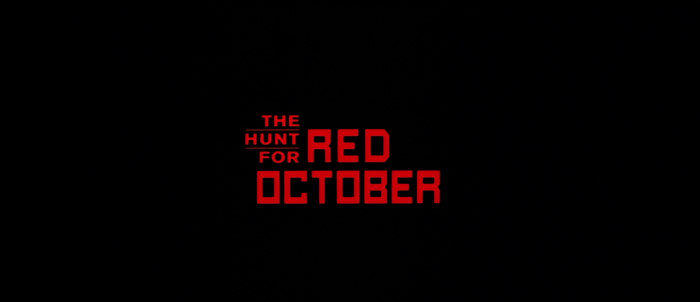 The Film:
"
The Hunt for Red October
" has more than a dozen important speaking roles, in addition to many more cast members who are crucial for a scene or two. Any film with a cast this large must depend to some extent on typecasting. We couldn't keep the characters straight any other way. What McTiernan does is to typecast without stereotyping.
Sean Connery makes a convincing Ramius, and yet, with his barely concealed Scots accent, he is far from being a typical movie Soviet.
Baldwin, as the dogged intelligence officer, has the looks of a leading man, but he dials down his personality. He presents himself as a deck-bound bureaucrat who can't believe he has actually gotten himself into this field exercise. And Scott Glenn, as the commander of a U.S. submarine that finds itself within yards of the silent Red October, is leaner, younger, and has more edge than most of the standard movie skipper types.
The production design lends a lot to the movie's credibility.
Excerpt Roger Ebert's review at The Chicago Sun Times located HERE
Video: NOTE: The below Blu-ray captures were ripped directly from the Blu-ray disc.
I really enjoyed watching this in 1080 resolution. It had some amazing moments of detail coupled with some strong cinematography. The MPEG 4-AVC image quality shows its almost 20 year age with some definite noise - appearing akin to grain. Skin tones, outside of the artificial reddish lighting of the submarine, look very true. I can't add too much more than simply viewing the captures (and the full resolution ones - linked to the resized below). Like
Patriot Games
, this came out on HD as part of the
Jack Ryan Collection
(reviewed
HERE
) but this must be an improved image as the feature film on the
Blu-ray
takes up a whopping 41.1 Gig of the dual-layered disc - far more than the capacity of an entire HD-DVD. Bottom line - I actually preferred the rougher, or should I say, less-smooth appearance and found it much more realistic. It looks far better than it ever has before for home theater devotees. Great film - brilliant transfer if a small notch below modern films to
Blu-ray
but generally I feel this film is a full notch above most Hollywood films made today.
Screen Captures
CLICK EACH BLU-RAY CAPTURE TO SEE ALL IMAGES IN FULL 1920X1080 RESOLUTION
Audio: The Dolby TrueHD 5.1 lossless sound track sounded quite adept... and aside from the rush of water and mechanical noises filtering to the rear speakers. The film is rather sedate, for such a thriller, and is essentially dialogue driven. Voices are always clear and clean. The soundtrack includes the glorious "Anthem of the Soviet Union" which adds a nice classic touch to the film's audio with its penetrating bass choir music. There are two 5.1 DUBs if required. There are also optional English SDH, English, French, Spanish or Portuguese subtitles available.
Extras: Duplicated from the Special Edition SD from 2003 is the McTiernan's subdued commentary. I never get the feeling he is overly enthused about doing these. He imparts some decent information though but generally I'd say commentaries are not his strong suit. We also have the almost 30 minute Featurette: Beneath the Surface with input from Producer Mace Nuefeld, and cast / crew interviews. It moves at a decent pace and I enjoyed watching it again. There is also an HD trailer which looks sharp.
Extras
BOTTOM LINE: I try not to be biased about this Blu-ray just because this is my favorite of the Jack Ryan films. It set a great tone for the series and I thought the younger Alec Baldwin was perfect in the protagonist role with great support all around. You'd have to have astronomical expectations for this Blu-ray to disappoint. In terms of the video and audio transfer it does a wonderful job of representing The Hunt For Red October. The supplements, although not new, are still very good with the featurette worth indulging. Great film - great 1080P transfer. What's not to recommend?
Gary Tooze
July 23rd, 2008