Firstly, a HUGE thanks to our Patreon supporters. Your generosity touches me deeply. These supporters have become the single biggest contributing factor to the survival of DVDBeaver. Your assistance has become essential. We are always trying to expand Patron benefits... you get access to the Silent Auctions and over 5000 unpublished screen captures (in lossless PNG format, if that has appeal for you) listed HERE. Please consider helping with $3 or more each month so we can continue to do our best in giving you timely, thorough reviews, calendar updates and detailed comparisons. Thank you so much. We aren't going to exist without another 100 or so patrons.






| | |
| --- | --- |
| | S E A R C H D V D B e a v e r |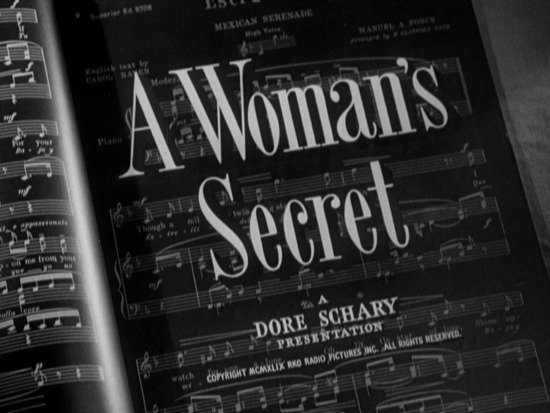 (aka 'Mortgage on Life' or 'The Long Denial' or 'Secret de femme')
Screenwriter Herman J. Mankiewicz recycles several themes and techniques from his script for Citizen Kane in this oddball melodrama about a singer (Maureen O'Hara) who confesses to the killing of her double-dealing protegee (Gloria Grahame). But Kane II it isn't; the the flashbacks here--as Melvyn Douglas leads the inquiry--snarl up into a turgid mess. Nicholas Ray directed it, though his touch is apparent only in the handling of the unstable Grahame character; otherwise, it's probably his stodgiest, driest piece of work. (Mankiewicz's brother Joseph later turned a similar story into All About Eve.)
Excerpt from Dave Kehr's review from the Chicago Reader located HERE
Something of an RKO chore for Ray, to be sure. But a nicely structured script by Herman J Mankiewicz (from a novel by Vicki Baum) - repeating the investigative flashback structure of Citizen Kane as it examines the events leading up to the death of ex-singer O'Hara's devious and ungrateful protégée (beautifully incarnated by Grahame) - is well served by the civilised direction, which not only turns the Vicki Baum melodrama into a noir-ish mystery, but also stresses, as so often in Ray, the importance of interior space and the way it reflects/influences action. Entertaining, and less routine than it sounds.
Posters
Theatrical Release: March 5th, 1949
Reviews More Reviews DVD Reviews

DVD Comparison:
Éditions Montparnasse - Region 2 - PAL vs. Warner Home Video (Film Noir Archive Collection) - Region 0 - NTSC
Éditions Montparnasse - Region 2 - PAL LEFT vs. Warner Home Video (Film Noir Archive Collection) - Region 0 - NTSC - RIGHT
DVD Box Cover

Distribution
Éditions Montparnasse - Region 2 - PAL

Warner Home Video

Region 0 - NTSC

Runtime
1:24:36
1:24:33
Video
1.33:1 Aspect Ratio
Average Bitrate: 6.25 mb/s
PAL 720x576 25.00 f/s
1.33:1 Original Aspect Ratio
Average Bitrate: 6.80 mb/s
NTSC 720x480 29.97 f/s

NOTE: The Vertical axis represents the bits transferred per second. The Horizontal is the time in minutes.

Bitrate: PAL

Bitrate: Warner

Audio
English (Dolby Digital mono)
Dolby Digital Mono (English)
Subtitles
French, None
None
Features

Release Information:
Studio: Éditions Montparnasse

Aspect Ratio:
Original Aspect Ratio 1.33:1

Edition Details:

• Bromberg Intro (in French) - 1:39

DVD Release Date: September 21st, 2004
Slim transparent case
Chapters: 9

Release Information:
Studio: Warner Home Video

Aspect Ratio:
Fullscreen - 1.33:1

Edition Details:
• None

DVD Release Date: August 21, 2012
Keep Case

Chapters 28

Comments:

ADDITION (November 2012): Warner Archive Collection recently released a number of classic film noirs making their debut in North America. One such title is Nicholas Ray's A Woman's Secret, previously available on DVD in France and Spain. We are able to compare the MOD disc from the newly created Film Noir Archive Collection series to the French disc from 2004. The progressive transfer of Warner disc has more information on the sides. Warner disc has some marks and specs on the image, but it's not intrusive. Film features 28 chapters and there no extras provided, not even a trailer for this unusual noir.

***

ON THE MONTPARNASSE: This appears to be the correct running time (no PAL speedup) so I'll assume the source was not converted for the European standard in was transferred in - hence we some minor ghosting. I don't see any combing. It has optional French subtitles and English mono audio. The single-layered image is fairly weak - typical of Montparnasse RKO's. Artifacts and speckles are visible but I believe it's the only DVD presentation of this Ray films available at present.

No extras save the mono-brow Serge Bromberg's usual intro-praise (in French only). The film is good and has some noirish intent and is listed on our page HERE . For those keen to see a clip - this was our contest of Feb 25th, 2008 - HERE. I'll watch it again just to see Gloria.
---
DVD Menus
Éditions Montparnasse - Region 2 - PAL LEFT vs. Warner Home Video (Film Noir Archive Collection) - Region 0 - NTSC - RIGHT
---
Screen Captures
Éditions Montparnasse - Region 2 - PAL TOP vs. Warner Home Video (Film Noir Archive Collection) - Region 0 - NTSC - BOTTOM
---
Éditions Montparnasse - Region 2 - PAL TOP vs. Warner Home Video (Film Noir Archive Collection) - Region 0 - NTSC - BOTTOM

---
Éditions Montparnasse - Region 2 - PAL TOP vs. Warner Home Video (Film Noir Archive Collection) - Region 0 - NTSC - BOTTOM
---
Éditions Montparnasse - Region 2 - PAL TOP vs. Warner Home Video (Film Noir Archive Collection) - Region 0 - NTSC - BOTTOM
---
Éditions Montparnasse - Region 2 - PAL TOP vs. Warner Home Video (Film Noir Archive Collection) - Region 0 - NTSC - BOTTOM
---
Éditions Montparnasse - Region 2 - PAL TOP vs. Warner Home Video (Film Noir Archive Collection) - Region 0 - NTSC - BOTTOM
---
Éditions Montparnasse - Region 2 - PAL TOP vs. Warner Home Video (Film Noir Archive Collection) - Region 0 - NTSC - BOTTOM