NOTE: These Blu-ray captures were taken directly from the Blu-ray disc.
As with Criterion's 2011 Blu-ray of Satyajit Ray's The Music Room (Jalsaghar) we get a monumental package of dramatic video and audio improvement from the existing DVDs of this iconic director's works. To appreciate the stunning advancement of these 1080 transfers should directly go to the director's importance in world cinema: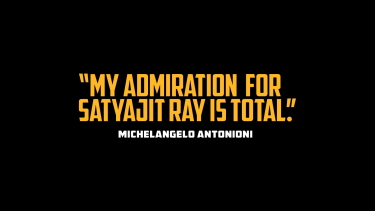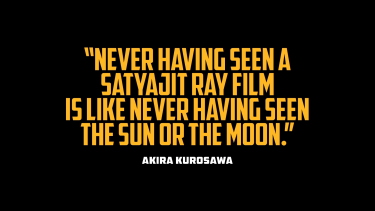 These are advertised as "New 4K digital restorations of all three films, undertaken in collaboration with the Academy Film Archive at the Academy of Motion Picture Arts and Sciences and L'Immagine Ritrovata." I'll make some brief comments about the individual films and their HD presentations (audio and video) separately, below. Suffice to say the improvement is outstanding - giving this package a huge leg up on the Blu-ray of the year. They each have max'ed out bitrates on the three dual-layered discs. There are optional English subtitles for each feature (see samples below.) The Blu-ray discs are region 'A'-locked. I'll comment on the supplements in rest of this space.
On the Pather Pachali Blu-ray we start with 14-minutes of audio recordings from 1958 of director Satyajit Ray reading his essay "A Long Time on the Little Road" and in conversation with film historian Gideon Bachmann. There are also new interviews produced by Criterion from 2013 - 2015 with actors Soumitra Chatterjee (7:14), Shampa Srivastava (16:29), and camera assistant Soumendu Roy (12:34) reminiscing and giving their accounts of the director and filmmaking process. There are also excerpts of the 2003 documentary The Song of the Little Road produced and directed by Priyanka Kumar, musician Ravi Shankar recalls his experiences working with director Satyajit Ray as composer for The Apu Trilogy.
On the Aparajito Blu-ray there is a new 12-minute interview with film writer Ujjal Chakraborty from 2013 - discussing the many symbolic details throughout Aparajito. We get an audio interview with Ray from 1958 lasting about 1/4 hour. In August 1958, director Satyajit Ray attended Robert Flaherty Film Seminar in Vermont, on the occasion of the US release of Pather Panchali. By this time Ray, had also completed Aparajito and The Philosopher's Stone, and The Music Room would soon premiere, During the seminar, film critic Gideon Bachmann recorded a conversation with Ray, of whihc audio excerpts are presented here. Making "The Apu Trilogy": Satyajit Ray's Epic Debut, a new 38-minute video essay by Ray biographer Andrew Robinson and produced by Criterion in 2015. Robinson looks at the evolution and production of The Apu Trilogy. The Creative Person: "Satyajit Ray," a 1967 half-hour documentary by Canadian James Beveridge who traveled to Kolkata to film Satyajit Ray at work. It features interviews with Ray, several of his actors, members of his creative team, and film critic Chidananda Das Gupta.
The supplements on The World of Apu Blu-ray include a 1/4 hour interview (separately) with Soumitra Chatterjee and Sharmila Tagore produced by Criterion - they talk about Apur Sansar - the film debut for both of them. The Apu Trilogy": A Closer Look, is a new 45-minute program featuring filmmaker, producer, and teacher Mamoun Hassan. We can see 3-minutes of footage of Ray receiving an honorary Oscar in 1992 from host Audrey Hepburn. There is a new program (choice of both long 12.5 minutes and short 3-minute versions) on the restorations by filmmaker :: kogonada. I found this particularity fascinating with input from Lee Kline and others on the efforts gone through to 'bring back' these films from their damaged quality. Truly awe-inspiring.
This package contains a liner notes booklet featuring essays by critics Terrence Rafferty and Girish Shambu, as well as a selection of Ray's storyboards for Pather Panchali.
Calling these films masterpieces seems somehow inadequate. This is one of Criterion's best Blu-ray packages - brilliant and I do feel fortunate and honored to have seen them in such restorations. Our highest recommendation!