Infernal Affairs III [Blu-ray]
(aka "Mou gaan dou III: Jung gik mou gaan")
(Andrew Lau & Alan Mak, 2003)
Review by Leonard Norwitz
Studio:
Theatrical: Media Asia Films, Tianjin Film Studio & Basic Pictures
Blu-ray: MegaStar (Hong Kong)
Disc:
Region: A
Runtime: 117 min
Chapters: 20
Size: 25 GB
Case: Standard Blu-ray case.
Release date: April 25, 2008
Video:
Aspect ratio: 2.35:1
Resolution: 1080p
Video codec: AVC
Audio:
Cantonese DTS-HD Master Audio 6.1, Cantonese DD EX 5.1, Mandarin DD EX 5.1
Subtitles:
Feature: Traditional Chinese, Simplified Chinese, English. Bonus Features: None.
Extras:
• Making of . . .Documentary
• Trailers in HD
The Film: 8
The blockbuster thriller, Infernal Affairs, almost single-handedly revived the Hong Kong gangster film back in 2002. It was so successful that it spawned two back-to-back sequels before Martin Scorsese's The Departed, could get the drop on a largely unsuspecting English-speaking public. The action of Infernal Affairs II provides considerable backstory to the first movie, fleshing out the early days of the two young moles. At its release, many regretted the loss of Tony Leung and Andy Lau and - unfairly, I thought - damned the sequel for their absence. The relative youth and inexperience of Shawn Yu and Edison Chen, who play the Leung and Lau characters: Yan (think: DiCaprio) and Ming (Matt Damon) and was seen as unfortunate.

Perhaps for that reason, IA-III brings back Leung and Lau to get more into the thick of their moleish activities. Along with reappearances of various lengths of Anthony Wong as Inspector Wong and Eric Tsang as Sam, as well as the irrepressible Chapman To as Keung, a new figure emerges to complicate matters: Leon Lai as Superintendent Inspector Wing, Meanwhile, Ming tries to cover his tracks with an ever increasing body count among the Triads while sorting out possible moles among the police.

IA-III reverts to the fast-paced suspense of the original – though since we would already have seen the first movie (and that is, I believe, the order these should be seen in) we know how everything comes out, making it less of an edge-of-one's sense thriller. On the other hand, most film buffs see movies they like multiple times, so there you have it! Scorsese apparently ignored the first sequel altogether, as The Departed makes use of some of the threads of IA-III, notably the relationship between Yan, Ming and the psychiatrist, one of the more jarring and least convincing aspects of his translation.

[The following is an edited excerpt from David McCoy's comment on DVDBeaver HERE}: Since the backstory involving the two moles was as fascinating as what they did in the "present", Infernal Affairs II was drafted as a prequel. Infernal Affairs III details events following what happened in the first Infernal Affairs. Not only did these decisions provide a before-and-after appraisal of the characters' lives, they also gave the characters a defining sense of closure.
You don't need to have seen Infernal Affairs II to understand Infernal Affairs III. However, you will be very lost if you don't see Infernal Affairs III soon after seeing the first Infernal Affairs. The third movie is heavily dependent on a great degree of familiarity with the events in the first outing. As a whole, the series takes place out of order, with the "origin story" appearing as the second movie. Chronologically speaking, the events in Infernal Affairs III take place after the events in Infernal Affairs, but several sequences backtrack to when the story in the first movie was unfolding.

This may seem confusing, but after the initial shock wears off, part of the pleasure of watching this installment is figuring out where the pieces of the third movie fit into the overall narrative. As the movie shifts in time, we get to know other members of the police force, other moles, and various strategies used by all sides.

Excerpt of review from DVD Beaver located HERE
Image: 8.5 (8~8.5/10)
The score of 8.5 indicates a relative level of excellence compared to other Blu-ray DVDs. The score in parentheses represents: first, a value on a ten-point scale for the image in absolute terms; and, second, how that image compares to what I believe is the current best we can expect in the theatre.

MegaStar's R0 DVD of IA-III was pretty good, better in some ways than their edition of the original movie, though not as good as IA-II for some reason. The first movie showed a moderate degree of desaturation, which was appropriate and softness, which I think, wasn't. MegaStar's R) SD was pretty good, but you can see how the Blu-ray has less contrast, allowing for more variation in tone and texture. Both sequels on Megastar's R0 SD had stronger images, and are better still on Blu-ray, with the best of show being IA-II.

SD TOP vs. Blu-Ray BOTTOM
SD TOP vs. Blu-Ray BOTTOM
SD TOP vs. Blu-Ray BOTTOM
SD TOP vs. Blu-Ray BOTTOM
SD TOP vs. Blu-Ray BOTTOM
SD TOP vs. Blu-Ray BOTTOM
Audio & Music: 8/8
Since I first reviewed the Blu-ray of Infernal Affairs, I've installed a respectable surround system. I had previously noted that in 2-channel mode: while the soundtrack was not of the kind of demonstration quality of the best "Hollywood" blockbusters, it was more than adequate to the task. But more to the point, the mix was a huge improvement over MegaStar's own R0 SD. Contrast, dynamics, frequency extension and clarity are all much better on the Blu-ray.

The music is by Chan Kwong Wing, who more recently composed the scores for Flash Point and The Warlords. Quite naturally, there are important thematic and stylistic similarities for all three parts of the trilogy – one being that it functions as a part of the audio mix as much as provides mood. Compared to his work for the original film, this new audio mix is fatter and louder, especially on Blu-ray, as if trying too hard to make itself felt in its own right.

Operations: 6
MegaStar upgraded its logo (always an eyesore on their 480i DVDs) for these sequels to HD. Much nicer, thank you. The expandable chapter thumbnails are clear and monochromatic – a nice touch, I thought. The Smart Menus (in English and Chinese) are straightforward and easy to use, except that just when it seems that all is well, we find that we can't return from the bonus features by clicking on either the top menu or by skipping chapters. Good thing my PS3 has a super fast forward scan.

Subtitles: 5
Obviously, my praise of MegaStar's subtitling on the first Infernal Affairs and my distress at their subsequent effort for Initial D went unheeded. (Should I be surprised!) The subtitling appeared below the frame on the original Blu-ray, but partly in and partly below for the sequels. On the other hand, I noticed fewer typos on this new release.
Extras: 3
The extras are all in Chinese without subtitles, as they are on MegaStar's R0 DVD box set and as they were on MegaStar's BRD of Infernal Affairs. The extras included here also appear on the North American R1 release from Genius Products, which are subtitled in English. The "Making of . . " documentary isn't all that difficult to follow even without subtitles, but if you must know what is being said, you could always rent the U.S. SD edition. Both of these featurettes are in SD and move readily from letterboxed to 4:3 images. I should mention that the five trailers are all in HD, most interesting will probably be the one for The Warlords, Jet Li's latest epic – not so much a martial arts film, as an ancient war movie: The monochromatic image is stunning on BRD – something like 300, if you like that sort of thing.

| | |
| --- | --- |
| | |
| | |
| --- | --- |
| | |
| | |
| --- | --- |
| | |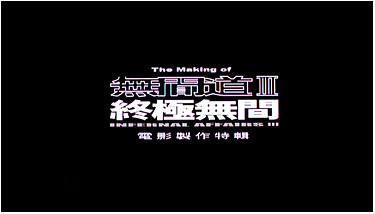 Bottom line: 8
I thought less of IA-III the first time I saw it, but started to come around when I revisited it last night on Blu-ray. I shouldn't have been surprised. The Blu-ray is gorgeous – much better looking and sounding than the original movie for demo purposes. Thumbs Up.
Leonard Norwitz
June 1, 2008