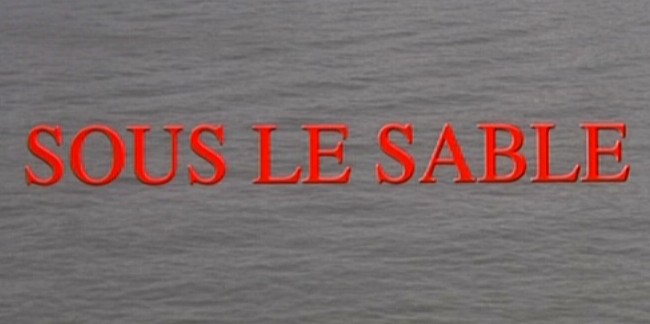 (aka 'Under the Sand')
by François Ozon
France 2000
The subject matter of prolific young French auteur François Ozon's fourth feature - a happily married, childless woman's traumatised denial of her husband's sudden death by drowning - may, superficially, suggest a move on the director's part to calmer, more classical, waters after the sly, shocking tactics of his more transgressive early melodramas. Indeed, in focusing so sharply on Charlotte Rampling's tautly controlled, subtly nuanced performance as the elegant, Paris-based university lecturer who painstakingly, if psychotically, maintains a pretence of continuity, Ozon's film can be appreciated as a quality star vehicle, and as a tribute to the graceful mystique, sexual potency and fractured sensibility that the now 56-year-old actress brings to the screen. The movie's emphasis, however, gradually becomes more philosophical, abstract and quietly macabre. Hence a persuasive, intimate study of grief is transformed into a more general critique of romantic self-delusion in conventional marriage, made all the more unsettling by Rampling's film persona which, ultimately, remains impenetrable.
DVD Comparison
Artificial Eye Region 2- PAL vs. Fox/Lorber Region 0 - NTSC vs. Seville Pictures - Region 1 - NTSC
Big thanks to Per-Olof Strandberg for the Artificial Eye captures!
Posters (Click posters for larger versions)
Reviews More Reviews DVD Reviews

(Artificial Eye - Region 2- PAL - LEFT vs. Fox/Lorber - Region 0- NTSC - MIDDLE vs Seville - Region 1- NTSC - RIGHT)
DVD Box Covers

Distribution

Artificial Eye

Region 2- PAL

Fox/Lorber - Winstar
Region 0 - NTSC
Seville Picture (Canada)
Region 1 - NTSC

Runtime
1:32:08
131:50
1:32:00
Video
1.78:1 Letterboxed WideScreen Anamorphic
Average Bitrate: ? mb/s
PAL 720X 25.00 f/s
1.85:1 Letterboxed WideScreen Anamorphic
Average Bitrate: 8.0 mb/s
NTSC 704x480 29.97 f/s
1.85:1 Letterboxed WideScreen Anamorphic
Average Bitrate: 5.6 mb/s
NTSC 704x480 29.97 f/s

NOTE: The Vertical axis represents the bits transferred per second. The Horizontal is the time in minutes.

Bitrate:

Artificial Eye

Not Available

Bitrate:

Fox/Lorber

Bitrate:

Seville

Audio

French 2.0 Surround Stereo

French 5.1 Surround Stereo

English Commentary

French 5.1 Surround Stereo

Subtitles
English (non-removable)
(Yellow) English, Spanish, None
English and None
Features

Theatrical Trailer ( 1:14)

Interview with CR and FO (TEXT)

Theatrical Trailer (1.85:1, 01:56 min)

Interview with Charlotte Rampling ( 8:53 min )

Commentary with François Ozon

Filmographies

Trailer Gallery ( "Vidoq", "Les Gout Des Autres", "Kandahar" )

Photo Gallery ( 14 pictures )

DVD Release Date: Sept. 24th, 2001
Keep Case
Chapters: 19
DVD Release Date: December 11, 2001
Keep Case
Chapters: 14
DVD Release Date: August 2002
Keep Case
Chapters: 9
---
Recommended Reading in French Cinema (CLICK COVERS or TITLES for more information)
The Films in My Life
by Francois Truffaut, Leonard Mayhew

French Cinema: A Student's Guide
by Philip Powrie, Keith Reader
Agnes Varda by Alison Smith
Godard on Godard : Critical Writings by Jean-Luc Godard
Notes on the Cinematographer by Robert Bresson
French New Wave
by Jean Douchet, Robert Bonnono, Cedric Anger, Robert Bononno
French Cinema: From Its Beginnings to the Present
by Remi Fournier Lanzoni
Truffaut: A Biography by Antoine do Baecque and Serge Toubiana
Check out more in "The Library"
---
DVD Menu
(Artificial Eye - Region 2- PAL - LEFT vs. Fox/Lorber - Region 0- NTSC - MIDDLE vs Seville - Region 1- NTSC - RIGHT)
---
(Artificial Eye - Region 2- PAL - TOP vs. Fox/Lorber - Region 0 - NTSC - MIDDLE vs Seville - Region 1- NTSC - BOTTOM)
---

(Artificial Eye - Region 2- PAL - TOP vs. Fox/Lorber - Region 0- NTSC - MIDDLE vs Seville - Region 1- NTSC - BOTTOM)
---

(Artificial Eye - Region 2- PAL - TOP vs. Fox/Lorber - Region 0- NTSC - MIDDLE vs Seville - Region 1- NTSC - BOTTOM)

DVD Box Covers

Distribution

Artificial Eye

Region 2- PAL

Fox/Lorber - Winstar
Region 0 - NTSC
Seville Picture (Canada)
Region 1 - NTSC