The Pelican Brief Blu-ray
(Alan J. Pakula, 1993)
Review by Gary Tooze
Studio: Warner - Region FREE
Video:
Aspect ratio: 2.35:1
Chapters: 42
Feature film: 1080p /
VC-1
Disc Size: 23,908,893,159 bytes
Feature Size: 23,438,180,352 bytes
Time: Extended: 2:21:08.626
Total Bitrate: 22.14 Mbps
Bitrate: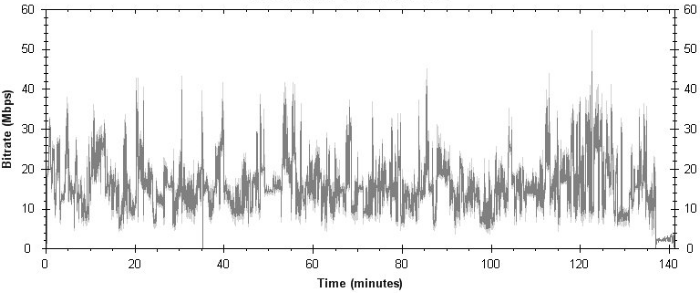 Audio:
Dolby TrueHD Audio English 1423 kbps 5.1 / 48 kHz / 1423 kbps / 16-bit (AC3 Core: 5.1 / 48 kHz / 640 kbps)
Dolby Digital Audio English 640 kbps 5.1 / 48 kHz / 640 kbps
Dolby Digital Audio French 192 kbps 2.0 / 48 kHz / 192 kbps / Dolby Surround
Dolby Digital Audio French 192 kbps 2.0 / 48 kHz / 192 kbps / Dolby Surround
Dolby Digital Audio German 192 kbps 2.0 / 48 kHz / 192 kbps / Dolby Surround
Dolby Digital Audio Italian 192 kbps 2.0 / 48 kHz / 192 kbps / Dolby Surround
Dolby Digital Audio Japanese 192 kbps 2.0 / 48 kHz / 192 kbps / Dolby Surround
Dolby Digital Audio Spanish 192 kbps 2.0 / 48 kHz / 192 kbps / Dolby Surround
Dolby Digital Audio Portuguese 192 kbps 1.0 / 48 kHz / 192 kbps
Dolby Digital Audio Spanish 192 kbps 1.0 / 48 kHz / 192 kbps

Subtitles:
English, Danish, Dutch, Finnish, French, German, Japanese, Italian, Korean, Norwegian, Portuguese, Spanish, Swedish, none
Extras
• Theatrical trailer (1:57 - SD)
S
tandard Blu-ray case
Release Date: February 10th, 2009
Summary: Two Supreme Court Justices have been assassinated. One lone law student has stumbled upon the truth. An investigative journalist wants her story. Everybody else wants her dead. (IMDB)

Another John Grisham legal thriller comes to the screen, pairing Denzel Washington and Julia Roberts in a film directed by Alan J. Pakula, who is known for dark-hued suspense pictures such as Klute, The Parallax View,All the President's Men, and Presumed Innocent. The Pelican Brief isn't up to the level of those films, but it is a perfectly entertaining movie about a law student (Roberts) whose life is endangered when she discovers evidence of a conspiracy behind the killings of two Supreme Court justices. She enlists the help of an investigative reporter (Washington) and the two become fugitives. The charisma and chemistry of the leads goes a long way toward compensating for the story's shortcomings, as does a truly impressive supporting cast that includes Sam Shepard, John Heard, James B. Sikking, Tony Goldwyn, Stanley Tucci, Hume Cronyn, John Lithgow, William Atherton, and Robert Culp. (Jim Emerson, Amazon.com)

A New Orleans law student finds herself embroiled in a terrifying web of intrigue extending to the highest levels of government after she writes a speculative legal brief exposing the activities of a powerful oil magnate...
The Film:
It's an old law of the movies that ordinary novels are easier to film than great ones, because the director doesn't have to worry about the writer's message and style, if any. "The Pelican Brief" is a good illustration of that principle. By casting attractive stars in the leads, by finding the right visual look, by underlining the action with brooding, ominously sad music, a good director can create the illusion of meaning even when nothing's there.

"The Pelican Brief" has been written for the screen and directed by Alan J. Pakula ("Sophie's Choice," "All the President's Men," "Presumed Innocent"), a skilled craftsman who has done about as much as possible with the material. Julia Roberts and Denzel Washington do the rest, simply by embodying virtue and being likable.

The movie opens with the assassination of two Supreme Court justices. In New Orleans, a bright law student (Roberts) is intrigued because there seems to be no obvious motive; the justices are on opposite sides politically, so their deaths would cancel each other.
Excerpt from Roger Ebert at the Chicago Sun-Times located HERE
Image :
NOTE: The below Blu-ray captures were ripped directly from the
Blu-ray disc.
The Pelican Brief was only available in region 1 on DVD in one of the oldest versatile digital discs that I own - from June of 1997! It was a dual-sided, single-layered (known as DVD10), anamorphic washout. Compared to the Blu-ray it is dark, faded, lifeless and flat. While this new hi-def single-layered disc is not pristine it is by far the best home-theater representation of this excellent film. It is much brighter, has a bit of depth - fair, if not stellar - detail and colors are far more true - approaching brilliant. Technically it reveals a moderate bitrate for the 2.5 hour film. The image allows for a consistent and seemingly accurate presentation of The Pelican Brief that is reasonably impressive in motion. There appears to be conspicuous DNR as the image is too soft and grain seems strangely limited - I am usually less sensitive to this practice than some. On my system this gave a reasonable viewing. Warner, utilizing the VC-1 encode produced an obvious improvement, replacing the lackluster DVD, although the transfer seems highly imperfect.
CLICK EACH BLU-RAY CAPTURE TO SEE ALL IMAGES IN FULL 1920X1080 RESOLUTION
Snapper-cased 1997 Warner Region 1 DVD release TOP vs. Warner - Region- FREE - Blu-ray BOTTOM
Audio & Music:

The TrueHD track shows some range
. I had a few head turning incidents expecting my own front door was being knocked and other similar incidents. There are a couple of bomb explosions and some gunplay but mostly this is a dialogue-based film. There are quite a few subtle background songs played plus a typically resonate original score by James Horner. Overall, a confident mix - offered as well in standard 5.1 and eight foreign language DUBs, and thirteen subtitles supporting the
Blu-ray
disc as region-free.
Extras:
None save an SD trailer - which seems unfortunate as this Grisham adapted film is certainly worthy of some discussion. Washington and Roberts are spot-on in early career splendor and Culp make a decent president.
BOTTOM LINE : This is still and excellent thriller in that it is passive enough to be forgettable and a revisited viewing every few years is like a new experience. It's not really a hollow film by any standards and performances are great. It comes together like a complex jigsaw puzzle and I always seem to enjoy watching this every now and again. The Blu-ray has far better video and audio transfer than the only DVD rendering - by a wide margin - but it's not up the the AV level of, ex. A Time To Kill.
Gary Tooze
February 6th, 2009