A Time to Kill Blu-ray
(Joel Schumacher, 1996)
Review by Gary Tooze
Studio: Warner - Region FREE
Video:
Aspect ratio: 2.35:1
Chapters: 46
Feature film: 1080p /
VC-1
Disc Size: 34,088,355,087 bytes
Feature Size: 33,662,711,808 bytess
Time: Extended: 2:07:00.654
Total Bitrate: 30.02 Mbps
Bitrate: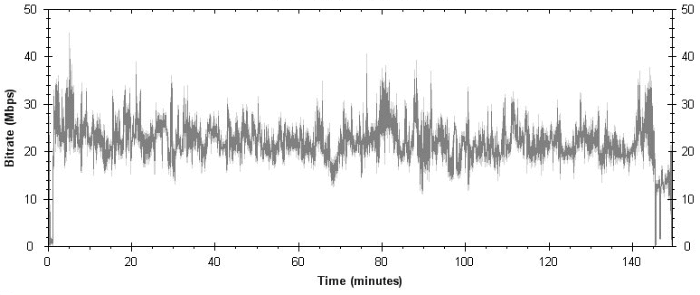 Audio:
Dolby TrueHD Audio English 1432 kbps 5.1 / 48 kHz / 1432 kbps / 16-bit (AC3 Core: 5.1 / 48 kHz / 640 kbps)
Dolby Digital Audio English 640 kbps 5.1 / 48 kHz / 640 kbps
Dolby Digital Audio French 640 kbps 5.1 / 48 kHz / 640 kbps
Dolby Digital Audio German 640 kbps 5.1 / 48 kHz / 640 kbps
Dolby Digital Audio Spanish 640 kbps 5.1 / 48 kHz / 640 kbps
Dolby Digital Audio Italian 192 kbps 2.0 / 48 kHz / 192 kbps / Dolby Surround
Dolby Digital Audio Portuguese 192 kbps 2.0 / 48 kHz / 192 kbps / Dolby Surround
Dolby Digital Audio Spanish 192 kbps 2.0 / 48 kHz / 192 kbps / Dolby Surrounds

Subtitles:
English, Danish, Finnish, French, German, Italian, Norwegian, Portuguese, Spanish, Swedish none
Extras
• Theatrical trailer
S
tandard Blu-ray case
Release Date: February 10th, 2009
Summary: John Grisham's bestseller A Time to Kill hits the screen with incendiary force, directed by Joel Schumacher (Batman Forever, The Client). Sandra Bullock, Samuel L. Jackson, Matthew McConaughey and Kevin Spacey portray the principals in a murder trial that brings a small Mississippi town's racial tensions to the flashpoint. Amid a frenzy of activist marches, Klan terror, media clamor and brutal riots, an unseasoned but idealistic young attorney mounts a stirring courtroom battle for justice. The superb ensemble also includes Brenda Fricker, Oliver Platt, Charles S. Dutton, Ashley Judd, Patrick McGoohan, Chris Cooper and both Donald and Keifer Sutherland...
The Film:
Grisham has stated publicly that A Time to Kill has the most personal meaning of any of his works, and, as a result, he demanded a measure of creative control in the movie-making process. So, with Joel Schumacher (The Client, Batman Forever) at the helm and Akiva Goldsman (The Client) credited with the screenplay, Grisham is listed as one of four producers. And, while aspects of the script differ from details in the book, the overall storyline is very similar. This is fortunate, because, of all Grisham's novels, A Time to Kill is the one best suited to generating a compelling motion picture.

It's possible to argue all day about how much of the race issue in A Time to Kill is a legitimate exploration of black/white tension, and how much is sensationalism used to spice up the story. The KKK has a prominent role, but couldn't a more moderate, less universally-despised group have filled a similar function? There are times when A Time to Kill preaches, but isn't Schumacher aiming the sermon at the converted? The movie clearly touches on some important social issues, but it's up to the viewer to dig beneath the propaganda and unearth the messages that mean something. Then again, it's worth noting that this Hollywood production is actually saying something, rather than just churning out eye-popping special effects while relying on a regurgitated plot.
Excerpt from James Berardinelli at Reelviews.com located HERE
Image :
NOTE: The below Blu-ray captures were ripped directly from the
Blu-ray disc.
A Time to Kill on Blu-ray is one of the better transfers of a film more than 10 -years old put to 1080P. It looks quite flawless. Detail is exceptional - so much so that I was anticipating some edge-enhancement but I could find no evidence - even zooming in extensively. Colors look true and vibrant, while contrast is pristine. Light balances playfully on the characters prevalent sweat (abundant in the film) and there is occasional depth. Truly, I can find nothing to complain about - it is neither glossy nor flat. Technically it reveals a reasonable bitrate with the disc data filling almost 35 Gig of the dual-layered disc. The image allows for a consistent and seemingly accurate presentation of A Time to Kill that is immensely impressive in motion. Warner, utilizing the VC-1 encode produced a magnificent image with this transfer.
CLICK EACH BLU-RAY CAPTURE TO SEE ALL IMAGES IN FULL 1920X1080 RESOLUTION
Audio & Music:

The TrueHD track is quite buoyant
. I had a few head turning incidents to the back of the room (and even suspected some effect noises were coming from upstairs!). Range was valid and there are quite a few incidents utilizing the surround feature. There is original music score by Elliot Goldenthal that fit the storyline adeptly. Overall a crisp confident mix - offered as well in standard 5.1 and multiple foreign language DUBs, and subtitles supporting the
Blu-ray
disc as region-free.
Extras:
None save a trailer - which seems unfortunate as the film is certainly worthy of some viable extra features.
BOTTOM LINE : This is an excellent courtroom drama/action/thriller with an endless list of strong performers involved. While I still think the The Pelican Brief and The Rainmaker may be the best of the Grishams' but this isn't far behind. The Blu-ray has far better video and audio transfer than I was anticipating. This bodes well for the simultaneously release The Pelican Brief on Blu-ray which we will undoubtedly cover. Certainly a film I will revisit and I am very pleased with the transfer. Great job Warner but lets add some extras to cinema this good!
Gary Tooze
January 31st, 2009