Passchendaele Blu-ray
(Paul Gross, 2008)
Review by Gary Tooze
Studio: Alliance (Universal Canada) - Region 'A'
Video:
Aspect ratio: 2.35:1
Chapters: 15
Feature film: 1080p /
MPEG-4 AVC Video
Disc Size: 33,163,676,480 bytes
Feature Size: 25,005,680,640 bytes
Time: Extended: 1:54:16.766
Total Bitrate: 29.17 Mbps
Bitrate: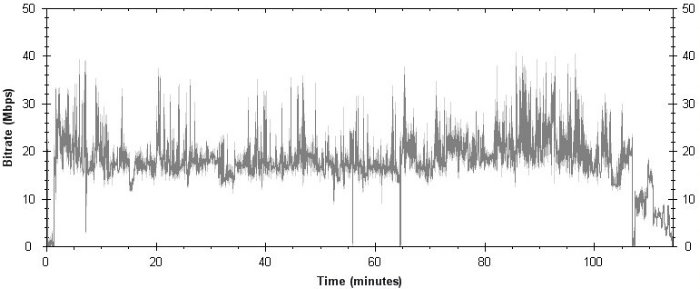 Audio:
DTS-HD Master Audio English 4284 kbps 5.1 / 48 kHz / 4284 kbps / 24-bit (DTS Core: 5.1 / 48 kHz / 1509 kbps / 24-bit)
DTS-HD Master Audio French 4148 kbps 5.1 / 48 kHz / 4148 kbps / 24-bit (DTS Core: 5.1 / 48 kHz / 1509 kbps / 24-bit)
Dolby Digital Audio English 448 kbps 5.1 / 48 kHz / 448 kbps
Dolby Digital Audio French 448 kbps 5.1 / 48 kHz / 448 kbps

Subtitles:
English, French, none
Extras
• The Road to Passchendaele (43:51 in HD!)
• Teaser, trailer, TV Spots
S
tandard Blu-ray case
Release Date: February 3rd, 2009
Summary: Passchendaele is a 2008 Canadian war film from Alliance Films, written, directed by and starring Paul Gross. The film, which was shot in Calgary, Alberta, Fort Macleod, Alberta, CFB Suffield, and in Belgium, focuses on the experiences of Gross's grandfather, Michael Dunne, a soldier who served in the 10th Battalion, CEF in the First World War at the Battle of Passchendaele (also known as the Third Battle of Ypres). The film opened at the Toronto International Film Festival on September 4, 2008 and was released in Canada on October 17, 2008. (Wikipedia)
***
Set during the height of the First World War, Passchendaele tells the story of Sergeant Michael Dunne (Paul Gross), a soldier who is brutally wounded in France and returns to Calgary emotionally and physically scarred. While in the military hospital in Calgary, he meets Sarah (Caroline Dhavernas), a mysterious and attractive nurse with whom he develops a passionate love. When Sarah's younger asthmatic brother David (Joe Dinicol) signs up to fight in Europe, Michael feels compelled to return to Europe to protect him. Michael and David, like thousands of Canadians, are sent to fight in the third battle of Ypres, a battle against impossible odds, commonly known as "Passchendaele". It is a story of passion, courage and dedication, showing the heroism of those that fought in battle, and of the ones that loved them.
The Film:
Unabashedly romantic while also unyielding in its horrific images of World War I, Passchendaele succeeds on two fronts.

As both romantic drama and vivid testament to history, the film is designed to appeal to a wide audience while providing a needed reminder of Canada's sacrifices during "the Great War."

[....]

While honouring the sacrifice of Canada's troops, Gross is careful not to impart a pro-war message. Indeed, his heroic character, Sgt. Michael Dunne, is conflicted by the need to use violence to achieve peace: "It's something we do all the time because we're good at it." (Dunne is named for Gross's maternal grandfather, who fought in the First World War and inspired his grandson to make Passchendaele.)

Gross is also savvy enough to realize that message films are a tough sell, especially ones based on war. At its heart, Passchendaele is a love story of sweethearts separated by duty, fate and a cross almost too heavy to bear.

The film opens with the grim backstory of Dunne's heroism. His battlefield ingenuity leads to an important victory but also results in an act of barbarism that will forever haunt him..
Excerpt from Peter Howell at the Toronto Star.com located HERE
Image :
NOTE: The below Blu-ray captures were ripped directly from the
Blu-ray disc.
The 1080P transfer correctly alters from heavy grain in battlefront sequences to a sharper and a more muted color palette when on Canadian soil. While this is an obvious high-definition transfer, I wouldn't say it's the top of the heap, but it does look consistent and has some strong points. Contrast is decent and noise is minimal. Detail in close-ups is high-end. The best word I can think of is, that this Alliance dual-layered Blu-ray gives a very, 'comfortable' presentation. I consider this a success as it is the first Canadian Alliance Blu-ray that I can recall viewing (Ohhh... I'm mistaken - From Dusk Till Dawn was also Alliance). It bodes well for future release and others that we will cover soon. Technically the bitrate is up there and overall I'd say this gives a reasonably strong visual presentation showing benefit with the Alberta's landscapes.
CLICK EACH BLU-RAY CAPTURE TO SEE ALL IMAGES IN FULL 1920X1080 RESOLUTION
Audio & Music:
Audio offers an original English DTS-HD Master track in 5.1. Battle explosions and gunfire can be piercing and effective while resonating to the rear speakers.
The audio, like the image does a competent job of supporting Passchendaele with some separation and crisply penetrating sound effects. I didn't note a lot of subtlety in the track but the original score is adept by, Oscar winner, Jan A.P. Kaczmarek, who many might know from the music of Finding Neverland (2004). There is a French language DUB and subtitle options in both English and French. As we are unsure at this time we sill judge the
Blu-ray
disc as region 'A' locked.
Extras:
Aside from some unnecessary and short SD teasers, trailers and TV spots, the real supplement is the featurette The Road to Passchendaele running about 45-minutes in HD. It's a decent 'Making of...' with input from Gross, cast and crew, historical data and some behind the scenes takes. It's quite good actually and nice to see in 1080 resolution
.
BOTTOM LINE : This is more a 'people' film than one for the critics. Gross has glossed over some areas and it is by no means a definitive composite of the war or entitled battle - as some may have wanted. This certainly doesn't make it inferior in my books - it is very 'human' and tells a compelling story with some sentimentality... but is far from melodramatic. I think Gross should be quite proud of this towering achievement. It may relate a shade more to Canadians but the impacting narrative certainly could be considered a universal treatise - as many 'war' stories are. This Blu-ray is competent and offers the definitive way to see the film at home with a fault-less transfer. Nice to see a thorough HD featurette supplement complete the package. Both film and Blu-ray could be considered 'solid'. Recommended!
Gary Tooze
February 10th, 2009