Domino
Blu-ray
(Tony Scott, 2005)
Review by Gary Tooze
Studio: New Line Home Video
Video:
Region FREE
Aspect ratio: 2.35:1
Chapters: 28
Feature film: 1080p /
VC-1
Disc Size: 22,693,001,956 bytes
Feature Size: 19,900,588,032 bytes
Time: 2:07:34.730
Chapters: 21
Average Bitrate: 20.80 Mbps
Bitrate: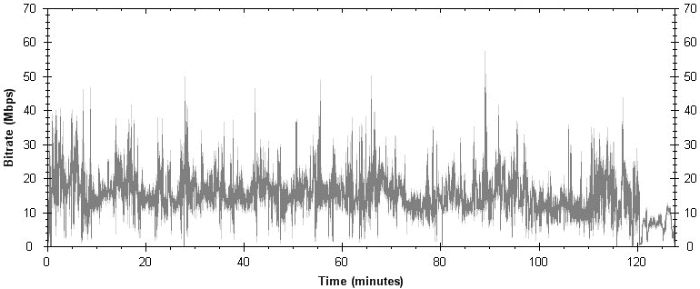 Audio:
D
olby TrueHD Audio English 1736 kbps 5.1 / 48 kHz / 1736 kbps / 16-bit (AC3 Core: 5.1-EX / 48 kHz / 640 kbps)
Dolby Digital EX Audio English 640 kbps 5.1-EX / 48 kHz / 640 kbps
Commentary: Dolby Digital Audio English 192 kbps 2.0 / 48 kHz / 192 kbps
Commentary: Dolby Digital Audio English 192 kbps 2.0 / 48 kHz / 192 kbps
Subtitles:
English, Spanish, none
Extras
• Audio Commentary with Director Tony Scott and Writer Richard Kelly
• Alternate Audio Track Commentary
• I Am a Bounty Hunter (SD, 20:31)
• Bounty Hunting on Acid (SD, 10:36)
• Seven Deleted and Extended Scenes (HD, 7:46)
• Theatrical Trailers
Digital Copy
Two
discs in a standard Blu-ray case.
Release Date: January 20th, 2009
Summary: A trademark Tony Scott film and starring Keira Knightley, Domino presents an entertaining mix of gritty action and a sharp visual style. The film is inspired by the life of Domino Harvey, a former model who rejected her privileged Beverly Hills life to become a bounty hunter...
The Film:
There is little room for depth of character in a film as formally mercurial as this, so Scott has opted for a rogues' gallery of stereotypes, with just enough quirks to be interesting. The cast is made up mostly of larger-than-life actors, especially Rourke, Lindo and Walken, as well as celebrities playing fictionalised versions of themselves (Springer, Ian Ziering and Brian Austin Green). The biggest treat is a bizarre (and uncredited) cameo by singer/actor Tom Waits, to the accompaniment of his own Jesus Gonna Be Here, playing precisely the mythic persona (mystic prophet to the dispossessed) that he has been cultivating through his music for years. Diminutive, posh-toned Knightley may seem an odd choice to hold all these living legends together, but her insistent implausibility fits perfectly in a film so concerned with the traffic between tall tales and true.

The real Domino Harvey, who appears briefly at the end of the film, had, in fact, been arrested for allegedly dealing methamphetamines and was facing trial and a probable decade's worth of imprisonment when, shortly before production on the film ended, she died at home, under house arrest, of a massive drug overdose. Real life is not always quite as pretty as it seems in the movies, but then this is exactly what Domino dramatises, with the sort of vivid dynamism normally reserved for action films that are far more conventional and far less intelligent.
Excerpt from Anton Bitel at Eye For Film located HERE
Image :
NOTE: The below Blu-ray captures were ripped directly from the
Blu-ray disc.
I wasn't particularly enamored with the film for about the first half and that, unfortunately, affected by judgment on this single-layered
Blu-ray
image transfer here by New Line. As it rolled along I began to appreciate both much more. The hyper-kinetic Scott film certainly over-utilizes every cinematographic trick in the book with heavy, blown-out, contrast fluctuations, rapid edit cuts, shaky and obtuse camera angles, unpronounced color infusion and about a million other effects. I couldn't shake the 'overkill' - it was desensitizing me to the entire film. It appeared cheap and amateurish - almost like a directionless student film. The image itself bounces around from heavy grain to intense close-ups. BUT then I began to come around. I could see some reasoning behind the 'punk' infusion. The image style began to grow on me and I suspected that the modest bitrate of
20.80 Mbps was all
Domino
required.
I suspect it is accurate to the theatrical intent of Tony Scott... but even if this
Blu-ray
transfer occasionally misrepresents (or is 'weak') it doesn't really impact upon the essence of the film. Colors look vibrant, detail shows strength in close-ups and grain is abundant. There is not a lot of depth - because of the manner in which it was shot - more than the fault of the transfer. It's still excessive but for a film like this, the 1080P image supports these wild visuals as well as needed.
CLICK EACH BLU-RAY CAPTURE TO SEE ALL IMAGES IN FULL 1920X1080 RESOLUTION
Audio & Music:

We are given a dynamic
TrueHD 5.1 track that separates, slices and dices as well as the film demands. Being so scattered it's hard to definitively judge. There are pieces of over 50 different music artists and indefinable effect noises coming out the wazoo - running around the room. Original music by Harry Gregson-Williams runs the gamut with deep 'party-rock' bass blasting away in circumstance. There is also a

48 kHz 5.1-EX option but I didn't do extensive testing to determine any differences

. The commentaries are in 2.0. There are no DUBs but removable English or Spanish subtitles offered.
Extras:
Supplements appear duplicated from the previous SD release but the 7 deleted scenes are in HD here.
I appreciated the solid audio commentary with Director Tony Scott and Writer Richard Kelly, plus a kind of weird alternate audio track that was sporadic, less defined and professional.
I Am a Bounty Hunter
runs 20 minutes but I wanted more as being as sheltered as I am I knew so very little of this story. Highly interesting indeed. We get another -
Bounty Hunting on Acid
(running 10 minutes in SD, the aforementioned HD deleted and extended scenes running 8 minutes and there are the ubiquitous theatrical trailers. Entertaining anough and filling the void.
BOTTOM LINE : One can't give any credence to this story, so utterly glamorized by Hollywood, that doesn't even vaguely represent the circumstances of Domino Harvey's life - this is a gimmee. I think I'd have liked either a more true, less dramatized piece, or just a totally fictional character without even the attempt of personification to a real person. Perhaps this indicates the limitations of writing these days - or the limits of my imagination. Either way in the end, through a bit of torturous cinematic flashing-light vagueness, I was amused. Domino is filled with actors and personalities that I love - from Rourke characterizing Rourke to Bisset's sexy class, Walken being Walken to Knightley doing a lapdance - it's hard not to succumb to some degree. The Blu-ray is the Blu-ray and I don't feel it's going to look or sound any better - it wouldn't benefit the presentation enough to make a difference even if it did. Actually, I'm still so dizzy from the film I don't even know if I am recommending it or not. Prepare for Hollywood at it's most glamour-puss, action-fertile, MTV-ish - but it's a little more than that. Just a little. Did I say Keira Knightley does a lapdance? Ohh, I did. She does.
Gary Tooze
January 20th, 2009