(Wolfgang Petersen, 1995)
Warner
Review by Gary W. Tooze
Video
Video codec: VC-1
Video resolution: 1080p
Aspect ratio: 1.78:1

Audio
English: True HD 5.1, English: Dolby Digital 5.1, DUBs: French Spanish, German (5.1)

Subtitles
English, English SDH, French, Spanish, German, none

Supplements:
• none

Disc
Feature:
21.81 Gig
2:08:12
Disc: 25GB (dual-layered)
Released: September 2nd, 2008
Standard Blu-ray case
45 chapters
Product Description:
Big-name stars join director Wolfgang Petersen (In the Line of Fire) for big excitement in this breathless technothriller. Two-time Academy Award winner Dustin Hoffman plays Sam Daniels, a take-charge army virologist trying to stave off global biological meltdown. A rare killer virus from the jungles of Zaire has taken hold in a California community. It knows no boundaries. Its mortality is 100%. And some say the only way to stop its spread is to firebomb the town and everyone in it. Rene Russo, Morgan Freeman, Donald Sutherland and more superb talents join Hoffman in this shocking, nail-biting tale of the day that could become doomsday...
****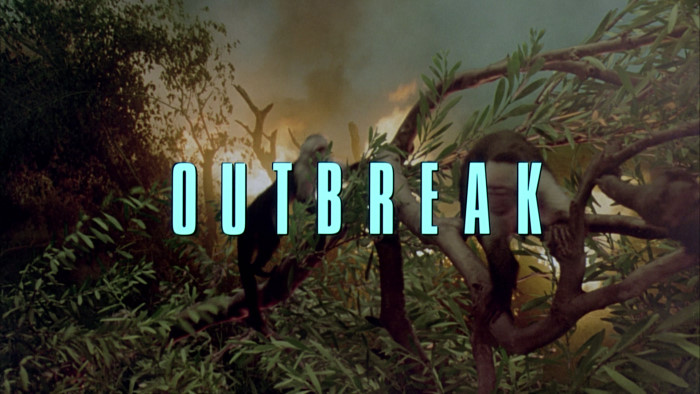 The Film:
Wolfgang Petersen's "
Outbreak
" is a clever, daunting thriller about such a possibility. It follows the career of a microscopic bug that kills humans within 24 hours of exposure by liquefying the internal organs. Not a pretty picture. The bug is based on fact; an account of something similar can be found in Richard Preston's new book, The Hot Zone. The thriller occupies the same territory as countless science fiction movies about deadly invasions and high-tech conspiracies, but has been made with intelligence and an appealing human dimension.
[...]
It is a Hollywood law these days that all thrillers end with a chase. Mere dialogue-driven endings are too slow for today's attention-deprived audiences. I am not sure I believed the helicopter chase sequence in "Outbreak," and I am sure I didn't believe the standoff between a helicopter and a bomber (in a scene with echoes of "Dr. Strangelove"). But by then the movie had cleverly aligned its personal, military, medical and scientific plots into four simultaneous countdowns, and I was hooked.
Excerpt from Roger Ebert at the Chicago Sun Times located HERE
Video: NOTE: The below Blu-ray captures were ripped directly from the Blu-ray disc.
Colors are a bit muted with contrast following suit. Detail is about where it should be for a 1080P from 1995 (unbelievably 13 years now) and it has some impressive moments.
Outbreak
shows itself on
Blu-ray
as looking fairly decent, but very low on the high-definition 'Wow' factor. Once again, I don't think there is any blame to lay fault with - I don't believe dual-layering could have done much more to enhance the visual experience of the film. It's probably pretty darn close to how it appeared theatrically. Colors are a strength and noise a background noise a weakness. This
Blu-ray
is not of reference quality but still represents the film better than any other home theater format. Technically, only, single-layered (the feature takes up over 21.8 Gig), and is encoded using VC-1. I don't see evidence of any DNR filters or edge enhancements. I hope the large screen grabs can give you a good idea of how it will perform on your system. It's not reaching the heights of the
Blu-ray
format but it does seem competent for presenting the film accurately.
Screen Captures
CLICK EACH BLU-RAY CAPTURE TO SEE ALL IMAGES IN FULL 1920X1080 RESOLUTION
Audio: The True HD 5.1 option had some decent range with the helicopter chases being the most utilized proponent. The more suspenseful aspects for the film are expanded to some degree by the audio. There is an original score, somewhat subtly stirring, by James Newton Howard. Overall, I'd say the True HD option may be in the same quality category as the video - possibly a notch higher. Dialogue is clean and clear - with subtitle options available - (but not Japanese as indicated on the case, nor a Japanese DUB - well I can't access them anyway) - see the full list above.
Extras:
Nutt'in again - not even a trailer. With such a stellar cast and renowned director I would have thought something was in order - perhaps not a commentary but some interviews, medical documentaries etc. Ohh well...
BOTTOM LINE: Well, another bare-bones Blu-ray from Warner. I have a theory - because it is one I practice myself. A lot of also-ran films are coming out in 1080P - why? Well, this new format needs massaging to perfection (proper encodes, layering, enhancement etc.). What better film to practice this on than Outbreak? or The Gauntlet? or Pale Rider? I'd rather the production studios hone the transfer process with these 'guilty pleasures' than the eventually released true classics. Warner is well aware of what will sell and what won't sell and like them - I too, am getting a handle on this Blu-ray format (what to look for, weaknesses, DNR etc.) so that when the Criterion or other important cinema milestones reach 1080P - I'll know what to say about it. Anyway, that's why I am reviewing these unremarkable Blu-rays - just to let you know.
Outbreak, as a film, has weaknesses and some more obvious Hollywood-esque strengths. The plot may have been one of the first, latter, (let's not forget The Andromeda Strain though) to broach this virus-strain topic that was getting some press at the time. They threw every viable star in the studio at it, and it helped to some degree. Great films though - start with great scripts - and this was good - but certainly not great. Petersen's a bit of a journeyman and can produce salability while lacking depth (mutually exclusive?). Warner's competent Blu-ray has positives and detractions too. The lack of extras might not discourage fans as it is more of a popcorn flick than one to dwell on and mull over - well, it could have had a more dramatic impact but it's presented so superfluously that it's more of a throw away that you may wish to re-visit every 5 years or so. It is entertaining - for sure. That alone can make it worth owning for some.
Gary Tooze
August 27th, 2008