(Clint Eastwood, 1977)
Warner
Review by Gary W. Tooze
Video
Video codec: VC-1
Video resolution: 1080p
Aspect ratio: 2.4:1

Audio
English: True HD 5.1, English: Dolby Digital 5.1, DUBs: French Spanish, German (1.0)

Subtitles
English, English SDH, French, Spanish, German, none

Supplements:
• none

Disc
Feature:
22.18 Gig
1:49:11
Disc: 25GB (dual-layered)
Released: September 2nd, 2008
Standard Blu-ray case
34 chapters
Product Description:
Phoenix cop Ben Shockley's dream of breaking "the big case" has faded through the years. His assignment to escort from Las Vegas "a nothing witness for a nothing trial" seems like just another meaningless exercise. Until the fireworks start. Clint Eastwood runs "The Gauntlet" into an explosive movie embodying its title with a vengeance. The witness is a hardened hooker whom everyone--including Vegas oddsmakers--wants dead. Trapped between both sides of the law, the two must survive an obstacle course of raging gunfire, blazing cars, swooping helicopters, murderous ambushes, crazed bikers, and crooked police. Building to a ferocious finale that shoots an armored bus to smithereens with more than 8,000 bullets, "The Gauntlet" is a trip you can't miss. Leave the driving to Eastwood: sit back and enjoy the ride...
****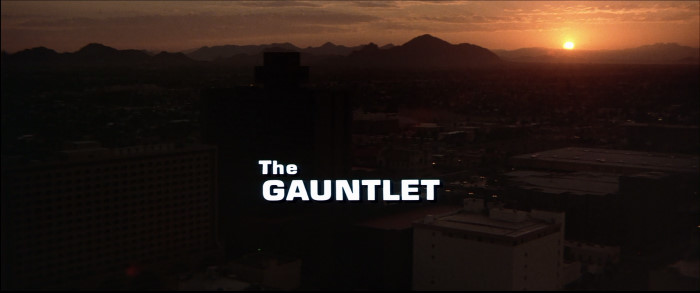 The Film:
Explanations aren't really necessary. "
The Gauntlet
" has nothing to do with reality and everything to do with Clint Eastwood fiction, which is always about a Force (Mr. Eastwood) that sets things straight in a crooked world.
"
The Gauntlet
," which opened yesterday at the Columbia I and National Theaters, is about the rigors faced by Mr. Eastwood's detective when he attempts to return the hooker from Las Vegas to Phoenix to testify at a mob trial. Along the way the detective and the girl establish a revivifying relationship (he will give up his Jack Daniel's if she gives up her johns), though the movie is more concerned with the mob's efforts to prevent them from completing their trip.
There are escapes in ambulances, gunfights in speeding automobiles, a helicopter attack, a ride on a stolen motorcycle and, for the climax, a sequence in which a bus, armored like the Monitor, runs a police gantlet through downtown Phoenix to reach City Hall.
It is a movie without a single thought in its head, but its action sequences are so ferociously staged that it's impossible not to pay attention most of the time. It's not simply that the film is noisy. It has a kind of violent grace, as when a house, which has been bombarded by the heavy artillery of the police, quietly gives up and collapses into fine rubble.
Video: NOTE: The below Blu-ray captures were ripped directly from the Blu-ray disc.
Although not a hard and fast rule - I'm finding one of the unforgiving markers of 1080P quality is the age of the film - or more importantly the quality of the original source.
The Gauntlet
is more than 30 years old now and shows itself on
Blu-ray
as quite mediocre. I don't think there is any blame to lay fault with - I don't believe dual-layering could have done much more to enhance the visual experience of the film. It looks, probably pretty darn close to how it did theatrically. The image is very clean, bright (a lot of the film was shot outdoors) - detail has healthy moments and overall it looks vastly improved from its SD-DVD counterpart. Background noise is quite minimal and I thought it appeared quite film-like during my viewing. Certainly this
Blu-ray
is not of demo quality but still represents the film extremely well. This is really the job of high-definition - not to falsely enhance or report inaccurate, if more vibrant, colors. I think Warner have done an admirable job rendering
The Gauntlet
's image to
Blu-ray
. Technically, just, single-layered (the feature takes up over 22.18 Gig), and is encoded using VC-1. I don't see evidence of any DNR filters or edge enhancements. I hope the large screen grabs can give you a good idea of how it will perform on your system. There is really nothing to fault - it appears as it should. It doesn't resonate jaw-dropping visuals - as the film didn't either. There are, however, some scenes that look pretty darn impressive.
Screen Captures
CLICK EACH BLU-RAY CAPTURE TO SEE ALL IMAGES IN FULL 1920X1080 RESOLUTION
Audio: The True HD 5.1 option utilized the surround speakers but doesn't appear to have dynamic range. Bullets and explosions are everywhere throughout the film and they do reach the rear channels just not as deftly separated as you will have heard from more modern action films. There are some more bass-y dynamic moments but even they aren't the 'write home' variety. I really have no complaints although I only tested the standard 5.1 option for a few minutes for comparison. The HD seemed a notch superior. Dialogue is clean and clear - with subtitle options available - (but not Japanese as indicated on the case) - see the list above.
Extras:
Nutt'in - not even a trailer. I don't suppose the film warrants any supplements but
something
would have given me reason to talk longer in this paragraph.
BOTTOM LINE: The film is on a lot of guilty-pleasure lists. The plot ventures to the supercilious and it's actually all characterizations and noise - Clint as the tough cop who's not afraid to go through hell to expose corruption and his 'muse' at the time, Sondra Locke - a smart hooker who looks great in tight jeans. I think I read that 8,000 bullets were used in making of this film and I'd have guessed a an even larger number. I enjoyed the 'road picture' aspects a lot more than the action. I think you could say this about a lot of earlier Clint movies, but 'for such a dumb film - it really does have an unusual appeal'. Warner's competent Blu-ray looks as good as you are going to see from this film for a long time. The lack of extras shouldn't deter fans - it's the type of film experience suitable with a burger and chocolate milkshake - even fries might be too much.
Gary Tooze
August 26th, 2008