(Peter Chan, 2005)
Tai Seng Video
Review by Gary W. Tooze
Video
Video codec: AVC
Video resolution: 1080p
Aspect ratio: 1.85:1

Audio
Mandarin: Dolby 2.0, DTS-HD Master Audio 7.1, Dolby True-HD 7.1
DUB: English: Dolby Digital 5.1

Subtitles
Chinese (traditional), Chinese (simplified), English, none

Disc
50GB Blu-ray Disc
REGION FREE
Supplements:
•
Commentary with Rick Myers, Frank Djeng, Jeff Rovin
• "Making Of" Part I (14:53)
• "Making Of" Part II (16:40)
• TV Spots
• Behind The Scenes (2:16) - no dialogue
• Perhaps Love Original HK Trailer (1:08)
• Perhaps Love US Trailer
• Perhaps Love Music Video

Disc
Feature: 29.7 Gig
1:47:53
Disc: 50GB (dual-layered)
Released: July 29th, 2008
Standard Blu-ray case
16 chapters
Product Description:
Legendary director Peter Chan helms this lustrous musical which garnered a whopping 11 nominations at the Hong Kong Film Awards, winning 6 including Best Actress (Zhou Xu, THE BANQUET), Best Cinematography (Peter Pau, CROUCHING TIGER HIDDEN DRAGON), Best Original Score and Best Original Song. Lin (Takeshi Kaneshiro, HOUSE OF THE FLYING DAGGERS) is a moviestar shooting a musical about a love triangle directed by Nie Wen (Jacky Cheung), the charismatic paramour of Sun (Zhou), the film's leading lady who is also Lin's ex-lover. Reality and fantasy begin to merge as Lin tries to rekindle Sun's affections for him, under Nie's grudging watch. Filled with dazzling song and dance sequences and sumptuous images, PERHAPS LOVE pays tribute to the grand tradition of Hollywood musicals , and weaves a tale of bittersweet love...
****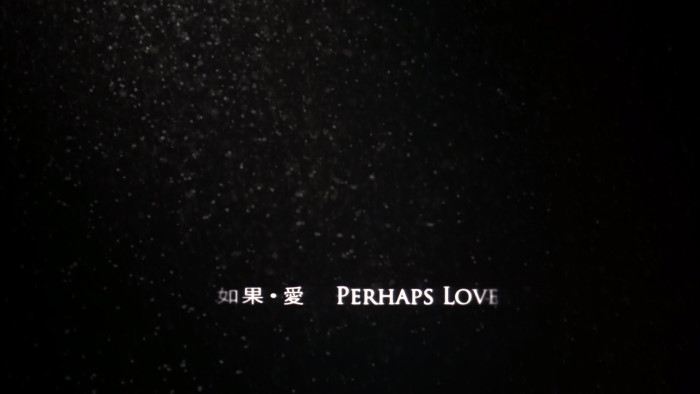 The Film:
Peter Chan Ho-sun finally returns with
Perhaps Love
, the closing film for the Venice Film Festival 2005 and a nominee for Oscar Best Foreign Language Film. The film features a star-studded cast, including top Mainland actress Zhou Xun, Hong Kong super singer Jacky Cheung, Takeshi Kaneshiro who has been on the rise in Japan, and also Korean actor Ji Jin Hee who is best-known for his role in Dae Jang Geum. Peter Pau, after his Oscar winning cinematography for
Crouching Tiger, Hidden Dragon
, serves as the cinematographer for Perhaps Love, another potential Oscar winning film. The crew also includes top musician Peter Kam for film scores and famous art director Yee Chung-man for the production design.
In this splendid movie quasi-musical, Takeshi Kaneshiro stars as Lin Jiantung, a film-student-turned-actor who first encountered Sun Na, played by Zhou Xun, 10 years ago at film school. Sun Na now becomes famous director Nie Wen's (Jacky Cheung) girlfriend, apparently in exchange for a better career. She keeps forgetting her past, while Lin Jiantung indulges himself in remembering his romance with her ten years ago. Now all three of them has to work together in a musical, the plot of which is amazingly similar to their own experiences!
Some say Peter Chan offers a Chinese version of the famous musical movie
Chicago
. Whether this claim holds true or not, in
Perhaps Love
Peter Chan has explored an art form which very few Hong Kong or even Chinese film directors dare try. Yet, beneath all the enchanting singing and spectacular dancing scenes indeed lies the theme of romance, which seems a recurring motif in all Peter Chan films from
Comrades, Almost a Love Story
to
Perhaps Love
.
Video: NOTE: The below Blu-ray captures were ripped directly from the Blu-ray disc.
A couple of years back I reviewed a very strong SD-DVD of this film from Mega Star
HERE
(and we've compared one frame below) but it appears to be out-of-print now although Tai Seng Video are also offering this in a new SD simultaneously
HERE
. With my accolades for the older SD - I was keen to see some improvements from this
Blu-ray
. It's on a dual-layered disc with the feature taking up 29.7 Gig of the 50 Gig available.
I wasn't overwhelmed by the appearance on this Blu-ray. The film has some gorgeous shots but they didn't seem as brilliant in appearance as I was anticipating. Colors, especially, looked very strong, but so did they on the SD - although admittedly this Blu-ray eclipses it in that area as well as in detail. I just don't think it was as grand an upgrade as I was expecting. This doesn't have any major flaws that I can determine - and if you are seeing the film for the first time - this Blu-ray is definitely the route you should go. I'm seeing a lot of modern films on Blu-ray these days so perhaps my reference points are a bit ambitious - this probably looks as good as it can or will for a while with no manipulations of edge-enhancement or DNR. Ohhh... the menus of this Blu-ray, conveniently, have English visible.
Screen Captures
CLICK EACH BLU-RAY CAPTURE TO SEE ALL IMAGES IN FULL 1920X1080 RESOLUTION
Audio: While toggling between the 2.0 channel Mandarin and the other more bombastic options; a DTS-HD Master Audio 7.1, and a Dolby True-HD 7.1 (plus the inclusion of an English: Dolby Digital 5.1 DUB) you can hear a tremendous difference. Both 7.1 options are quite dynamic and support the film's numerous musical numbers extremely well. I was definitely more keen on the audio than the video of this Blu-ray. It was beautiful just to listen to on its own - both being very full and lively with the DTS possibly gaining the upper hand at times. There are English subtitles (as well as optional Chinese) but I check the English DUB and it does NOT match the subtitle translations at all. It's kind of humorous (at least the segment I tested) and definitely not a recommended way to watch the film.
Extras:
Unadvertised on the box (or mentioned in the Special Features menu options) is a full-length commentary with Rick Myers, Frank Djeng and Jeff Rovin (I hope I got those names right). At first it seems like an odd trio, with varying backgrounds, but I thought they did a very good job - not gushing over the film but giving decent criticism with many salient points of interest about Asian cinema and the value of
Perhaps Love
. Aside from that are a few of the same extras that I posted on the SD - a half-hour 'making of...' (with optional English subtitles) some advert TV Spots, behind the scenes clips and some trailers. Aside from the decent commentary - nothing of any value.
Extras
BOTTOM LINE: I seem to be running into a bit of a negative patch but I wasn't as keen on my viewing of the film this time around. It was very lavish and bright but seemed somewhat hollow in the end to me.. This is an okay-good film but this Blu-ray is only adequate in terms of comparing to other modern films we've seen put to 1080P disc transfer. The price is quite good and fans of HK cinema may enjoy this unique musicals/romance extravaganza (and Zhou Xun is quite a honey) and certainly the Blu-ray is the best way to enjoy it but I'm not going to endorse a purchase.
Gary Tooze
August 2nd, 2008