Review by Gary Tooze
Studio
Blu-ray: Paramount
Transfer
:
Video codec: MPEG-4 AVC
Video resolution: 1080p
Aspect ratio: 2.35:1

Audio:
English: DTS-ES Matrix 6.1
English: Dolby Digital 5.1 EX
French: Dolby Digital 5.1
Spanish: Dolby Digital 5.1

Subtitles:
English SDH, English, French, Spanish
Extras:
Audio commentary by John Woo and writers Mike Webb, and Michael Colleary
2nd audio commentary by Mike Webb and Michael Colleary
7 deleted including an alternate ending (with optional commentary) - in HD!
Featurette: The Light and the Dark: Making Face/Off (in HD!)
Featurette: John Woo: A Life in Pictures (in HD!)
Theatrical Trailer (in HD!)

Disc:
50GB Blu-ray Disc
Product Description: John Travolta stars as FBI agent Sean Archer doing the unthinkable to stop the elusive terrorist Castor Troy (Nicolas Cage). Watch the bullets fly and the action explode as master action director John Woo ( Broken Arrow) detonates the screen in this special collector s edition DVD. Loaded with high-voltage special features this two-disc set redefines the action genre like never before!
***
The Film: Pay attention, none of this makes much sense. Five years after the murder of his son, FBI agent Sean Archer (Travolta) finally has the drop on terrorist Castor Troy (Cage) - but with Castor comatose and a bomb ticking somewhere in LA, Archer's persuaded to undergo facial surgery, swapping Castor's features for his own. In this way, Archer-as-Troy (Cage) hopes to trick the location out of Castor's brother Pollux (Nivola). Unfortunately, Castor wakes up, and makes off with Archer's face, killing everyone who's in on the secret, and moving into his enemy's office. Woo's poetic-kinetic style has evolved, if not to the point of abstraction, then to delirium: he makes a virtue of incredulity. With two of Hollywood's most flamboyant actors playing each other, the movie becomes a kind of pop Heat, an elaborate self-parody and quasi-serious examination of the art of film acting. Yet there's an authentic subversive frisson as Travolta (as-Troy-as-Archer) sizes up his rebellious teenage daughter, puts the sizzle back into a stale marriage, and generally carries on with the air of a sociopath getting the most out of life. 'Are we having any fun yet?' he demands. Twice over.
Excerpt from TimeOut Film Guide located HERE
Image: Despite my reservations about the film itself I must say that visually this film on 1080P looks pretty darn strong. I suspect it is moderately superior to the 2-disc HD-DVD (reviewed HERE) but I have no evidence to back that statement up. Despite the stellar transfer quality I did note minor instances of edge-enhancement and moiring but I doubt either would be off-putting for fans of the film. It indicates a shade of digital manipulation and can tend to make the performers look mannequin-like at times - almost too 'clean'. The colors are a bit muted but contrast and detail are at the very high-end... even for 1080P. Noise is virtually non-existent and the film has a fairly dark (intentional?) look. Positively there is a fair level of consistency with the visuals on this title with a few bona-fide instances of 'wow' factor - perhaps, more attributed to the cinematography but overall this reflects an extremely professional presentation worthy of fans of the Blu-ray format. It may be demo-worthy - especially taking into account the audio (see below)...
Audio & Music: I sampled both English audio tracks (DTS-ES Matrix 6.1 and Dolby Digital 5.1 EX) and they are some of the best I have heard on my new system. I believe a lot of effort went into the track in production (and less on continuity details?!?) and it presents itself extremely well in this new Paramount Blu-ray. Tight separation is undeniable - with some remarkable subtleties that can eventually explode you into the next room. The audio transfer approaches zenith demo quality. There are optional subtitles, adequately translated, in English SDH, standard English, French or Spanish flavors - off-white font with a black border.
Extras: The two commentary tracks (same as on the previous HD) are another solid enticement for fans to indulge although they are also directly duplicated from the 10th Anniversary edition. The first features director Woo and co-writers Mike Werb and Michael Colleary. It covers a lot of ground from production details - choreographing action sequences and the writers give input on finalizing the script. The second track features the same participants with Woo apparently in the washroom and they, perhaps feel more free to discuss the enigma surrounding him. There are seven deleted scenes lasting around 8 1/2 minutes with optional commentary by above listed writers and like the next two featurettes - a five-part documentary entitled The Light and the Dark: Making 'Face/Off' this is in HD also. The 1/2 hour featurette: John Woo: A Life in Pictures sums up his career to that point to some degree. We are also given the theatrical trailer in HD. To be honest, I struggled through these supplements as I am not a fan but can see those keen on Face/Off eating them up with relish (and mustard!). Bottom line is that Paramount spared little expense in augmenting this bombastic BRD 'Special Edition' package.
| | |
| --- | --- |
| | |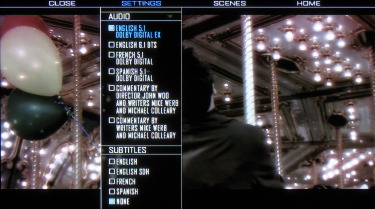 Bottom line: I find this is one giant machismo infused drama with scattered details and omissions all over the place. But as violence-art goes from Hollywood it is probably 'top of the heap'.
The Blu-ray itself is definitely an impressive one with such a detailed, professional transfer to 1080P. The audio is stupendous and the extras (dual commentaries and featurettes in HD) may be appealing enough to shift the balance towards a purchase even if you are so-so on the film. I have quite a few 'buddies' that this will this a make the perfect demo disc when they appear at the doorstep. The film is a wild ride - one that I, personally, wasn't particularly keen on taking. Others embrace it as one of the more extreme examples of non-stop, explosive, gun-toting cinema made in the 'lost' 90's. To each his own, although this latter statement may actually be quite accurate. This Blu-ray DVD won't disappoint.
Gary Tooze
May 21st, 2008