(Tom Tykwer, 1998)
Production: Sony Pictures

Video:
Video codec: MPEG-4 AVC
Video resolution: 1080p
Aspect ratio: 1.85:1

Audio:
German: Dolby TrueHD 5.1, DUBs: English: Dolby TrueHD 5.1, Spanish: Dolby Digital 5.1 and Portuguese: Dolby Digital 5.1

Subtitles:
English SDH, English, French, Spanish, Portuguese and none

Disc
25GB Blu-ray Disc
Runtime: 1:20:13

Extras:
• Tykwer & Potente Commentary
• Franka Potente - Believe Music Video (4:02)
• Featurette: Still Running
Disc: 25GB Blu-ray Disc
Release Date: February 19th, 2008
Standard Blu-Ray case

Synopsis: A thrilling post-MTV, roller-coaster ride, Run Lola Run is the internationally acclaimed sensation about two star-crossed lovers who have only minutes to change the course of their lives. Time is running out for Lola (Franka Potente). She's just received a frantic phone call from her boyfriend, Manni (Moritz Bleibtreu), who's lost a small fortune belonging to his mobster boss. If Lola doesn't replace the money in twenty minutes, Manni will surely suffer severe consequences. Set to a throbbing techno score, "Lola's like a human stun gun!" - Peter Rainer, New York Magazine on Amazon HERE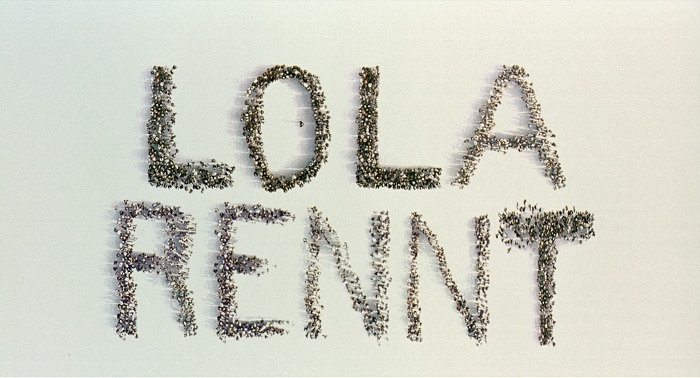 The Film:
After receiving a frenzied phone call from her boyfriend desperately in need of one hundred thousand Deutschmark within twenty minutes after a nefarious dealing turns soar, Lola must quickly decide what to do to retrieve the sum and ultimately save his life. She runs.
Running a gamete of modern tricks and formats available to filmmakers,
Run Lola Run
progressively churns resulting in a purely kinetic piece of work that won Tykwer the 1999 Audience Award at Sundance and has been garnering a fanbase ever since.
The Video: NOTE: The below Blu-ray captures were ripped directly from the Blu-ray disc.
I wasn't a overly impressed with how the SD version of this film looked (reviewed HERE) and agree with Jayson Kennedy who dubbed it only an 'adequate presentation'. It always came across as fairly flat. This new Blu-ray DVD improves in the exact areas that benefit viewing this film the most. Colors brighten up extensively and detail appears improved as well. Being so highly kinetic, Run Lola Run's overall visual presentation becomes highly compatible with the fun and enjoyment of the film itself. There is a high level of creativity in the art direction - and with 1080P resolution that brilliance really surfaces to the maximum. Sharpness is also bumped up a good notch or two. My only complaint would be some minor noise but overall the image quality is fairly rich and thicker than before. It's not quite at the level of more modern films transferred to this new digital format... but it is not far off either.
Audio:
The original German audio track in Dolby True HD 5.1 sounds quite strong. Like the film's visuals this track is equally filled with dynamic contours using a veritable cornucopia of obtuse sound effects and techno music interludes. There is some heavy bass and pulsating rhythms that are supported very well by the HD track. There is an untested English HD 5.1 DUB are two 5.1 DUBs (Spanish and Portuguese) plus subtitle options including English SDH, English, French, Spanish, Portuguese. It appears to be another good job by Sony.

Extras:
Ported over from the SD edition we have a original Tykwer & Potente Commentary, plus a Franka Potente - Believe Music Video (4 minutes) in 480 resolution. The supplements are a bit bare but I wasn't expecting much more.
Menus

BOTTOM LINE: Fans of Run Lola Run should probably invest in this edition as the film certainly looks much more 'alive' than ever before on digital. I actually think I enjoyed it more this time then when I first saw it over 5 years ago. The high energy and creative outpouring were very welcome as a wonderful change of pace. The brilliance of colors in the frame makes the film presentation that much more delightful and charismatic. Yes, I do recommend this Blu-ray edition although some bona-fide supplements beyond the old commentary would have been an added enticement.
Gary Tooze