(Satoshi Kon, 2006)
Studio: Sony Pictures
Video: 1080p -16:9 - MPEG-2 (28Mbps)

Audio: Japanese Dolby TrueHD 5.1 (± 2.5 Mbps), English Dolby TrueHD 5.1 (± 2.5 Mbps), French Dolby Digital 5.1 (448kbps), Spanish Dolby Digital 5.1 (448kbps), Portuguese Dolby Digital 5.1 (448kbps), Mandarin Dolby Digital 5.1 (448kbps), Cantonese Dolby Digital 5.1 (448kbps), Thai Dolby Digital 5.1 (448kbps), Japanese Audio
Commentary Dolby 2.0 (192kbps)

Subtitles: English, English SDH, French, Portuguese, Spanish, Korean, Thai, Chinese, none

Special Features Subtitles: English, Portuguese, Spanish, Korean

[NOTE: Package comes with incorrect information!]

Disc: Dual-Layered Blu-Ray (50GBs)
Runtime: 90 min.

Extras:
Filmmakers Audio Commentary with Subtitles (English, Spanish, Korean, Portuguese)
Tsuitsui and Kon's Paprika - Making-Of Documentary (SD)
A Conversation About The "Dream" (SD)
The Dream CG World (SD)
The Art Of Fantasy (SD)
Storyboard Comparisons (HD)

Release Date: November 27th, 2007
Package: Standard Blu-Ray case

Synopsis:
29 year old Dr. Atsuko Chiba is an attractive but modest Japanese research psychotherapist whose work is on the cutting edge of her field. Her alter-ego is a stunning and fearless 18 year old "dream detective," code named PAPRIKA, who can enter into people's dreams and synchronize with their unconscious to help uncover the source of their anxiety or neurosis.
****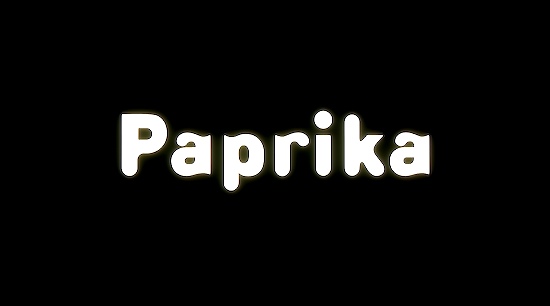 The Film:
It initially looks like an ordinary murder mystery, albeit one with a sci-fi twist, as Detective Toshimi Konakawa's dreams lead him to a confrontation with the unknown target of his investigation. The twist is that he's being shadowed by "Paprika", a young woman who is able to enter his dreams with the "DC Mini" headset. But it turns out there's another mystery: The developers of the DC Mini have discovered that some of their prototypes - unapproved as yet - have been stolen. Attractive-but-severe Atsuko Chiba, overweight, immature genius Kosaku Tokia, handsome Morio Osanai, and diminutive lab chief Torataro Shima follow a trail that leads them to Tokia's assistant Himuro, but the technology has become increasingly dangerous, as now the dreams and even waking moments of anyone who has used it (which includes the entire research team) can be invaded, and one dream in particular is driving them mad. The wheelchair-bound chairman of the lab, Seijiro Inui, is calling the DC Mini and science in general an affront to nature and is shutting the program down.

A lot happens in this movie. Claiming that a film feels longer than its running time is often an indication that it drags, but here it's a testament to adapter/director Satoshi Kon's efficiency and good pacing: Despite bringing the film in at a tight ninety minutes, he has plenty of time for the mystery to take several twists and turns and for a side plot like the origins of Konakawa's cinema-influenced nightmares to play out. He's also a master of this animated medium, and as such frequently allows his visuals to carry the movie. Time is never wasted describing with words what the audience can clearly see.
Excerpt from Jay Seaver's review at ECritic.com located HERE
The Video:
I was expecting the same image quality and characteristics found in Tekkon Kinkreet since they were released so close together and have a similar style in animation and idea; the use of quasi-real CG environments and dreams/delusion that are brought to life. As expected the quality is almost the same, perhaps Paprika is a slightly superior.

The image looks very consistent throughout the movie with a smooth transition between the more vivid and saturated scenes to the lightly contrasted and detailed darker scenes. This animation gives a special importance to colors and light since it tries to bring a dream-like effect to the screen and this Blu-Ray allows you to enjoy all the very eye-catching scenery. This is true of the ones shown against window reflections, that can be easily hidden by a bad contrast/ brightness adjustment. Note that every standard Blu-Ray release come with an image adjustment tool that can be accessed by typing 7669 with your remote control, it can be helpful if you think your system's settings are unbalanced.

Animation is truly benefiting from the HD formats so far. The usual large amount of detail and exuberant colors together with the wider use of 3D scenery have increased the popularity level of these works among Hi-Def adopters. But while they they have becoming a reference for the enhanced visuals that can be provided by the new format, there are still some common and persistent problems amongst the new Hi-Def anime releases. This release is not different from the others. The color noise in dark spots and an occasional rough transition between the shades are disturbingly present in a few scenes. It doesn't detract much from the overall image quality, but it is annoying to see a Hi-Def transfer still coming with a medieval image problem.

It may be important to note that the abrupt transition of tones/shades (color banding) could have been caused by my TV's HDMI 1.1 connection. I read extensive technical articles blaming the HDMI 1.1 standard for color banding and stating that the HDMI 1.3 is the solution. A good fast reading about this can be found HERE.
So, I can't precisely state who is to blame in this circumstance; perhaps the range of colors used here is indeed wider and my TV (HDMI 1.1) is not ready for it. Hopefully this is the answer instead of a problematic master used for the transfer.

Save for these two small and common problems, I find the video quality here outstanding and a good example of what can be achieved with the new formats.
Audio:
There are no Uncompressed PCM option available! The main audio options are the Japanese and English Dolby TrueHD 5.1. Both have the same quality - only the dubbing makes the English an inferior option in my opinion, but I suppose many who don't like reading subtitles will utilize it.

The Dolby TrueHD is good but gives too much emphasis to the music and sound effects, making the volume boost, in some cases, quite annoying. The voices are also suffocated by the backgrounds, and even in quieter moments they sound low; probably because your ears were blasted with the sound effects a moment ago... But at least all the sounds and music, even when boosted, come out clean. There are no mentionable defects, and overall the audio is very immersive.

The other sound options are all Dolby Surround 5.1 and sound equal in my opinion. The voices are more audible than they are in the Dolby TrueHD, but the rich effects are timid in comparison.

THE DUBS:
The Portuguese dubbing is even worse than the English one. It not only sound like an antipathetic reading but the occasional lack of synchronization is also bothersome. The translation/adaptation is close to the Portuguese subtitles (derived from the English subtitles), and although it suffers in precision and acting (like almost all dubbing), it is still a valuable addition.

Extras:
Almost all the extras are presented in standard definition, only the storyboards and trailers are Hi-Def. All are subtitled in multiple languages. The more universal a release is the more I appreciate the effort.

Tsuitsui and Kon's Paprika - Making-Of Documentary: This is short and most of the time is spent talking about the story and its adaptation, how Satoshi Kon came up with a 90 minute anime adaptation of a large book trying not to damage the main idea and concepts. Yasutaka Tsuitsui also comments the process and tells why an anime was the only option to bring his book to the big screen.

"A Conversation About The "Dream": A conversation/interview with Satoshi Kon, Yasutaka Tsuitsui, and the two main actors where they tell about their experiences and feelings about Paprika.

The Dream CG World and The Art Of Fantasy: Both are short documentaries more concerned about the creation process and the technology used. Interesting.

Filmmakers Audio Commentary: I found it a fun laid-back conversation about the movie's ideas, concepts, music... but avoiding the more technical aspects or interpretations of specific situations.

Hi-Def storyboards: this supplement's package is solid and possibly the best one available for a Blu-Ray anime release.
Menus
BOTTOM LINE: This is certainly not a "one-night-stand" movie and repeated views are strongly encouraged to enjoy all the stunning visual details representing the rich descriptions found in the original book by Asutaka Tsuitsui. This is indeed a successful word-to-image adaptation accomplished by Satoshi Kon and this important role played by the visual makes the higher image quality found in this Blu-Ray a valuable feature, not just an eye-fetish. Adding this to the pack of widely subtitled supplements, some in HD, and the very interesting movie experience this is a recommended blu-ray and a must to all anime fans.
Luiz R.