(Michael Arias, 2006)
Sony
Review by Gary W. Tooze and Luiz R.
Video: 1080p HD / 2.35:1
Audio: Japanese 5.1 Dolby, Japanese PCM 5.1 (Uncompressed) or a DUB: English 5.1 Dolby
Subtitles: English, English (SDH), Spanish, Portuguese, French, none
Runtime: 111 Min.

Special Features:
The Making of Tekkonkinkreet - Director Michael Arias' 300 day diary
A Conversation with director Michael Arias and British Music Duo Plaid
Filmmaker Commentary
Special Features Audio: English, Japanese
Special Features Subtitles: English, Spanish, Portuguese

Released: September 25th, 2007
Blu-ray case
20 chapters
Product Description:
From the creators of Animatrix comes this visually-stunning new anime film based on a popular Japanese manga written by Taiyo Matsumoto. In Treasure Town, where the moon smiles and young boys can fly, life can be both gentle and brutal. This is never truer than for our heroes, Black and White, two street urchins who watch over the city, doing battle with an array of old-world Yakuza and alien assassins vying to rule the decaying metropolis. Tekkon Kinkreet is a dynamic tale of brotherhood that addresses the faults of present day society, true love lost, and the kindness of the human heart.

A brutal elegy for our changing times as well as a tour-de-force of visual artistry, Tekkon Kinkreet is a deeply resonant story with a heart. The title Tekkon Kinkreet is a play on the Japanese words for 'concrete,' 'iron,' and 'muscle,' and it suggests the warring images of steel and concrete cities amassing against the powers of the imagination. Until now, at least in imports abroad, anime style has almost entirely been characterized by wide-eyed heroes, big robots, and uninspired plotting. Tekkon Kinkreet jettisons these stereotypes in favor of a more realistic, European ethos, successfully incorporating engaging child characters and a complex action plot into a poetic, engaging story.
****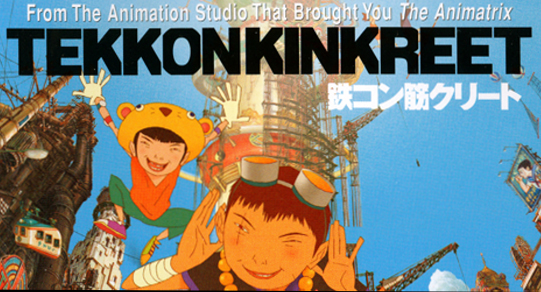 Tekkonkinkreet (2006) is a landmark in the increasing cross-pollination between Japanese and American animation: Based on a manga by Taiyo Matsumoto, the film was made in Japan at Studio 4C, but directed by American Michael Arrias. The story unfolds in Treasure Town, a scabrous metropolitan slum so gritty it makes the viewer want to clean under his fingernails. Orphans White and Black share an existence at the fringes of an already marginalized subculture. White seems naive, if not learning disabled: at 11, he can't tie his shoes or dress himself. But he has an uncanny sixth sense about what's happening in Treasure Town. Older, streetwise Black looks after White and receives the emotional support he needs in return: They're two halves of a damaged whole. The arrival of a murderous yakuza boss who wants to demolish Treasure Town and build an amusement park draws Black and White into an escalating spiral of physical and emotional violence. Although the ending of Tekkonkinkreet feels needlessly obscure, it's a striking and often powerful film from a first-time director. (Rated R: violence, grotesque imagery, brief nudity, alcohol and tobacco use)
Video: (BIG thanks to Luiz R. for his assistance)
As one can judge by the screen captures - the image quality is very strong. Modern digital animation features shouldn't be judged with the same scale as live-action films as they can tend to look so much more 'perfect' - if unmanipulated for DVD they should give near exact theatrical representations. This appears to be the case with Sony's Tekkonkinkreet. Outdoor scenes have bright pure colors while indoor sequences corresponding tone down to a more muted soft palette of lighter pastels. Detail is, I expect, as good as it was initially produced. I haven't seen the SD edition but can make a fairly quick assumption that the BRD is significantly superior in all visuals areas. It produces some of the effects we have come to expect from high-definition with rich contrasts and jaw-dropping quality. I am no expert on digital animation but I have no criticisms with this image - it looks pristine to me.
NOTE: NOTE: the Tekkon Kinkreet Blu-Ray has some macroblocking, probably the correct term would be chroma noise... I am referring to those medium color spots that keep kind of "flickering". (Thanks Luiz)
Audio:
Audio offers flavors in competent original Japanese 5.1 Dolby, Japanese PCM 5.1 (Uncompressed) or an English 5.1 Dolby DUB (pass).
Optional English, English (SDH), Spanish, Portuguese, or French subtitles support the dialogue.
Extras:
There is an viable featurette entitled The Making of Tekkonkinkreet following director Michael Arias' 300 day diary of production. There is also a quasi-interview conversation with director Michael Arias and British Music Duo Plaid. Most importantly there is a filmmaker commentary. The extras have audio options in English or Japanese and subtitles offered in English, Spanish or Portuguese.
Menus
BOTTOM LINE: For those keen on stuff like Ghost in the Shell (or Ghost in the Shell: Innocence) they may already be aware of Tekkonkinkreet which offers viewers and amazingly layered world of fantasy and enjoyment. This Blu-ray DVD is the definitive way to watch the film for home theatre viewing. Strongly recommended!