(Tony Scott, 2004)
Studio: 20th Century Fox
Video: 1080p - 16:9 - AVC (± 28Mbps)
2:35:1 aspect ratio
146 minutes
Audio:
English: DTS-HD Master Audio 5.1, DUBs: French: Dolby Digital 5.1, Spanish: Dolby Digital 5.1
Subtitles:
English SDH, Spanish, Simplified Chinese, Korean, none

Disc: Dual-Layered Blu-Ray (50GBs)
Runtime: 147 min.

Extras: Trailers

Disc: 50GB Blu-ray Disc
Release Date: January 8th, 2008
Standard Blu-Ray case

Synopsis: Hard-drinking, burnt-out ex-CIA operative John Creasy (Washington) has given up on life--until his friend Rayburn (Christopher Walken) gets him a job as a bodyguard to nine-year-old Pita Ramos (Dakota Fanning). Bit by bit, Creasy begins to reclaim his soul, but when Pita is kidnapped, Creasy unleashes a firestorm of apocalyptic vengeance against everyone responsible.
****
In Mexico City, a government operative/soldier of fortune who has pretty much given up on life, reluctantly agrees to take a job to protect a child whose parents are threatened by a wave of kidnappings. He eventually becomes close to the child and their relationship reawakens and rekindles his spirit. When she is abducted, his fiery rage is unleashed on those he feels responsible, and he stops at nothing to save her.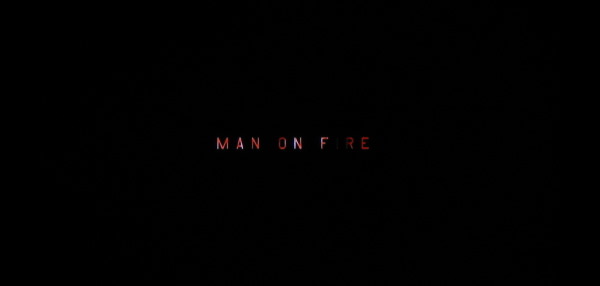 The Film:
Man On Fire
marks a welcome return to form for Scott after the disappointing Spy Game and it also features another terrific performance from Denzel Washington.
The film takes place in Mexico City, where kidnappings are apparently a daily occurrence. Denzel Washington plays John Creasy, a burned out ex-CIA assassin who accepts a job as a bodyguard to Pita (Dakota Fanning), the nine year old daughter of an wealthy industrialist (Marc Antony) and his wife (Radha Mitchell).
Initially, Creasy is more interested in drinking himself into oblivion, but pesky little Pita keeps chipping away at his hard-as-nails exterior until some humanity starts to shine through again and in no time at all, he's become her friend and swimming coach. Then it all goes horribly wrong and Pita gets kidnapped after all – d'oh! - sending Creasy on the time-honoured rip-roaring rampage of revenge…

Man On Fire is not your typical revenge drama – indeed it starts out as a heartwarming story of a tough guy being thawed out by a cute moppet. The lengthy running time allows Scott and Helgeland to give you time to really care about the characters, so that when Creasy loses Pita we understand exactly why her loss tips him over the edge.

Be warned, however, Man On Fire fully deserves its 18 certificate, as the second half is extremely violent. Oh yes, if you want to see Denzel Washington shove a bomb up someone's arse and set it off, then this is the movie for you.
The Video:
In relation to other hi-def transfers this is a strong Blu-ray DVD in regards to image. Detail and colors are typically at the very high end - there is still some digital noise but it is all relegated to the background. Intentional dim the film's lighting has some very dark moments that are well supported by the VC-1 transfer. I didn't see this theatrically but felt a very strong green presence in this DVD... and it looked fresh and unique. Overall this is in the top 10 Blu-ray images I have seen. It is fairly thick and vibrant reminding me somewhat of Sony's BRD of A Few Good Men.
Audio:
The lossless 5.1 has some very explosive moments in which I actually had to turn down the volume from the more sedate middle-parts of the film. As Denzel's character starts his rampage the audio stream takes the same corresponding upheaval. It was very well separated and I really had no complaints other than the disparity between the dialogue and the action sequences. I might not be the only one who had to adjust the volume level. The dialogue is supported by optional English SDH, Spanish, Simplified Chinese and Korean subtitles.

Extras:
Only a few trailers (in hi-def!) - Man on Fire, The Sentinel, Mr. and Mrs. Smith and Entrapment.
Menus
BOTTOM LINE: This is a solid revenge thriller effort that is a few notches above the norm in my opinion. I was getting a bit tired of the constant cutting edits in the opening but the film itself soon settled down to a homey drama... before it went ballistic. The screenplay was very well written and Washington was the perfect one to play this role as his character was able to show some subtle evolution as well as grievous aggression. Walken and Rourke give macho support. I also think it was the right choice for the direction as Scott seemed to be at home with this action-intensifying genre. I would be happy to say it lacked any class - but it did have some. Whether it was enough to accept to violence is a personal matter. I do think it's worth seeing and the Blu-ray DVD looks great - the best way to see this film in your home.
Gary Tooze