(Mike Newell, 1997)
Studio: Sony Pictures
Video: 1080p - 16:9 - AVC (± 29Mbps)
Audio: English PCM 5.1 Uncompressed (4.6Mbps), English Dolby Digital 5.1 (640kbps)
Subtitles: English, English SDH, French, none

Disc: Dual-Layered Blu-Ray (50GBs)
Runtime: 147 min.

Extras: Trailers, Photo Gallery, Original Featurette, Donnie Brasco: Out From The Shadows

Disc: 50GB Blu-ray Disc
Release Date: May 8th, 2007
Standard Blu-Ray case
Review by Luiz R.

Synopsis: Posing as hardboiled jewel broker Donnie Brasco, FBI agent Joseph D. Pistone Johnny Depp) gains entry into the brutal mob family of fading hitman Lefty Riggiero (Al Pacino), who treats Donnie like a son. As their association deepens, Pistone's life begins to spiral downward, placing everything that's meaningful to him-his marriage, his career and his life-in jeopardy. From acclaimed director Mike Newell (Harry Potter and the Globet of Fire) and with spectacular supporting cast, including Michael Madsen, Bruno Kirby, James Russo, and Anne Heche, Donnie Brasco is "a first class Mafia thriller!" (Mick LaSalle, San Francisco Chronicle).
****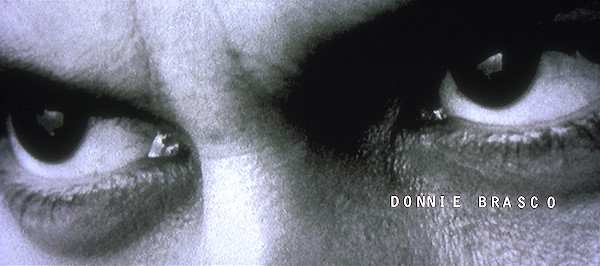 The Film:
Donnie Brasco
is the autobiographical account of real-life ex-FBI agent Joseph D. Pistone, based on his 1988 book,
Donnie Brasco: My Undercover Life in the Mafia
. Pistone spent six years undercover in the mob during the late seventies under the alias Donnie Brasco, reaping several hundred convictions as a result of his eventual testimony.
The portrayal of the mob in
Donnie Brasco
is distinctly unglamorous, and that is what makes it so interesting. Movies like
The Godfather
and
Goodfellas
tell grandiose stories of the rise and fall of key figures at the highest levels of the mob, but
Donnie Brasco
tells the story of the mob equivalent of Willy Loman, a man who, in the words of English director Mike Newell (
Four Weddings and a Funeral
), "works for a dream all his life but at the end finds all he has is a cheap, gold plated watch."
The Loman figure in this case is Lefty Ruggiero (Al Pacino), the man Pistone (Johnny Depp) befriends and uses as a stepping stone for all his major infiltrations. Lefty is so lonely and eager to become a mentor for someone that he practically falls into Pistone's lap. Pistone, pretending to be a jeweler, proceeds to earn Lefty's trust by convincing him that his newly purchased diamond is actually a fake. Lefty is surprised because he is convinced that the diamond must be real. Lefty doesn't know that his skills of appraisal are equally lacking on humans as they are on diamonds.

The Video:
This is amongst the good, but not excellent, Blu-ray transfers. There are some occasional blurriness and a few scenes where the shadows are slightly purple-hued, but in general everything looks very natural, from skin tones to cityscapes. There are also some rare scenes where saturation is a bit stronger and temperature a bit higher, like Donnie Brasco's real home and in Florida. This is far from an image problem, actually these "adjustments" give Donnie's home to Florida are more interesting, pleasant, and welcoming than their usual ghetto environment, but I don't know if that was the director Newell's intent, this is just how I feel about the image juxtapositions.

Grain also varies, being more evident at Donnie's home, but I have to say that it never disturbed my enjoyment of the visual aspects of the film. The image is quite stable allowing one to boost the image a bit and watch the whole movie with stronger colors, if one prefers, without any distracting flaws. I can't do that with every Blu-ray I have and very rarely with any of my SD DVDs.
Audio:
There is not much going on in the background during most of the film. The movie is more about voices which are exceptionally clear and audible. This is true even when voices are purposely in the background. The uncompressed 5.1 option distinguishes all dialogue very well. This 5.1 PCM track also leaves the sound more open than the Dolby 5.1 option without adding any noise to it. The soundtrack music is never evasive, becoming loud only when there is nothing else (dialogue) going on. So, considering that this importance given to the dialogue/voice is the way it was originally meant to be, the PCM option seems the most accurate way to go.

Extras:
The supplements are scarce but there is at least one that I found very interesting, "Donnie Brasco: Out From The Shadows". This is a an informative and enjoyable interview about the process of studying the mob behavior, Joseph D. Pistone himself is one of the interviewed. The "Original Featurette" is just a standard short making of, it is nice to watch but don't expect anything special from it. None of the special features are subtitled.
Menus
BOTTOM LINE: This is a solid thriller with strong and convincing performances that don't get annoying or excessive in any of its parts. Different from many other mainstream mob thrillers, I find this movie more accessible and fun to watch multiple times. It sometimes even reminded me of Takeshi Kitano's Sonatine, one of my favorites crime/drama films. This Blu-Ray provides the extended cut with best quality available. I am very happy to own this one.
Luiz R.