Jailhouse Rock
BRD
(Richard Thorpe - 1957)
Studio: Warner Pictures (USA) / Warner Home Entertainment (USA)
Disc:
Region: FREE
Runtime: 1:36:37.875
Disc Size: 18,639,492,316 bytes
Feature Size: 17,797,865,472 bytes
Total Bitrate: 24.56 Mbps
Chapters: 26
Case: Standard Blu-ray case
Release date: September 18th, 2007
Video:
Aspect ratio: 2.40:1 (CinemaScope)
Feature film: 1080p
Supplements: SD (480i or 480p)
Bitrate: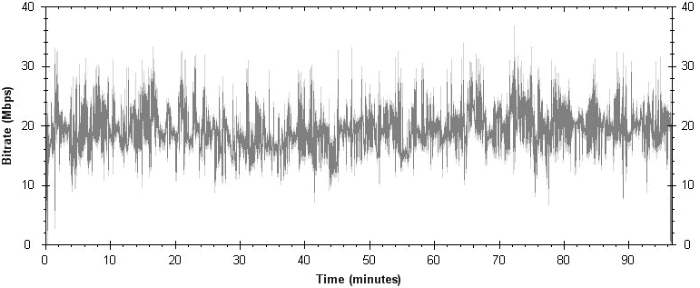 Audio:
Dolby TrueHD Audio English 1216 kbps 5.1 / 48 kHz / 1216 kbps / 16-bit
(AC3 Core: 5.1 / 48 kHz / 640 kbps)
Dolby Digital Audio English 640 kbps 5.1 / 48 kHz / 640 kbps
Dolby Digital Audio English 192 kbps 2.0 / 48 kHz / 192 kbps
Dolby Digital Audio English 192 kbps 1.0 / 48 kHz / 192 kbps
Dolby Digital Audio French 192 kbps 1.0 / 48 kHz / 192 kbps
Dolby Digital Audio Spanish 192 kbps 1.0 / 48 kHz / 192 kbps
Subtitles:
English, French and Spanish
Extras
• Commentary by Steve Pond (author of Elvis in Hollywood)
• Featurette: The Scene that Stole Jailhouse Rock
• Remastered soundtrack in Dolby True HD & Dolby Digital 5.1
• Theatrical Trailer
Jailhouse Rock
~ Comment
Jailhouse Rock is the third Elvis movie, made when he was 22. It came fast on the heels of Love Me Tender (1956) and Loving You (1957). Jailhouse Rock has a halfway serious plot and, though Elvis tends to sulk throughout most of the film, he does give a performance of sorts. Right off, we notice two things: the movie is shot in black & white and in CinemaScope. The black & white photography makes sense, considering the subject but, the title song number notwithstanding, there isn't much reason for this movie to be in a super widescreen format except that it was expected.
Jailhouse Rock is not really a musical in the usual sense since the songs are worked into the plot naturally: Elvis picks up a guitar in jail and sings a small ballad. Later, he tries his luck at a recording studio, and further on he sings at a party where, as a successful recording artist, his character is expected to sing. There are relatively few songs, but they are of a generally higher caliber than your average Elvis movie. Jerry Leiber & Mike Stoller, who wrote Hound Dog for Big Mama Thornton, wrote a couple of the songs here, including the title song. However, the song that gets the most play is Young and Beautiful, a lovely ballad by Abner Silver & Aaron Schröder. The one big set piece, where we get to see the pelvic gyrations for which Elvis became a household name, is for Jailhouse Rock; and though its high production values seem a little out of place in this relatively straightforward melodrama, we are grateful for its being here.
The plot, whose general tone is surprisingly dark, is coherent, at least compared with a movie like Viva Las Vegas. Each character behaves fairly consistently, though without much depth or development. The direction of the actors is even-handed, and the supporting cast does a creditable job. All things considered – story, songs, acting, production -Jailhouse Rock is one of the better Elvis movies, ranking alongside King Creole, made the following year. I realize the tone of these remarks sound like faint praise, but that's only in an effort to be objective.
Jailhouse Rock
~ The Score Card
The Movie : 7
Elvis plays Vince Everett, a decent fellow with a temper whose fists land him in prison for manslaughter. How's that for starters! There he is mentored by the protective, but cynical long-timer, Hunk Houghton (played by veteran heavy, Mickey Shaughnessy). Hunk used to have a career in the country music business and recognizes in Vince some possibilities. Keeping from Vince his true feelings about Vince's potential, he persuades him to sign a contract where Vince would get 50% of Vince's future earnings. (Shade of Colonel Parker!) While we can see where this is likely to go, it takes most of the movie before Hunk appears at Elvis' door to "collect." But even that thread doesn't quite go where we expect. Meanwhile, Elvis has met Peggy (played by newcomer and short-timer, Judy Tyler) who takes an interest in Vince, both personally and professionally. But Vince's new-found cynicism knows no appreciation, manners or respect, despite his rise to stardom.
Image : 8/9
NOTE: The below Blu-ray captures were ripped directly from the Blu-ray disc.
The first number indicates a relative level of excellence compared to other Blu-ray video discs on a ten-point scale. The second number places this image along the full range of DVD and Blu-ray discs.

While noting in the movie quite comes up to the intense black levels of the opening credits, I find that the greyscale is very good throughout: it's long and natural (Keep in mind that black and white movies made on negative film have no black or white to speak of.) While detail isn't breathtaking, I suspect that it's either deliberate at the source or the result of anamorphic lens quality at the time, rather than the transfer. In any case, the contrast seems correct for the subject, though there appears to be a slight color cast
.
CLICK EACH BLU-RAY CAPTURE TO SEE ALL IMAGES IN FULL 1920X1080 RESOLUTION
Audio & Music : 7.5/8
Contrary to my observations about Warner's Blu-ray edition of Viva Las Vegas, it is the English 1.0 mono track that is to be preferred here. The two remastered stereo tracks make Elvis sound even more detached than he typically is. You have to admit: lip-syncing is not his strong suit, and here at times it's more noticeable than usual. The fact that his character is so brooding and inexperienced makes Vince's early efforts at singing less than the Elvis we know until just before the end. It's difficult line to tread.
Operations : 7
I continue to appreciate Warner Home Video's avoidance of pre-feature ads so that we can get directly we get right to the business at hand. The menu is straightforward, easy to understand, without gimmicks, as always. Lots of chapter stops but, as is typical with Warner Blu-rays, the slightly expanding thumbnails are not titled.
Extras : 6
As with Warner's Blu-ray edition of Viva Las Vegas, Elvis biographer, Steve Pond, provides continual coverage of The King's career and personal life. His comments about his co-stars and songwriters in this context were illuminating, though he had less to say about the production.

Recommendation: 8.5
Along with Warner's new Blu-ray edition of Viva Las Vegas, this black & white classic is indispensable for Elvis fans. The fact that the image quality is very high helps a lot.
Leonard Norwitz
LensViews
October 6th, 2007
Re-Visited February 20th, 2009