One day we'll all laugh that there were such things as DVD "regions". The DVD Forum should be ashamed for strong-arming the world into their regional straitjackets. Don't let them stop you! It's not illegal, no matter what they say.
Nick Wrigley of Masters of Cinema
CyberHome CH-DVD 300 - Region Free review by Ted Mills
When I first thought about buying a Region-free, NTSC/PAL player I was preparing myself for laying down $300 or so. But there is a curious section of the market place filling up with insanely cheap players that provide more viewing options than big-name players for ten times the price.
Our local Best Buy features this model, the CyberHome CH-DVD 300, for the amazing price of $32.99 (after a $5 mail-in rebate). CyberHome is made in Taiwan, Best Buy is trying to move them, quick. John Q. Public will give these sets a pass, but you should treat yourself to one like I did. I figure that if it blows up after 6 months, I can buy another one, and repeat the process for three years. In the end I still wouldn't have spent the same amount as a more expensive "modded" DVD player.
Like the Malata DVDP 393a reviewed HERE, the CH-DVD 300 is silver, and at 50mm (H) x 224mm (W) x 230 (D) even smaller. If you choose (like I am doing) to use the deck as a supplement to your Region 1 (or Region Unfree) deck, it takes up very little space.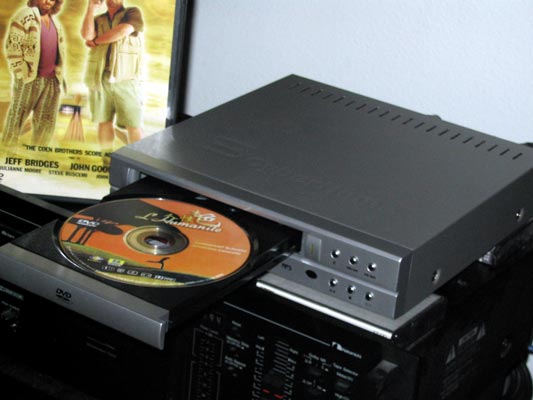 This is not entirely a "region-free" player, but the code can be set to 0 following these steps found online:
Switch player on and make sure there is no disc in the tray.

Close tray and press "menu","1","9".

A menu should appear with the region option at about the third line from the bottom.

Press enter and enter the region you want.

Next press open/close.
The code worked immediately, and so did the player. So far I have tried Region 2 and Region 3 discs, DVD-Rs, and PAL DVDs, and all have been accepted by the machine.
Occasionally, on certain PAL discs (The Fall and Rise of Reginald Perrin box set) the image jumps frames a bit, though the audio is fine. After a while this calms down, but be warned that it can happen. Another interesting thing to note is that the "live video" look from British TV comedies such as this takes on a "film look" when making the PAL-to-NTSC jump.
There is no top-of-screen "jitter" as some Region Free machines are said to have.
A loaded DVD takes about 10 seconds to reach the menu, and the time-lag upon hitting "eject" is about 5 seconds.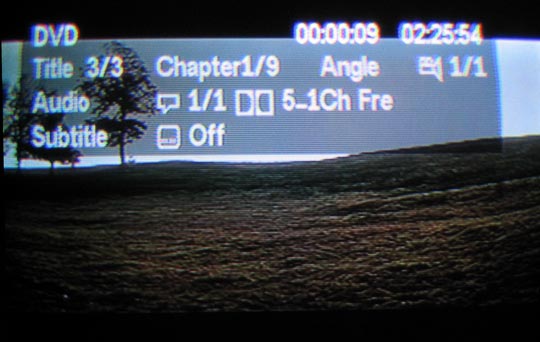 What else?
Four slow-motion settings: 1/2, 1/4, 1/6, 1/7

Four Fast Forward settings: x2, x4, x8, x20

Three zoom-in settings: 1, 2, and 3. No zoom-out setting, I'm afraid, though their website says so.

"Return" button toggles back and forth to main menu.

Programmable and bookmarkable (a feature I don't use)

Plays Mp3 discs (nice!)

Plays MPEG! (extremely nice!)

Plays JPG (though many come across as "corrupt" possibly because of the dpi?)
What I'm not crazy about:
The occasional jumping on PAL discs.

Slow open and closing times for the tray.

No optical digital out (only Digital COAX).

My paranoia that the thing will blow up after six-months.

The display does not report bit rate.
NOTE Thomas Stern says:
I have had this machine for a year or so and had no particular problems except that it does not properly convert 16x9 pal films (rarely a problem for what I watch). I take it with me when I travel so I can watch non region 1 DVD's, but use other machines at home.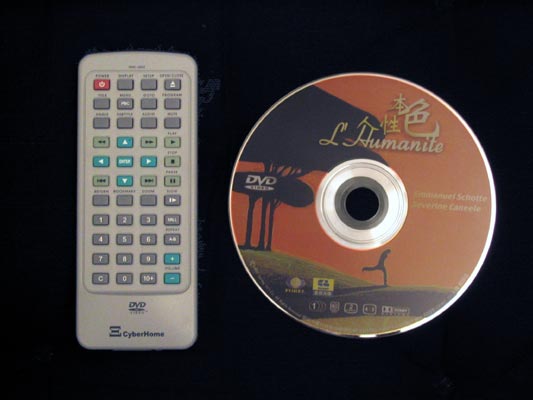 ---

Specifications from the CyberHome website:
Key Features

Progressive Scan Video with 3:2 pulldown
Plays DVD, VCD/SVCD, CD-ROM, MP3, JPG, MPEG and other disc types
Component Video, S-Video and Composite Video Outputs
96 kHz / 24 bit D/A converter
Stereo Audio and Coaxial Digital Outputs
Advanced playback functions: Last Memory Function, Slow playback, repeat playback, parental control, MP3 player, JPG player, screen saver, Zoom In/Out, track selection, on-screen display and more.

Specifications



Playable Discs:

| | |
| --- | --- |
| • | DVD, Audio CD, VCD, CD-R, CD-RW, SVCD, JPG, MP3, MPEG, DVD ± R/RW |

TV Systems Supported:

Laser:

| | |
| --- | --- |
| • | Semiconductor Laser, wavelength 650nm |

Frequency Response (Digital Audio):

| | |
| --- | --- |
| • | DVD Linear Sound: 48kHz sampling 4Hz to 22kHz, 96kHz sampling 4Hz to 44kHz |
| • | Audio CD: 4Hz to 20kHz |

Signal-to-Noise Ratio (Digital Audio):

Audio dynamic range (Digital Audio):

Harmonic Distortion (Digital Audio):

Wow and Flutter:

| | |
| --- | --- |
| • | Less than ±0.001% (W.PEAK) |

Connections:

| | |
| --- | --- |
| • | YUV P-SCAN / Component Video Out: (Y) 1.0Vpp (75 Ohm), Negative Sync, (Pb)/(Pr) .7 Vpp (75 Ohm) |
| • | S-Video Out: Mini DIN 4-Pin (75 Ohm) |
| • | Video Out: One Pin Jack, 1Vpp (75 Ohm) |
| • | Coaxial Digital Out: One Pin Jack, .5Vpp (75 Ohm) |
| • | Analog Audio Out: Two Pin Jacks, 2.0VRMS (470 Ohm) |

Operating Conditions:

| | |
| --- | --- |
| • | 5°C to 35°C (41°F to 95°F), Operation Status: Horizontal |

Power Supply:

Power Switching Adapter:

| | |
| --- | --- |
| • | Input: AC 100~240V 50/60Hz 0.41A |
| • | Output: DC 10V, 2A |

Power Consumption:

| | |
| --- | --- |
| • | Normal Mode: 12W |
| • | Standby Mode: 6.5W |

Dimensions:

| | |
| --- | --- |
| • | 8.86" (W) x 2.05" (H) x 9" (D) |
| • | (225mm x 52mm x 231mm) |

Weight:

Accessories:

| | |
| --- | --- |
| • | AC Power Cord |
| • | Multi-Function Remote Control |
| • | Composite Video/Stereo Audio A/V Cable |

Colors:





---