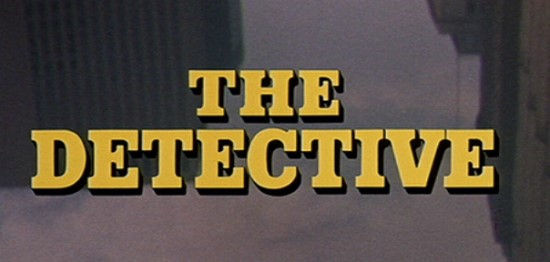 directed by Gordon Douglas
USA 1968
Made at a time when the cinema was exploring new freedoms in language, violence and sex, this is a somewhat tough character study which is tame now, but had to be pretty gritty then. Sinatra is the title cop, a man who bucks the system at times, but has an innate core of fairness. When a wealthy homosexual is found slain and mutilated, Sinatra and his partner Freeman set out to find the culprit. Meanwhile, Sinatra reflects on his troubled marriage to sophisticated, but oversexed Remick. He arrests thuggish Musante for the crime and wins a promotion for his trouble, but, soon after, a young woman (Bisset) comes forth with a case that may be tied into the original one. Sinatra gives an assured and believable performance, though it is jarring at first to hear him bandying about terms like "penis" and "queer", etc... Remick is attractive and effortlessly sophisticated as his wife who can't seem to keep her knickers on. The supporting cast is made up of great pros who offer a lot. Meeker is a jaded, slimy fellow detective. Klugman does well as a family man cop who helps Sinatra crack cases. Duvall is menacing as a hard-nosed and prejudicial policeman. Musante is so over-the-top it is unbelievable! His interrogation scene is a lesson in extremes (and helped sideline his US career for a while.) Bisset is lovely, as usual, but was shoehorned in (costumes and all!) at the eleventh hour for Sinatra's estranged wife Mia Farrow and the part doesn't fit her as well. She's meant to be a slightly boyish type and that's a tad easier to do on Farrow than it was on Bisset. Bochner is a little too cartoon-campy as a vaguely sinister psychiatrist. Though today's audience will likely find many things to pick apart with the story, it is nonetheless a fascinating glimpse into what Hollywood's depiction of gays was at the time. One unintentionally funny scene involves a dockside parking lot in which scores of gay men crowd into the back of cargo trucks and snuggle - fully clothed! There's also a groovy trip into a velvety gay bar.
Excerpt of Poseidon-3 comments on IMdb located HERE.
Posters
Theatrical Release: May 28th, 1968
Reviews More Reviews DVD Reviews
DVD Review: 20th Century Fox - Region 1 - NTSC
DVD Box Cover

CLICK to order from:

Distribution
20th Century Fox Home Video - Region 1 - NTSC
Runtime
1:53:40
Video
2.35:1 Original Aspect Ratio
Average Bitrate: 7.54 mb/s
NTSC 720x480 29.97 f/s

NOTE: The Vertical axis represents the bits transferred per second. The Horizontal is the time in minutes.

Bitrate:

Audio
English (Dolby Digital 4.0), English (Mono) DUB: Spanish (Mono), French (Mono)
Subtitles
English, Spanish, None
Features

Release Information:
Studio: 20th Century Fox Home Video

Aspect Ratio:
Original aspect Ratio 2.35:1

Edition Details:

• Theatrical Trailer
• 7 more theatrical trailers for Fox films on DVD

DVD Release Date: April 5th, 2005
Keep Case
Chapters: 20
| | |
| --- | --- |
| Comments: | Excellent anamorphic, progressive image quality on this DVD. Muted colors through tight detail and great contrast. This is bordering on magnificent. The optional subtitles are outrageously large and gaudy, the 4.0 audio track is smooth and consistent and the extras come in the form of a pile of trailers. Still to just see this Sinatra film you couldn't ask for a better transfer. out of |
---



DVD Menus

---
Subtitle Sample
Screen Captures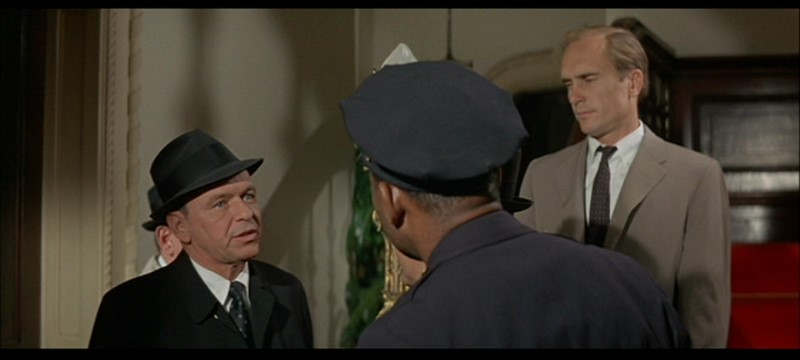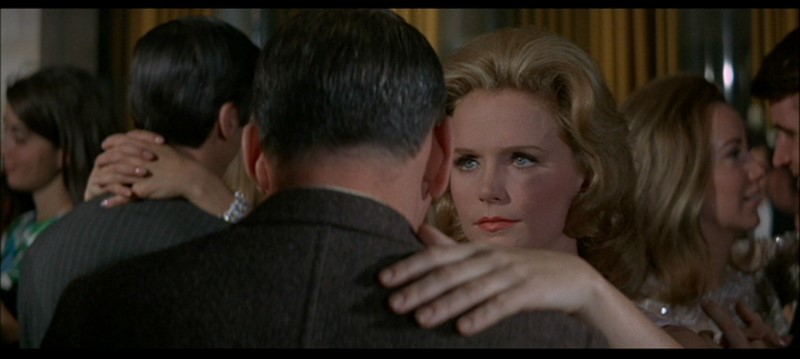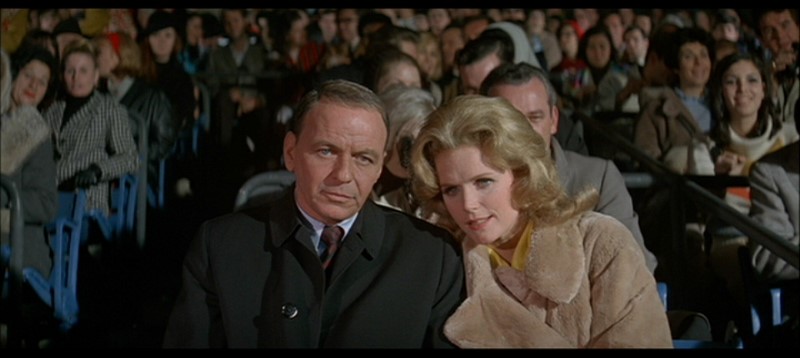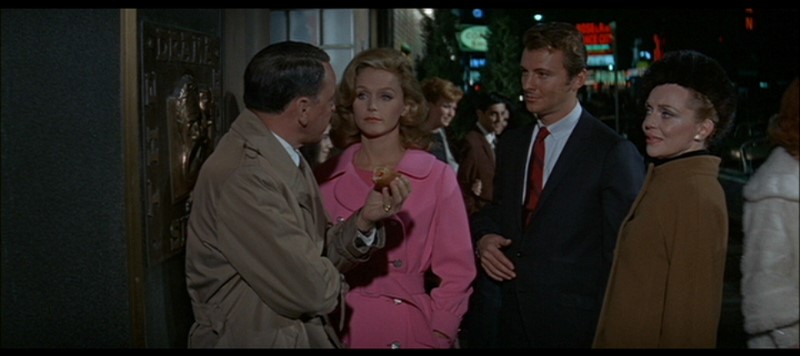 ---
---





a The Detective frank sinatra 1968 DVD Review The Detective frank sinatra 1968 DVD Review The Detective frank sinatra 1968 DVD Review The Detective frank sinatra 1968 DVD Review The Detective frank sinatra 1968 DVD Review The Detective frank sinatra 1968 DVD Review The Detective frank sinatra 1968 DVD Review The Detective frank sinatra 1968 DVD Review The Detective frank sinatra 1968 DVD Review The Detective frank sinatra 1968 DVD Review The Detective frank sinatra 1968 DVD Review The Detective frank sinatra 1968 DVD Review The Detective frank sinatra 1968 DVD Review The Detective frank sinatra 1968 DVD Review The Detective frank sinatra 1968 DVD Review The Detective frank sinatra 1968 DVD Review The Detective frank sinatra 1968 DVD Review The Detective frank sinatra 1968 DVD Review The Detective frank sinatra 1968 DVD Review The Detective frank sinatra 1968 DVD Review The Detective frank sinatra 1968 DVD Review The Detective frank sinatra 1968 DVD Review The Detective frank sinatra 1968 DVD Review a The Detective frank sinatra 1968 DVD Review The Detective frank sinatra 1968 DVD Review The Detective frank sinatra 1968 DVD Review The Detective frank sinatra 1968 DVD Review The Detective frank sinatra 1968 DVD Review The Detective frank sinatra 1968 DVD Review The Detective frank sinatra 1968 DVD Review The Detective frank sinatra 1968 DVD Review The Detective frank sinatra 1968 DVD Review The Detective frank sinatra 1968 DVD Review The Detective frank sinatra 1968 DVD Review The Detective frank sinatra 1968 DVD Review The Detective frank sinatra 1968 DVD Review The Detective frank sinatra 1968 DVD Review The Detective frank sinatra 1968 DVD Review The Detective frank sinatra 1968 DVD Review The Detective frank sinatra 1968 DVD Review The Detective frank sinatra 1968 DVD Review The Detective frank sinatra 1968 DVD Review The Detective frank sinatra 1968 DVD Review The Detective frank sinatra 1968 DVD Review The Detective frank sinatra 1968 DVD Review The Detective frank sinatra 1968 DVD Review a The Detective frank sinatra 1968 DVD Review The Detective frank sinatra 1968 DVD Review The Detective frank sinatra 1968 DVD Review The Detective frank sinatra 1968 DVD Review The Detective frank sinatra 1968 DVD Review The Detective frank sinatra 1968 DVD Review The Detective frank sinatra 1968 DVD Review The Detective frank sinatra 1968 DVD Review The Detective frank sinatra 1968 DVD Review The Detective frank sinatra 1968 DVD Review The Detective frank sinatra 1968 DVD Review The Detective frank sinatra 1968 DVD Review The Detective frank sinatra 1968 DVD Review The Detective frank sinatra 1968 DVD Review The Detective frank sinatra 1968 DVD Review The Detective frank sinatra 1968 DVD Review The Detective frank sinatra 1968 DVD Review The Detective frank sinatra 1968 DVD Review The Detective frank sinatra 1968 DVD Review The Detective frank sinatra 1968 DVD Review The Detective frank sinatra 1968 DVD Review The Detective frank sinatra 1968 DVD Review The Detective frank sinatra 1968 DVD Review a The Detective frank sinatra 1968 DVD Review The Detective frank sinatra 1968 DVD Review The Detective frank sinatra 1968 DVD Review The Detective frank sinatra 1968 DVD Review The Detective frank sinatra 1968 DVD Review The Detective frank sinatra 1968 DVD Review The Detective frank sinatra 1968 DVD Review The Detective frank sinatra 1968 DVD Review The Detective frank sinatra 1968 DVD Review The Detective frank sinatra 1968 DVD Review The Detective frank sinatra 1968 DVD Review The Detective frank sinatra 1968 DVD Review The Detective frank sinatra 1968 DVD Review The Detective frank sinatra 1968 DVD Review The Detective frank sinatra 1968 DVD Review The Detective frank sinatra 1968 DVD Review The Detective frank sinatra 1968 DVD Review The Detective frank sinatra 1968 DVD Review The Detective frank sinatra 1968 DVD Review The Detective frank sinatra 1968 DVD Review The Detective frank sinatra 1968 DVD Review The Detective frank sinatra 1968 DVD Review The Detective frank sinatra 1968 DVD Review