Films can be ruined by their poorly structured finales. Howard Hawks's Red River comes to mind as a wonderfully developed film that, for Hollywood-esque reasons that I can only speculate about, had a totally incongruous conclusion. It was out of sync with the entire dynamic of the plot to that point, and it ruined a great film.
Personally, I often feel that a strong or weak film ending can make or break a viewing experience. I found listing my favorite film endings an impossible task. Although the parameters usually stay the same, the top spots are always changing to whatever I have most recently seen. Instead of writing about what I consider to be the "best", I have decided to comment on a few film endings that have stuck with me through the years.
A problem with writing an article of this nature is it has the possibility of ruining the film for anyone who hasn't seen the particular movie. I tried my best to avoid giving away too many plot details, but I'm not fully confident in my ability to do so. My only solution is to separate the films into distinct sections. If you haven't seen the film, then my advice would be to skip over the films that you aren't familiar with. Hopefully, this will avoid spoiling the eventual viewing experience for you.
I have chosen the most unforgettable thirteen film conclusions that I remember. I'm sure my selections will seem eclectic to many, and perhaps pedestrian to others. As I explored my list and, consequently, my own cinematic passions, I tried to determine why I chose these particular films. Most endings are very positive, some are romantic, a few are abrupt, and most open the door to flood back the entire film experience or force you to view it from a new exciting perspective. Coincidentally, as if mirroring my film taste, none of these endings are violent or exploitative. I've put my selections in no specific order; quite simply, the corresponding DVDs were easiest available on the shelf for the purpose of obtaining the screen captures.

First, I'd like to throw in a favorite opening scene. I can't imagine a better way to jump-start a film than Michael Powell and Emeric Pressburger's A Matter of Life and Death. May 1945: Peter Carter (David Niven) is flying back to England from a bombing raid in a damaged plane. The crew is either dead or have bailed out with parachutes, and it's pretty clear that the plane will imminently crash. He converses with June (Kim Hunter), a young American radio operator working for the RAF. Preferring drowning in the ocean to the fireball of a crashing plane, Peter jumps into the English Channel (no parachutes left), leaving June with his final sentiments of love to his Mother and sisters... as well as his wishes and desire to meet her one day. The universal tumblers have jammed and Peter not only survives but the first girl he meets after washing up on the beach is June riding her bicycle home from work. Their first kiss embodies pure passion as they (and we) surrender directly to the magical destiny that has thrust them together.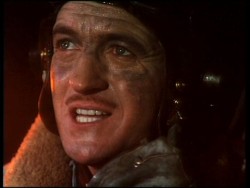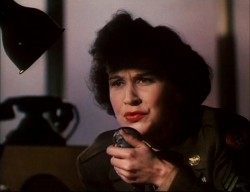 13 Memorable Film Conclusions (in no order)
City Lights : It's recognized as one of the greatest works of cinema ever created. Charles Chaplin's City Lights is the divining rod for an unrivaled fusion of hilarious comedic elements and unforgettably tender pathos. It's truly a film that can have you shedding tears of laughter as well as sadness. It's so much more than a simple slapstick roughhouse stitched together with melodramatic sentimentality, like the films that many of his silent-era contemporaries would produce. The miracle of Chaplin's City Lights was that its dynamic expressiveness is as great as its lack of sound. We take for granted the powerful effect that the timbre, tone, and inflection of an actor's dialog can lend to a film. Remove it totally and it's like trying to build a house with thumb-less hands.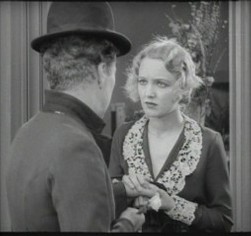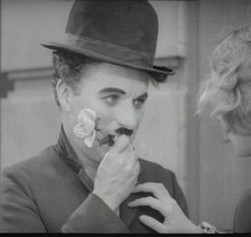 Chaplin's persistent refining of his scenes, regardless of time, is well known. Images that lasted only a few seconds on screen could take him weeks to shoot. He eventually completed the film in just over three years. The enduring hobo's struggle are of a monetary nature but the sheer magnitude of unselfishness that our Little Tramp displays is so overwhelming that it transcends one small man and becomes a representation of humanity's ideal. We're all here to look after each other. The final scene both dignifies and unifies that chimera as succinctly as anything ever put on film.

Mirror : Doling out heaps of intellectually, visually, and emotionally stimulating vistas, Mirror is a film sewn together with outstanding, beautiful images that speak volumes. It's at once intuitive, poetic, and historical. There's no plot, no irony or even any conflict. I found myself drifting into such a concentration-free comfort level when viewing it that I could almost feel myself being transported back to my own childhood. The images that director Andrei Tarkovsky has pieced together are so rich that they virtually embed themselves into the hidden recesses of your memory banks. In fact, I hesitate to use the term "film" to describe it. I've watched the ending (the final half-hour) at least thirty times. It never ceases to lift me to a Zen-like state of mind, leaving a firm impression and an essence of nobility. Mirror has been enhancing my film passion for years now.

2001: A Space Odyssey: The most seminal of Stanley Kubrick's works, it immediately informs the viewers of its grandeur with a realistically derived vision of human evolution. We can find the film's message here in the attempt to define and record our past as well as our potential future. I suspect that 2001: A Space Odyssey is, in general terms, a celebration of "us" as a species. It is displayed through our exploration of space and our own psychology; undeterminable in the same way that human existence is so complex and unfathomable. In the final scene the appearance of the "Star-Child" recognizes our small singular contribution to human phylogeny. Inferring that procreation is, perhaps, our only purpose in life. Everything else that we can accomplish remains totally insignificant standing beside the majesty of the universe.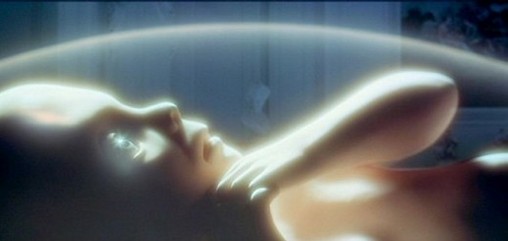 A Man Escaped: There's a strong sense of emotional duality that I feel when viewing Robert Bresson's A Man Escaped. There's an intense and suspenseful tautness floating in the air, yet at the same time there's a calming and comforting peacefulness. This is exactly how the film concludes—with the inner struggle of one sensation verging on eclipsing the other. During the entire story's meticulous development we're slowly ensnared in a resolute depiction of one man. We become integrated with his intelligent and persistent manner, with his struggles and his hopes, and eventually, his escape attempt. The conclusion of A Man Escaped leaves me breathless. I feel that I have physically become Andre Devigny and this moment is a consciously defining one in my existence. As the credits roll I can finally exhale.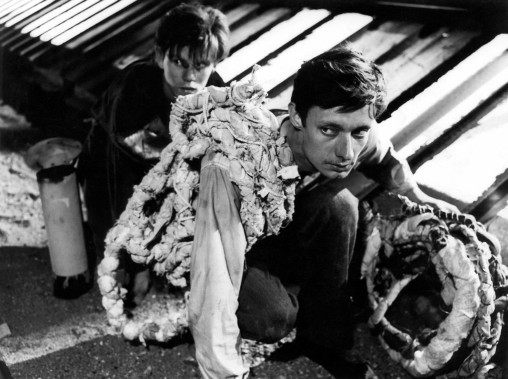 Walkabout : Nicolas Roeg's Walkabout concludes with an interesting image that evokes the universal understanding of the power of memory. Actress Jenny Agutter's (the sister of "brother and sister") gaze runs off into the distance. She's daydreaming while hugging her husband, years, we presume, after the unusual adventure forcibly undertaken in her teens.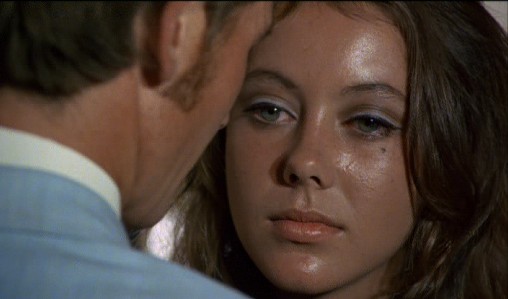 Wandering in the Australian outback, three young individuals survive because of an Aborigine's abilities to extract food, water, and medical needs from the surrounding arid environment. Communication is the major issue, although more for the girl than for her younger brother. His young age enables him to disregard unnecessary etiquette and detail, and cut directly to the issue at hand. This communication bridge between the older pair—the native boy and the "city" girl—becomes their greatest adversity. As her mind wanders back to swimming naked together, it again reinforces Roeg's subtle theme of the "hustle and bustle" of civilization versus idyllic pastoral innocence. Her appreciation of that time is purposely indecipherable. Does she regret the events that transpired? Pine for the communion with nature to return? Mark this as her maturity, her ascent to womanhood? Regardless, she's recalling a mysterious and defining moment in her life. The whole film is no longer represented as a passing instance, but as a crucial yet tumultuous juncture in her life. The final moments of Walkabout define those days as something more than desperate survival-it brings the whole experience back to viewers and impacts them on a more personal level.

The Best Years of Our Lives : Remaining my favorite English language film, William Wyler's "The Best Years of Our Lives" handles communication issues, both of an extensively large scale and of an intimate personal nature. It's the story of three men returning home from military service in World War II. The sense of community and judgment is so very strong in this film. It was made at a time when the social and political ideals of the United States remained more innocent and unfettered by today's progressively declining standards. It culminates with the gratifying expression that true love and happiness can succeed. Following Wilma and Homer's (one of the veterans) wedding ceremony, Peggy (Teresa Wright), the pretty and intelligent "girl next door," gazes longingly into the eyes of the stalwart male figure, Fred (Dana Andrews). The passionate moment tells their whole story as well as the story at the heart of the film. The scarring of war can be overcome. It has by these three individuals who participated, became friends, and now reside together in the same small town. They are home, both physically and psychologically. Like a Norman Rockwell print, it's all so simple, yet it resonates with the profound depth of generosity, innocence, and love.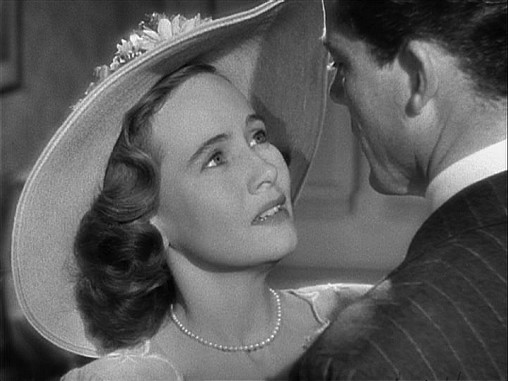 "You know what it would be, don't you Peggy. It may take us years to get anywhere. We'll have no money, no decent place to live. We'll have to work... get kicked around... "

Ordet : This is easily the most difficult film for me to write about. My film group recently voted on our favorite films and this was the overall number one. The "build" of Carl Dreyer's Ordet is subtle but pays off dramatically as we're inexorably drawn to each character through their simplistic and dignified portrayals. Suffice to say that Ordet's conclusion may be fantastical for some, but also life affirming and personally conclusive for others. I fall into the latter group. Quite simply, no one who ever sees Ordet forgets it.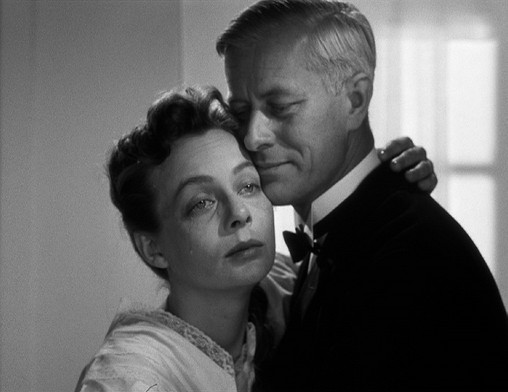 The Umbrellas of Cherbourg : The quintessential French romance, The Umbrellas of Cherbourg by Jacques Demy laments on the harsh realities of naive desires and the often immature expression of love—and still manages to champion that same romantic ideal. Demy also explores the subtle expression of unrequited love—what might have been. Who doesn't live out that imaginative personal fiction now and again?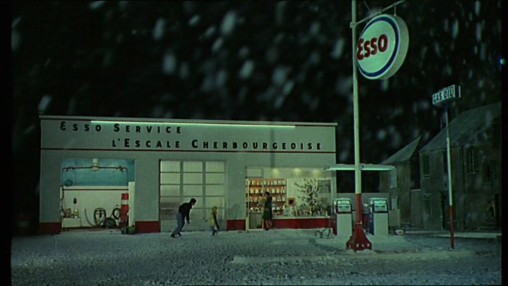 A chance meeting - Guy's daughter, whom he has never seen, waits in Genevieve's car as she has unknowingly pulled into his Esso station for petrol. They chat and she inquires if he would like to come out and see his child and tells him that her name is Francoise. He declines and after some further small talk tells her that she "may leave now." As she drives away the snow falls. Guy plays outside with his son, tossing snowflakes at him. The son's name is Francois and he has just arrived back home with his mother and Guy's wife, Madeleine. Sometimes we envision the most consequential moments of our lives in dreams; but sometimes those fantasies are very real, and it's best to let them pass by with little afterthought in order to lessen their impact. The drama of Guy and Genevieve's past has now been given final closure and his contentment assuages our fear that he continued to carry the pain with him.

Under the Sand : A film involving one woman's bereavement and inability to cope after losing her spouse. Jean disappears at the beach one day and his wife Marie, and the authorities, can find no trace of him. The film is staunchly unsentimental in its portrayal of Marie and her situation. A complete emotional withdrawal only heightens her insupportable delusions of his continued existence.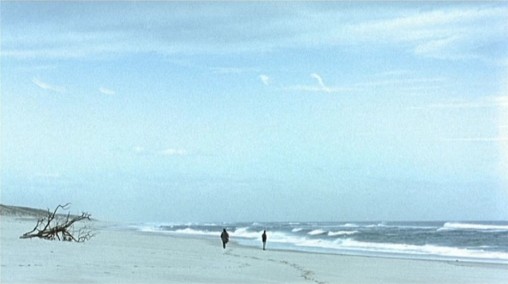 The ending is purposely ambiguous. It toys with us just as the possibility of finding husband Jean has turned Marie's entire life into an untrustworthy dream. The greatest sadness appears to be that her torment of undying hope will continue. Either she has chosen to live this lie or it has been thrust upon her because of an understandably weakened and fragile psychological denial. I suppose the only thing that matters is that the devastation can never be isolated and the cathartic closure will never begin. We feel how utterly devastating her loss is, but is her fantasy world a calming and therapeutic way of coping with how she has deceived herself? Regardless, it is magnificently touching.

Summer (The Green Ray) : Eric Rohmer's films can be very disappointing for viewers with commonplace expectations of cinema's ability to intensify delusions of fantasy. His films never over-utilize cinematographic adaptations such as tracking shots, jump cuts, or reverse angles, and Rohmer prefers using only natural sounds (almost no artificially induced noises or music to enhance the existing soundtrack). The experience subtly allows us to identify more closely with the characters and more intimately with the plot and storyline. Rohmer's films are as real as your life, or the life of your friend, wife, or sister. Often focusing his films on or about the female condition, Rohmer is regarded, with Ingmar Bergman, as perhaps the greatest director of women. As with Bergman, his male characters are rarely as interesting. The lead character in Summer, Delphine starts out as a troubled girl, seemingly weak, and her complacency angers us, but as time progresses we really want her to be happy, whether that comes from a male in her life, or not. She's a touching young beauty, who, like many of us, is lost. She's seeking something, but doesn't know what it is. Plagued with bad luck and the too-obvious flirtations of her generation (her chance may have come and gone, or has it?). "The green ray" is a rare optical effect produced by the sun at precisely the moment it's setting. Those who view it are helped to truly understand their own inner feelings. Is this the one boost Delphine is searching for? Is her quest over? I'm overjoyed to believe that it is.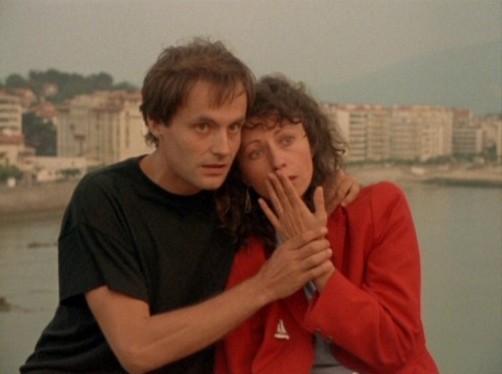 Mighty Aphrodite: This may seem a tad out of place with the other selections, but I'm quite enamored of this film, especially the ending. The encompassing desire to know your adopted son's true mother is a Greek tragedy in the making. Supporting this intelligent association is an occasional narration by a Greek chorus whose third wall with the audience is typically broken, thereby compelling our willing suspension. Of course the references to classical theater and the humor abounds when Lenny (Woody Allen) finds, to his utter disbelief, that the true mother of the adopted son, that he has come to love as his own, is a dimwitted, yet lovable hooker/porn star named (among other obscene pseudonyms) Linda Ash. Her charm, melded with this unlikely circumstance obsessively drives Lenny to learn more and help poor Linda overcome her sex-trade limitations. Culminating with a dramaturgical twist worthy of Shakespeare, Allen even throws in a deus ex machina to turn the teetering bittersweet comedy to one of the most joyful endings I have seen—ever. So there!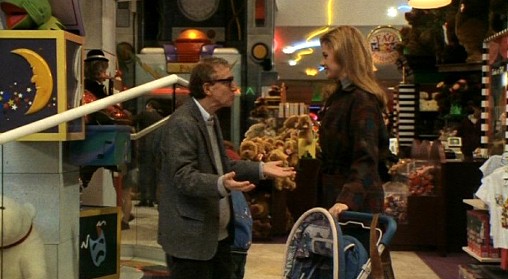 Rosetta : A film that continually details the fundamental survival qualities of the title character—a basic premise infusing her ability to cope and her morality. I like to think of Rosetta as the anti-Citizen Kane. The conclusion of both films focuses on the resolute failure of placing the value of economic determinism and its perceived happiness over the more humanistic pursuit of the joys, wants, and basic needs of the human condition. Rosetta however comes at this conflict from the most basic, sparse end of the spectrum—one that more people should be able to relate to.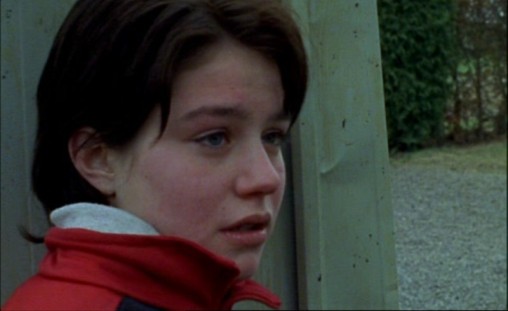 Often compared to Robert Bresson's Mouchette, Rosetta's conclusion is perhaps best described as "Bressonian." In the end we see a young woman stripped of everything—at her most desperate and most defeated. Yet she has given up, thrown in the towel because of the nature of her character as opposed to the extensively defeating circumstances that she's burdened under. Her final glance at the camera tells us how far she has been reduced. Her eyes are reaching out, unlike her past displays of anger, frustration, or selfishness, but instead with the least obstructed countenance she's capable of offering. Just one small human cry for help—and yet it means everything.

Cinema Paradiso: Often considered the film ending, certainly for a large selection of movie buffs. Cinema Paradiso's conclusion incorporates both a surprising juxtaposition of earlier and nostalgic events, and allows us to deduce some facts about our protagonist. It encompasses the power of the medium of film, its emotional impact and how, in a few cases, it can literally shape peoples' lives. It remains a glorious triumph of cinema. A tender, sentimental, and responsive exploration of one man's life—as gracious and affable a film ending as has ever been put to screen.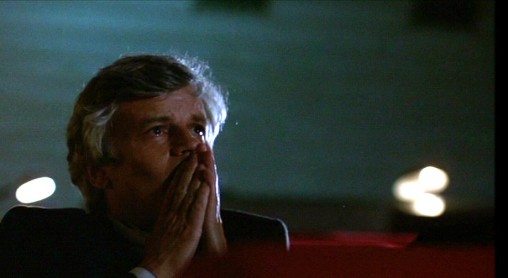 As a final note I would like to add what I consider to be a most wonderful credit sequence, though it's not for any amazingly creative graphic display, but rather for the simplistic beauty and fusion with traditional music. It fits so appropriately with the context of the film. During the credits of Anh Hung Tran's The Vertical Ray of the Sun (aka The Height of the Summer), we hear a gorgeous Vietnamese song by Vu Thanh Xuan. Written by Trinh Cong Son—"Vietnam's Bob Dylan"—the song is entitled "Rung Xua Da Khep." You may listen to it HERE in MP3 format.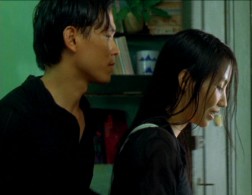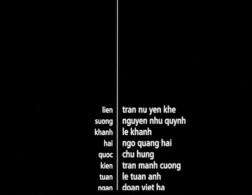 The film ends with a twin brother and sister departing to commemorate their deceased father's birthday. At the celebration observance, the viewers have already witnessed the preparation of traditional dishes and the family participation in sing-alongs, prayers, and familial camaraderie at the mother's banquet. In the finale, the audience is left to envision the imminent feast at the get-together for the father. After all that has transpired in their personal lives, they are still a family, and will rejoice and celebrate that fact together once again. The film remains an artistic and emotional masterpiece; it's a critically unrecognized, highly transcendental work with great interpretive potential in its visuals and its paradoxes. The rolling credits play in perfect balance to the gentle expression of elegant sophistication that we've seen on the screen. It's a true work of refined beauty. One I revisit often.
Well, that is all for now. I truly hope that I can add to this list in the future and that my most memorable film conclusions are yet to be seen. All the films listed here are presently available on DVD, with A Man Escaped released in May 2004 by New Yorker in Region 1 and later this year by Artificial Eye in Region 2. I obviously recommend all of the above selections and hope my inclusion of one that you may not have already seen doesn't unrealistically raise your expectations should you eventually decide to watch it.
There are so many more I could have included - Fellini's "The Nights of Cabiria", Ozu's "Late Spring", Erice's "The Spirit of the Beehive", and even Barry Levinson's "The Natural", but time has a way of controlling much of what I do on DVDBeaver.
Regards,