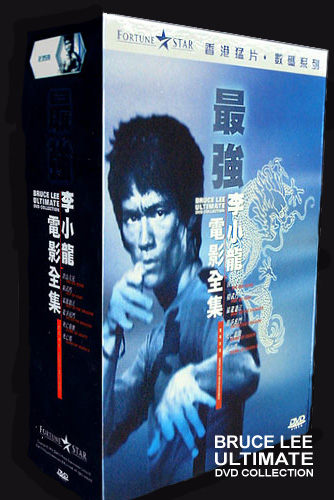 directed by Wei Loi, Robert Clouse, See-Yuen Ng and Bruce Lee

Without comparison, Bruce Lee is the greatest martial arts talent this world has seen to date. He revolutionized and modernized martial arts thru his philosophy of Jeet Kune Do, just as he revolutionized kung fu cinema.

Prior to Bruce Lee, fighting was just fighting and Kung Fu cinema was generally simple formalized stories about revenge. So was his first film, but his amazing skill and charisma, made his first film such a hit, that he was allowed to choreograph and direct the fight sequences. This should prove to become history, as the "Chinese are the weak people of Asia" fight sequence, where Bruce Lee takes on an entire Japanese school, still today, is one of the best fight sequences ever.

His idea was to extend his philosophy about martial arts onto screen. Static fighting is death, only by adaptation and rejecting form can one win. In his third film, "Way of the Dragon", where he finally was allowed to direct himself, the final fight between him and world champion of Karate, Chuck Norris, would become a metaphor for traditional form vs. Jeet Kune Do. While the film is his weakest in story, this fight will always be the best fight ever of Kung Fu cinema.

Lee continued to modernize Kung Fu cinema. In his next film, "Enter the Dragon", quiet possibly the best martial arts film ever, he played around with new forms of presentation of combat, amongst them using the mirror sequence from "The Lady from Shanghai" by Orson Welles to show that a kung fu fight could be more than just two men kicking at each other.

Sadly this should be his last film. While shooting his next film, he died. This caused massive conspiracy theories to be launched, but his death was contributed natural causes. The footage was later used in "Game of Death", which then had added fight sequences and story; and part of his original idea was again later used in "Game of Death 2".

His genius is the reason, that we today, 30 years later, still watch and are fascinated by his films!

DVD Review: Fortune Star (Ultimate Collection) - Region 3 - NTSC
Big thanks to Henrik Sylow for the Review!
DVD Box Cover

CLICK to order from:

Distribution

Fortune Star

Region 3 - NTSC

Runtime
6h52m
Video

2.30:1 Original Aspect Ratio

16X9 enhanced
Average Bitrate: 8.58 mb/s
NTSC 704x480 29.97 f/s

Audio
2.0 Dolby Digital Cantonese Mono, 5.1 Dolby Digital Cantonese / Mandarin, DTS Cantonese / Mandarin
Subtitles
Traditional, Simplified, English, None
Features
Release Information:
Studio: Fortune Star

Aspect Ratio:
Widescreen anamorphic - 2.30:1

Edition Details:
• Limited Edition (10,000 copies)
• Each box marked by little 'silver' platter
• Menus available in both English and Chinese
• Contains:
• The Big Boss
• Fist of Fury
• Way of the Dragon
• Enter the Dragon
• Game of Death
• Game of Death 2
• Bonus DVD with trailers, interviews and more
• 32 page booklet (see image):



DVD Release Date: April 29, 2004
Box with thin plastic keep cases

Comments
The Fortune Star box are to be considered as the best presentation of his films to date. The frame is uncropped, has better colour definitions than others and more detail.

When watching the DVDs on a PC-screen, or thru a HTPC system (where the PC is hooked up to TV or projector), they will be rather heavy ghosting. Normal fast movement will cause ghosting each 4 or 5 frames and during fight sequences, only each 3rd frame is solid.

However, watching the DVDs on a stand alone player, there is no ghosting, except during fight sequences, but considering the speed by which Lee kicks and spins his nun-chaku, the amount is non visible by normal play.

This has caused me many grey hairs when doing the comparisons. One explanation may be, that Fortune Star encodes their DVDs in interlaced mode. Another may be poor transfer and encoding. Looking at the bitrate curves, Fortune Star's are very "flat" vs. the "dynamic" curves of HK Legends. Whatever the explanation, ghosting will appear on PC-screens and thru HTPC systems, but not on a regular player. This has to be noted, as this otherwise would be grounds for criticism of an almost perfect image.

Each DVD has original Cantonese sound and dubbed Mandarin. It also has newly mixed 5.1 Dolby Digital and DTS tracks. The result differ. The 5.1 and especially the DTS Cantonese is simply WOW; Those punches never sounded better. The Mandarin tracks are dubbed and the new elements sounds wrong and "added", as the newly added sound effects, for the rear speakers, simply sound "modern". But it offers a choice for everyone and that is great.

A negative comment goes to the additional material. While it comes with a bonus DVD and a 32 page booklet.

The DVD, considering the vast amount of material out there, is extraordinary weak. Basically, this is a DVD wasted on 9 minutes of poor interviews, where a handful of people reflect on Bruce Lee without any real connections. The rest of the hour is made up by trailers and alternative scenes which add nothing to the films.

The 32 page booklet is also extraordinary "thin", as the entire text technically could be on 1 page. So you get lots of pictures and alot of pointless text.

This may well be the poorest additional material I have seen on any box set ever.
---



DVD Menus
---
Screen Captures
---