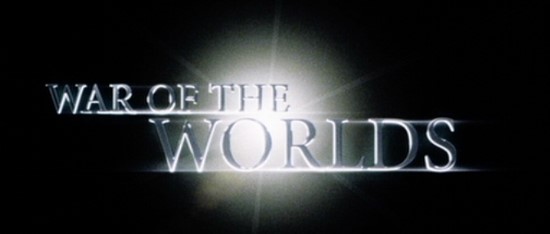 (aka 'Out of the Night')
Directed by Steven Spielberg
USA 2005
Every once in a while I need a refresher course in why I don't watch a lot of modern Hollywood films.

With all the subtlety of a train wreck, Steven Spielberg continues his infamous Hollywood legacy, by continually appealing to the absolute lowest common denominator, in his newest film, a remake of the 53' classic, War of the Worlds (loosely based on H.G. Wells novel). Following his previous core of manipulative cinema Spielberg irresponsibly expands his gratuitous use of children and loud sound effects announcing once again his limited ideology with an ostentatious use of dynamic special effects that in itself is simply hollow. This is pure exploitation filmmaking in the extreme and I suggest anyone even remotely titillated by this film should seriously re-examine just what it was they enjoyed... and why. Unfortunately stuff like this is easy to sell with the masses herded into theatre's having focused on star names and having their heads turned by coercing trailers filled with lights and explosions. There is nothing redeeming about this production excepting its ability to remind me why I steer clear of most of Hollywood's latest blockbuster efforts. This film, will do nothing for you except shock you, scare you and desensitize you to excessive violence.

out of

Posters
Theatrical Release: June 30th, 2005 - Tokyo
Reviews More Reviews DVD Reviews
DVD Review: UMVD / Dreamworks - Region 1 - NTSC
DVD Box Cover

CLICK to order from:

Distribution
UMVD / Dreamworks - Region 1 - NTSC
Runtime
1:56:20
Video
1.85:1 Original Aspect Ratio
Average Bitrate: 8.13 mb/s
NTSC 720x480 29.97 f/s

NOTE: The Vertical axis represents the bits transferred per second. The Horizontal is the time in minutes.

Bitrate:

Audio
English (DTS), English (Dolby Digital 5.1), English (Dolby Digital 2.0), DUB: French (Dolby Digital 5.1)
Subtitles
English, Spanish, French, None
Features

Release Information:
Studio: UMVD / Dreamworks

Aspect Ratio:
Original aspect Ratio 1.85:1

Edition Details:

• Featurette 'Designing the Enemy' (14:07)

DVD Release Date: November 22nd, 2005
Keep Case
Chapters: 24
| | |
| --- | --- |
| Comments: | The modern trend in DVD transfers is a saturated look with piercing blacks and an overall dark appearance. Film has moved to a very 'thick' look which seems fairly easy to put to digital. This anamorphic and progressive DVD looks very good and sounds even better with impeccable sound separation. The featurette held little interest for me, but that may be because I did not enjoy the film. I expect this DVD appearance is very akin to the theatrical showing. |
---



DVD Menus

---
Subtitle Sample
Screen Captures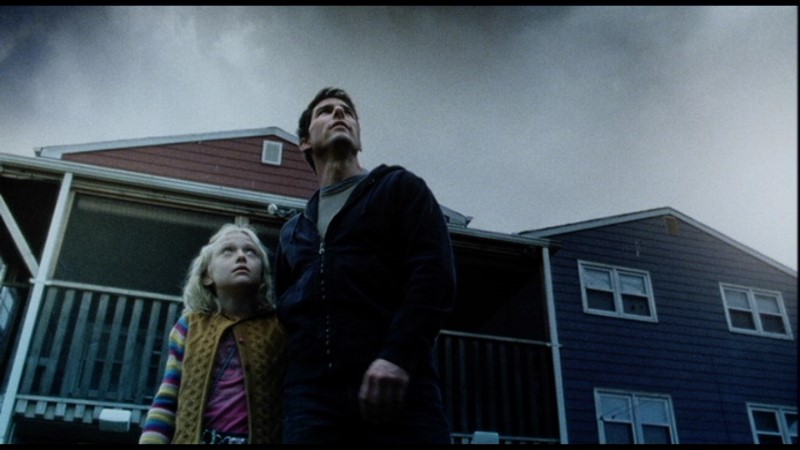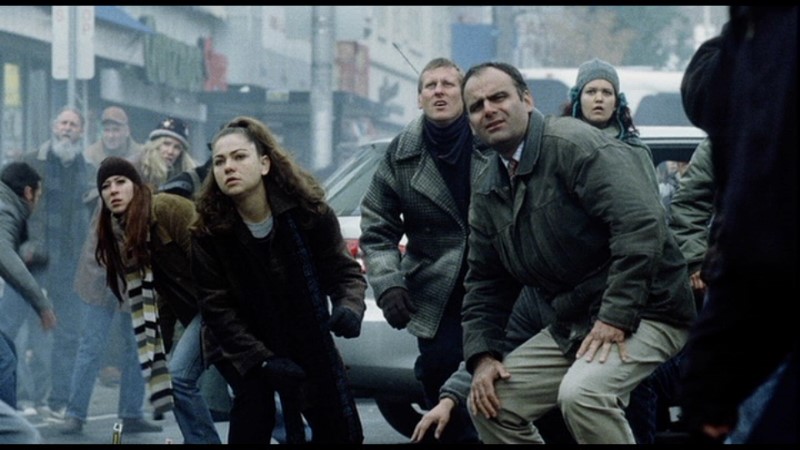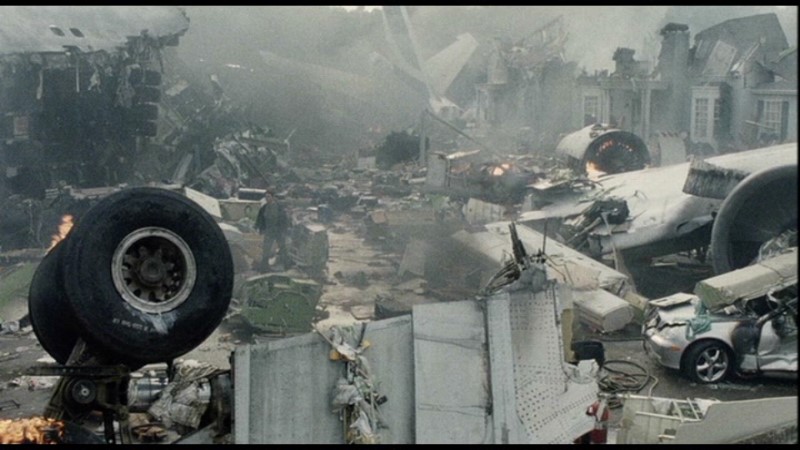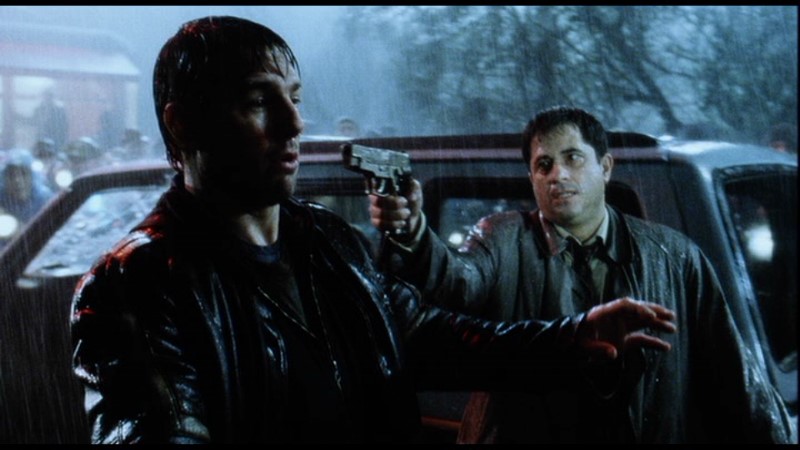 ---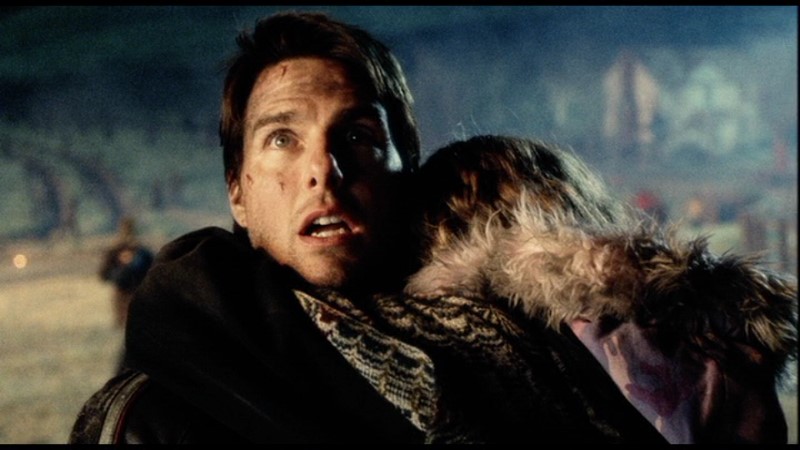 Mail cheques, money orders, cash to: or CLICK PayPal logo to donate!
Gary Tooze

Mississauga, Ontario,

CANADA
Thank You!
Steven Spielberg's - War of the Worlds - DVD Review Tom Cruise Steven Spielberg War of the Worlds DVD Review Tom Cruise Steven Spielberg War of the Worlds DVD Review Tom Cruise Steven Spielberg War of the Worlds DVD Review Tom Cruise Steven Spielberg War of the Worlds DVD Review Tom Cruise Steven Spielberg War of the Worlds DVD Review Tom Cruise Steven Spielberg War of the Worlds DVD Review Tom Cruise Steven Spielberg War of the Worlds DVD Review Tom Cruise Steven Spielberg War of the Worlds DVD Review Tom Cruise Steven Spielberg's - War of the Worlds - DVD Review Tom Cruise Steven Spielberg War of the Worlds DVD Review Tom Cruise Steven Spielberg War of the Worlds DVD Review Tom Cruise Steven Spielberg War of the Worlds DVD Review Tom Cruise Steven Spielberg War of the Worlds DVD Review Tom Cruise Steven Spielberg War of the Worlds DVD Review Tom Cruise Steven Spielberg War of the Worlds DVD Review Tom Cruise Steven Spielberg War of the Worlds DVD Review Tom Cruise Steven Spielberg War of the Worlds DVD Review Tom Cruise Steven Spielberg's - War of the Worlds - DVD Review Tom Cruise Steven Spielberg War of the Worlds DVD Review Tom Cruise Steven Spielberg War of the Worlds DVD Review Tom Cruise Steven Spielberg War of the Worlds DVD Review Tom Cruise Steven Spielberg War of the Worlds DVD Review Tom Cruise Steven Spielberg War of the Worlds DVD Review Tom Cruise Steven Spielberg War of the Worlds DVD Review Tom Cruise Steven Spielberg War of the Worlds DVD Review Tom Cruise Steven Spielberg War of the Worlds DVD Review Tom Cruise Steven Spielberg's - War of the Worlds - DVD Review Tom Cruise Steven Spielberg War of the Worlds DVD Review Tom Cruise Steven Spielberg War of the Worlds DVD Review Tom Cruise Steven Spielberg War of the Worlds DVD Review Tom Cruise Steven Spielberg War of the Worlds DVD Review Tom Cruise Steven Spielberg War of the Worlds DVD Review Tom Cruise Steven Spielberg War of the Worlds DVD Review Tom Cruise Steven Spielberg War of the Worlds DVD Review Tom Cruise Steven Spielberg War of the Worlds DVD Review Tom Cruise Steven Spielberg's - War of the Worlds - DVD Review Tom Cruise Steven Spielberg War of the Worlds DVD Review Tom Cruise Steven Spielberg War of the Worlds DVD Review Tom Cruise Steven Spielberg War of the Worlds DVD Review Tom Cruise Steven Spielberg War of the Worlds DVD Review Tom Cruise Steven Spielberg War of the Worlds DVD Review Tom Cruise Steven Spielberg War of the Worlds DVD Review Tom Cruise Steven Spielberg War of the Worlds DVD Review Tom Cruise Steven Spielberg War of the Worlds DVD Review Tom Cruise Steven Spielberg's - War of the Worlds - DVD Review Tom Cruise Steven Spielberg War of the Worlds DVD Review Tom Cruise Steven Spielberg War of the Worlds DVD Review Tom Cruise Steven Spielberg War of the Worlds DVD Review Tom Cruise Steven Spielberg War of the Worlds DVD Review Tom Cruise Steven Spielberg War of the Worlds DVD Review Tom Cruise Steven Spielberg War of the Worlds DVD Review Tom Cruise Steven Spielberg War of the Worlds DVD Review Tom Cruise Steven Spielberg War of the Worlds DVD Review Tom Cruise Steven Spielberg's - War of the Worlds - DVD Review Tom Cruise Steven Spielberg War of the Worlds DVD Review Tom Cruise Steven Spielberg War of the Worlds DVD Review Tom Cruise Steven Spielberg War of the Worlds DVD Review Tom Cruise Steven Spielberg War of the Worlds DVD Review Tom Cruise Steven Spielberg War of the Worlds DVD Review Tom Cruise Steven Spielberg War of the Worlds DVD Review Tom Cruise Steven Spielberg War of the Worlds DVD Review Tom Cruise Steven Spielberg War of the Worlds DVD Review Tom Cruise Steven Spielberg's - War of the Worlds - DVD Review Tom Cruise Steven Spielberg War of the Worlds DVD Review Tom Cruise Steven Spielberg War of the Worlds DVD Review Tom Cruise Steven Spielberg War of the Worlds DVD Review Tom Cruise Steven Spielberg War of the Worlds DVD Review Tom Cruise Steven Spielberg War of the Worlds DVD Review Tom Cruise Steven Spielberg War of the Worlds DVD Review Tom Cruise Steven Spielberg War of the Worlds DVD Review Tom Cruise Steven Spielberg War of the Worlds DVD Review Tom Cruise Steven Spielberg's - War of the Worlds - DVD Review Tom Cruise Steven Spielberg War of the Worlds DVD Review Tom Cruise Steven Spielberg War of the Worlds DVD Review Tom Cruise Steven Spielberg War of the Worlds DVD Review Tom Cruise Steven Spielberg War of the Worlds DVD Review Tom Cruise Steven Spielberg War of the Worlds DVD Review Tom Cruise Steven Spielberg War of the Worlds DVD Review Tom Cruise Steven Spielberg War of the Worlds DVD Review Tom Cruise Steven Spielberg War of the Worlds DVD Review Tom Cruise Steven Spielberg's - War of the Worlds - DVD Review Tom Cruise Steven Spielberg War of the Worlds DVD Review Tom Cruise Steven Spielberg War of the Worlds DVD Review Tom Cruise Steven Spielberg War of the Worlds DVD Review Tom Cruise Steven Spielberg War of the Worlds DVD Review Tom Cruise Steven Spielberg War of the Worlds DVD Review Tom Cruise Steven Spielberg War of the Worlds DVD Review Tom Cruise Steven Spielberg War of the Worlds DVD Review Tom Cruise Steven Spielberg War of the Worlds DVD Review Tom Cruise Steven Spielberg's - War of the Worlds - DVD Review Tom Cruise Steven Spielberg War of the Worlds DVD Review Tom Cruise Steven Spielberg War of the Worlds DVD Review Tom Cruise Steven Spielberg War of the Worlds DVD Review Tom Cruise Steven Spielberg War of the Worlds DVD Review Tom Cruise Steven Spielberg War of the Worlds DVD Review Tom Cruise Steven Spielberg War of the Worlds DVD Review Tom Cruise Steven Spielberg War of the Worlds DVD Review Tom Cruise Steven Spielberg War of the Worlds DVD Review Tom Cruise Steven Spielberg's - War of the Worlds - DVD Review Tom Cruise Steven Spielberg War of the Worlds DVD Review Tom Cruise Steven Spielberg War of the Worlds DVD Review Tom Cruise Steven Spielberg War of the Worlds DVD Review Tom Cruise Steven Spielberg War of the Worlds DVD Review Tom Cruise Steven Spielberg War of the Worlds DVD Review Tom Cruise Steven Spielberg War of the Worlds DVD Review Tom Cruise Steven Spielberg War of the Worlds DVD Review Tom Cruise Steven Spielberg War of the Worlds DVD Review Tom Cruise Steven Spielberg's - War of the Worlds - DVD Review Tom Cruise Steven Spielberg War of the Worlds DVD Review Tom Cruise Steven Spielberg War of the Worlds DVD Review Tom Cruise Steven Spielberg War of the Worlds DVD Review Tom Cruise Steven Spielberg War of the Worlds DVD Review Tom Cruise Steven Spielberg War of the Worlds DVD Review Tom Cruise Steven Spielberg War of the Worlds DVD Review Tom Cruise Steven Spielberg War of the Worlds DVD Review Tom Cruise Steven Spielberg War of the Worlds DVD Review Tom Cruise Steven Spielberg's - War of the Worlds - DVD Review Tom Cruise Steven Spielberg War of the Worlds DVD Review Tom Cruise Steven Spielberg War of the Worlds DVD Review Tom Cruise Steven Spielberg War of the Worlds DVD Review Tom Cruise Steven Spielberg War of the Worlds DVD Review Tom Cruise Steven Spielberg War of the Worlds DVD Review Tom Cruise Steven Spielberg War of the Worlds DVD Review Tom Cruise Steven Spielberg War of the Worlds DVD Review Tom Cruise Steven Spielberg War of the Worlds DVD Review Tom Cruise Steven Spielberg's - War of the Worlds - DVD Review Tom Cruise Steven Spielberg War of the Worlds DVD Review Tom Cruise Steven Spielberg War of the Worlds DVD Review Tom Cruise Steven Spielberg War of the Worlds DVD Review Tom Cruise Steven Spielberg War of the Worlds DVD Review Tom Cruise Steven Spielberg War of the Worlds DVD Review Tom Cruise Steven Spielberg War of the Worlds DVD Review Tom Cruise Steven Spielberg War of the Worlds DVD Review Tom Cruise Steven Spielberg War of the Worlds DVD Review Tom Cruise Steven Spielberg's - War of the Worlds - DVD Review Tom Cruise Steven Spielberg War of the Worlds DVD Review Tom Cruise Steven Spielberg War of the Worlds DVD Review Tom Cruise Steven Spielberg War of the Worlds DVD Review Tom Cruise Steven Spielberg War of the Worlds DVD Review Tom Cruise Steven Spielberg War of the Worlds DVD Review Tom Cruise Steven Spielberg War of the Worlds DVD Review Tom Cruise Steven Spielberg War of the Worlds DVD Review Tom Cruise Steven Spielberg War of the Worlds DVD Review Tom Cruise Steven Spielberg's - War of the Worlds - DVD Review Tom Cruise Steven Spielberg War of the Worlds DVD Review Tom Cruise Steven Spielberg War of the Worlds DVD Review Tom Cruise Steven Spielberg War of the Worlds DVD Review Tom Cruise Steven Spielberg War of the Worlds DVD Review Tom Cruise Steven Spielberg War of the Worlds DVD Review Tom Cruise Steven Spielberg War of the Worlds DVD Review Tom Cruise Steven Spielberg War of the Worlds DVD Review Tom Cruise Steven Spielberg War of the Worlds DVD Review Tom Cruise Steven Spielberg's - War of the Worlds - DVD Review Tom Cruise Steven Spielberg War of the Worlds DVD Review Tom Cruise Steven Spielberg War of the Worlds DVD Review Tom Cruise Steven Spielberg War of the Worlds DVD Review Tom Cruise Steven Spielberg War of the Worlds DVD Review Tom Cruise Steven Spielberg War of the Worlds DVD Review Tom Cruise Steven Spielberg War of the Worlds DVD Review Tom Cruise Steven Spielberg War of the Worlds DVD Review Tom Cruise Steven Spielberg War of the Worlds DVD Review Tom Cruise Steven Spielberg's - War of the Worlds - DVD Review Tom Cruise Steven Spielberg War of the Worlds DVD Review Tom Cruise Steven Spielberg War of the Worlds DVD Review Tom Cruise Steven Spielberg War of the Worlds DVD Review Tom Cruise Steven Spielberg War of the Worlds DVD Review Tom Cruise Steven Spielberg War of the Worlds DVD Review Tom Cruise Steven Spielberg War of the Worlds DVD Review Tom Cruise Steven Spielberg War of the Worlds DVD Review Tom Cruise Steven Spielberg War of the Worlds DVD Review Tom Cruise