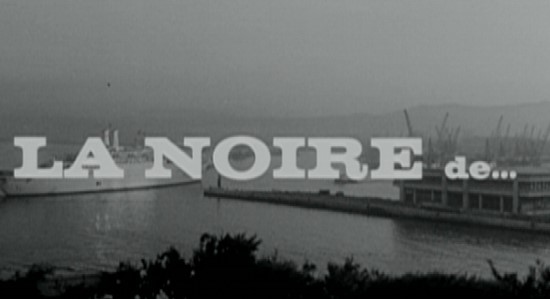 (aka 'Black Girl')
Directed by Ousmane Sembene
France / Senegal 1966
Three times the length of his earlier short Borom Sarret (also included on the NY'er DVD), Ousmane Sembene's feature debut aims for the same condensed storytelling -- too much fumbled Nouvelle Vague fiddling gets in the way, yet it remains a remarkably resonant portrait of cultural (hence, spiritual) dislocation and death. Picked out of a street corner where Africans looking for work are surveyed by trendy whites in shades, the title character (Mbissine Thérèse Diop) gets transplanted from her Dakar home to the Riviera apartment of a French couple (Anne-Marie Jelinek, Robert Fontaine), where her dreams of lushness shrink as her babysitting gig balloons into a full-time stint as maid, cook, and all-around exotic trophy. "Why am I here? I will not be her slave anymore," she seethes in her narration, yet her revolt is kept unspoken, sulking in bed cloaking depths of pained cultural displacement, the black figure slumped in an ivory bathtub, bloody razor in hand. As always with Sembene, the narrative snowballs meaning from throwaway details novelistically planted in the flow (a trio of strolling Senegalese businessmen, radical posters plastered in the boyfriend's flat), so that a tribal mask grows from token object d'art to tug-of-war prize to, ultimately, the accusing spirit of a continent still reeling from the shackle welts. Symbolism or not, Sembene's depiction of oppressor-oppressed dynamics is far less simplistic than usually noted -- the Europeans are not so much villainous as complacently clueless to the suffering of their servant, Diop's zombified mutiny amounts to sullen compliance, with both sides locked in a cycle of exploitation and servitude. The circularity of the structure, then, serves as clarification of the mechanics of colonialism: a black girl posed against the harsh polished floors of the French homeland, a white boss guiltily shoving cash at her mother back in the village, and a little African boy peeking from behind the mask, in medium shot at Fontaine, then finally, in close-up, at us.
Excerpt of Fernando F. Croce review at Cinemapassion.org HERE
Theatrical Release: January 12th, 1969
Reviews More Reviews DVD Reviews
DVD Review: New Yorker - Region 1 - NTSC
DVD Box Cover

CLICK to order from:

Distribution
New Yorker Video - Region 1 - NTSC
Runtime
55:44 plus Baron Sarret (18:06)
Video
1.33:1 Original Aspect Ratio
Average Bitrate: 6.77 mb/s
NTSC 720x480 29.97 f/s

NOTE: The Vertical axis represents the bits transferred per second. The Horizontal is the time in minutes.

Bitrate:

Audio
French (Dolby Digital 2.0)
Subtitles
English, None
Features

Release Information:
Studio: New Yorker Video

Aspect Ratio:
Original Aspect Ratio 1.33:1

Edition Details:

• The short Barom Sarret

DVD Release Date: November 22nd, 2005
Keep Case
Chapters: 18 / Borom Sarret has 8 chapters
| | |
| --- | --- |
| Comments: | Not dissimilar to Ny'er other Ousmane Sembene films on DVD; Xala and Mandabi. On one hand we can be disappointed with the transfer but again it is more understandable as the elements cannot have been in anywhere near pristine condition. Aside from Artificial Eye's stellar Moolaadé (from more recent elements - ie. 2004) I wasn't expecting much from his older films. It really just a pleasure to finally be able to see some of this early, and magnificent work. Having the original short, Barom Sarret, is an almost mandatory addition to the package but I know many fans of this master narrative filmmaker were hoping for much more. Frankly I am thankful that someone at New Yorker has identified the need for exposing Sembene's work to the digital audience. Subtitles are removable and seem acceptably done. I recommend this DVD for film scholars and those keen on learning about Sembene, just be aware that the quality is reflective of the print limitations and age of the source. |
---



DVD Menus

Borom Sarret Menu
---
Subtitle Sample
Screen Captures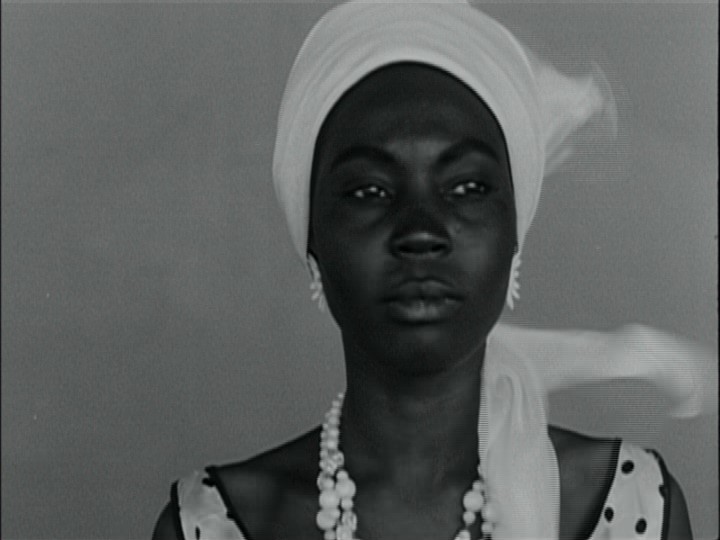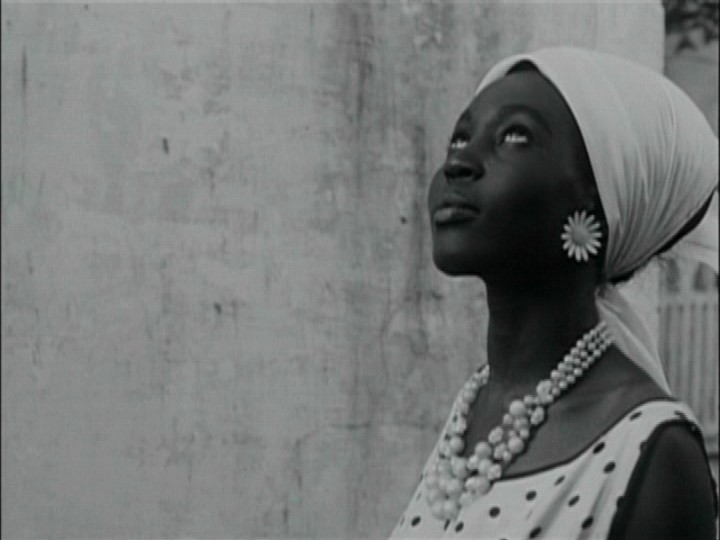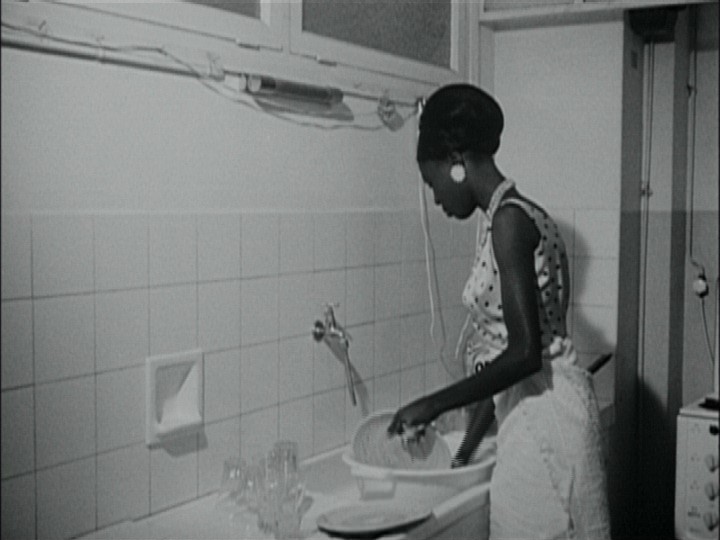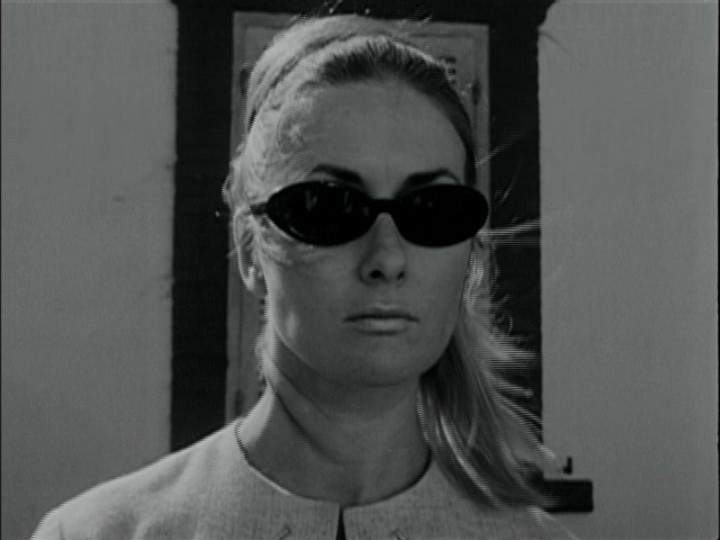 ---
---
Borom Sarret Capture
DVD Box Cover

CLICK to order from:

Distribution
New Yorker Video - Region 1 - NTSC
---





Mail cheques, money orders, cash to: or CLICK PayPal logo to donate!
Gary Tooze

Mississauga, Ontario,

CANADA
Thank You!
Ousmane Sembene's - Black Girl - La Noire de... - DVD Review Ousmane Sembene Black Girl La Noire de DVD Review Ousmane Sembene Black Girl La Noire de DVD Review Ousmane Sembene Black Girl La Noire de DVD Review Ousmane Sembene Black Girl La Noire de DVD Review Ousmane Sembene Black Girl La Noire de DVD Review Ousmane Sembene Black Girl La Noire de DVD Review Ousmane Sembene Black Girl La Noire de DVD Review Ousmane Sembene Black Girl La Noire de DVD Review Ousmane Sembene Black Girl La Noire de DVD Review Ousmane Sembene Black Girl La Noire de DVD Review Ousmane Sembene Black Girl La Noire de DVD Review Ousmane Sembene Black Girl La Noire de DVD Review Ousmane Sembene Black Girl La Noire de DVD Review Ousmane Sembene's - Black Girl - La Noire de... - DVD Review Ousmane Sembene Black Girl La Noire de DVD Review Ousmane Sembene Black Girl La Noire de DVD Review Ousmane Sembene Black Girl La Noire de DVD Review Ousmane Sembene Black Girl La Noire de DVD Review Ousmane Sembene Black Girl La Noire de DVD Review Ousmane Sembene Black Girl La Noire de DVD Review Ousmane Sembene Black Girl La Noire de DVD Review Ousmane Sembene Black Girl La Noire de DVD Review Ousmane Sembene Black Girl La Noire de DVD Review Ousmane Sembene Black Girl La Noire de DVD Review Ousmane Sembene Black Girl La Noire de DVD Review Ousmane Sembene Black Girl La Noire de DVD Review Ousmane Sembene Black Girl La Noire de DVD Review Ousmane Sembene's - Black Girl - La Noire de... - DVD Review Ousmane Sembene Black Girl La Noire de DVD Review Ousmane Sembene Black Girl La Noire de DVD Review Ousmane Sembene Black Girl La Noire de DVD Review Ousmane Sembene Black Girl La Noire de DVD Review Ousmane Sembene Black Girl La Noire de DVD Review Ousmane Sembene Black Girl La Noire de DVD Review Ousmane Sembene Black Girl La Noire de DVD Review Ousmane Sembene Black Girl La Noire de DVD Review Ousmane Sembene Black Girl La Noire de DVD Review Ousmane Sembene Black Girl La Noire de DVD Review Ousmane Sembene Black Girl La Noire de DVD Review Ousmane Sembene Black Girl La Noire de DVD Review Ousmane Sembene Black Girl La Noire de DVD Review Ousmane Sembene's - Black Girl - La Noire de... - DVD Review Ousmane Sembene Black Girl La Noire de DVD Review Ousmane Sembene Black Girl La Noire de DVD Review Ousmane Sembene Black Girl La Noire de DVD Review Ousmane Sembene Black Girl La Noire de DVD Review Ousmane Sembene Black Girl La Noire de DVD Review Ousmane Sembene Black Girl La Noire de DVD Review Ousmane Sembene Black Girl La Noire de DVD Review Ousmane Sembene Black Girl La Noire de DVD Review Ousmane Sembene Black Girl La Noire de DVD Review Ousmane Sembene Black Girl La Noire de DVD Review Ousmane Sembene Black Girl La Noire de DVD Review Ousmane Sembene Black Girl La Noire de DVD Review Ousmane Sembene Black Girl La Noire de DVD Review Ousmane Sembene's - Black Girl - La Noire de... - DVD Review Ousmane Sembene Black Girl La Noire de DVD Review Ousmane Sembene Black Girl La Noire de DVD Review Ousmane Sembene Black Girl La Noire de DVD Review Ousmane Sembene Black Girl La Noire de DVD Review Ousmane Sembene Black Girl La Noire de DVD Review Ousmane Sembene Black Girl La Noire de DVD Review Ousmane Sembene Black Girl La Noire de DVD Review Ousmane Sembene Black Girl La Noire de DVD Review Ousmane Sembene Black Girl La Noire de DVD Review Ousmane Sembene Black Girl La Noire de DVD Review Ousmane Sembene Black Girl La Noire de DVD Review Ousmane Sembene Black Girl La Noire de DVD Review Ousmane Sembene Black Girl La Noire de DVD Review Ousmane Sembene's - Black Girl - La Noire de... - DVD Review Ousmane Sembene Black Girl La Noire de DVD Review Ousmane Sembene Black Girl La Noire de DVD Review Ousmane Sembene Black Girl La Noire de DVD Review Ousmane Sembene Black Girl La Noire de DVD Review Ousmane Sembene Black Girl La Noire de DVD Review Ousmane Sembene Black Girl La Noire de DVD Review Ousmane Sembene Black Girl La Noire de DVD Review Ousmane Sembene Black Girl La Noire de DVD Review Ousmane Sembene Black Girl La Noire de DVD Review Ousmane Sembene Black Girl La Noire de DVD Review Ousmane Sembene Black Girl La Noire de DVD Review Ousmane Sembene Black Girl La Noire de DVD Review Ousmane Sembene Black Girl La Noire de DVD Review Ousmane Sembene's - Black Girl - La Noire de... - DVD Review Ousmane Sembene Black Girl La Noire de DVD Review Ousmane Sembene Black Girl La Noire de DVD Review Ousmane Sembene Black Girl La Noire de DVD Review Ousmane Sembene Black Girl La Noire de DVD Review Ousmane Sembene Black Girl La Noire de DVD Review Ousmane Sembene Black Girl La Noire de DVD Review Ousmane Sembene Black Girl La Noire de DVD Review Ousmane Sembene Black Girl La Noire de DVD Review Ousmane Sembene Black Girl La Noire de DVD Review Ousmane Sembene Black Girl La Noire de DVD Review Ousmane Sembene Black Girl La Noire de DVD Review Ousmane Sembene Black Girl La Noire de DVD Review Ousmane Sembene Black Girl La Noire de DVD Review Ousmane Sembene's - Black Girl - La Noire de... - DVD Review Ousmane Sembene Black Girl La Noire de DVD Review Ousmane Sembene Black Girl La Noire de DVD Review Ousmane Sembene Black Girl La Noire de DVD Review Ousmane Sembene Black Girl La Noire de DVD Review Ousmane Sembene Black Girl La Noire de DVD Review Ousmane Sembene Black Girl La Noire de DVD Review Ousmane Sembene Black Girl La Noire de DVD Review Ousmane Sembene Black Girl La Noire de DVD Review Ousmane Sembene Black Girl La Noire de DVD Review Ousmane Sembene Black Girl La Noire de DVD Review Ousmane Sembene Black Girl La Noire de DVD Review Ousmane Sembene Black Girl La Noire de DVD Review Ousmane Sembene Black Girl La Noire de DVD Review Ousmane Sembene's - Black Girl - La Noire de... - DVD Review Ousmane Sembene Black Girl La Noire de DVD Review Ousmane Sembene Black Girl La Noire de DVD Review Ousmane Sembene Black Girl La Noire de DVD Review Ousmane Sembene Black Girl La Noire de DVD Review Ousmane Sembene Black Girl La Noire de DVD Review Ousmane Sembene Black Girl La Noire de DVD Review Ousmane Sembene Black Girl La Noire de DVD Review Ousmane Sembene Black Girl La Noire de DVD Review Ousmane Sembene Black Girl La Noire de DVD Review Ousmane Sembene Black Girl La Noire de DVD Review Ousmane Sembene Black Girl La Noire de DVD Review Ousmane Sembene Black Girl La Noire de DVD Review Ousmane Sembene Black Girl La Noire de DVD Review Ousmane Sembene's - Black Girl - La Noire de... - DVD Review Ousmane Sembene Black Girl La Noire de DVD Review Ousmane Sembene Black Girl La Noire de DVD Review Ousmane Sembene Black Girl La Noire de DVD Review Ousmane Sembene Black Girl La Noire de DVD Review Ousmane Sembene Black Girl La Noire de DVD Review Ousmane Sembene Black Girl La Noire de DVD Review Ousmane Sembene Black Girl La Noire de DVD Review Ousmane Sembene Black Girl La Noire de DVD Review Ousmane Sembene Black Girl La Noire de DVD Review Ousmane Sembene Black Girl La Noire de DVD Review Ousmane Sembene Black Girl La Noire de DVD Review Ousmane Sembene Black Girl La Noire de DVD Review Ousmane Sembene Black Girl La Noire de DVD Review