Firstly, a massive thank you to our Patreon supporters. Your generosity touches me deeply. These supporters have become the single biggest contributing factor to the survival of DVDBeaver. Your assistance has become essential.
What do Patrons receive, that you don't?
1) Our weekly Newsletter sent to your Inbox every Monday morning!
2) Patron-only Silent Auctions - so far over 30 Out-of-Print titles have moved to deserved, appreciative, hands!
3) Access to over 20,000 unpublished screen captures in lossless high-resolution format!
Please consider keeping us in existence with a couple of dollars or more each month (your pocket change!) so we can continue to do our best in giving you timely, thorough reviews, calendar updates and detailed comparisons. Thank you very much.






| | |
| --- | --- |
| | S E A R C H D V D B e a v e r |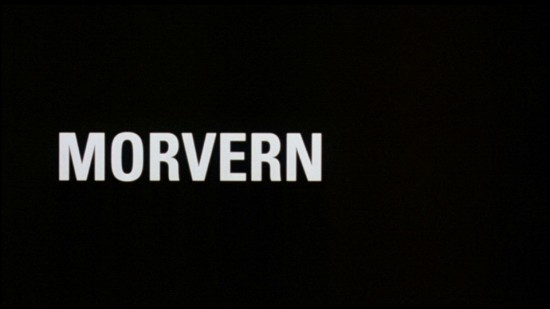 (mouse over image after page fully loads)
directed by Lynne Ramsay
UK 2002
The
Blu-ray of Morvern Callar is compared to these DVDs HERE
Lynne Ramsay creates an atmosphere of being in daze throughout the film, which is wholly appropriate and effective, since the lead character is herself caught in a confused, dreamlike state of mind after her boyfriend commits suicide. It's clear that for some time afterwards she simply doesn't know how to deal with it, and therefore doesn't -- she numbly walks through her daily routines as if nothing has happened, before eventually, impulsively, disposing of his body and assuming authorship of the novel he finished just before his death. She then travels to Spain on a road of self-discovery with some money he left behind for her.

This is an engaging, beautifully photographed film, but I found myself thinking about it very little after it was over. In the end, it's a disappointing follow-up to Ratcatcher. - Donald Brown

The following is an excerpt from a Salon.com review by Stephanie Zacharek:
I would have thought "Morvern Callar" an unfilmable book, or at least one that would be easy to botch. But Lynne Ramsay, director of "Ratcatcher"...has turned it into a work of astonishing delicacy and force, a tone poem about the Frankenstein jolts that all of us, at one time or another, have to live through. (Ramsay co-wrote the screenplay with Liana Dognini.) "Morvern Callar" is a small movie and not a particularly detailed one; it drifts by on mood and nuance and suggestion. But the picture grows richer and more mournful as it moves along -- its sense of rhythm always pushes forward, like the tide forcing its way up the shore inch by inch. It has no formal dramatic structure whatsoever, and yet what's there is so wholly felt that it seems almost classical -- a sustained fugue that catches us up gently and carries us to a place we never would have expected.
Posters
Theatrical Release: May, 2002 - Cannes Film Festival
Reviews More Reviews DVD Reviews
DVD Comparison:
Palm Pictures - Region 0 - NTSC vs. Momentum Pictures - Region 2 - PAL
Big thanks to Donald Brown for the Review!
(Palm Pictures - Region 0 - NTSC - LEFT vs. Momentum - Region 2 - PAL - RIGHT)
DVD Box Cover

Distribution

Palm Pictures

Region 0 - NTSC

Momentum Pictures

Region 2 - PAL

Runtime
1:37:24
1:33:27 (4% PAL Speeedup)
Video

1.82:1 Original Aspect Ratio

16X9 enhanced
Average Bitrate: 6.42 mb/s
NTSC 704x480 29.97 f/s

1.83:1 Aspect Ratio

16X9 enhanced
Average Bitrate: 5.71 mb/s
PAL 720x576 25.00 f/s

NOTE: The Vertical axis represents the bits transferred per second. The Horizontal is the time in minutes.

Bitrate: NTSC

Bitrate: PAL

Audio
English 5.1
English 5.1
Subtitles
none
English, none
Features
Release Information:
Studio: Palm Pictures

Aspect Ratio:
Widescreen anamorphic - 1.82:1

Edition Details:
• Interviews with Lynne Ramsay, Samantha Morton, Kathleen McDermott
• Trailer
• Weblinks

DVD Release Date: December 16th, 2003
Keepcase

Chapters 19

Release Information:
Studio: Momentum Pictures

Aspect Ratio:
Widescreen anamorphic - 1.82:1

Edition Details:
• Trailer

DVD Release Date: July 21st, 2003
Keepcase

Chapters 18
Comments

The

Blu-ray of Morvern Callar is compared to these DVDs HERE

ADDITION: Momentum Pictures - September 2011: Not a lot of difference at all in the image - but I might give the Palm Pictures a slight edge with the dual-layering and higher bitrate.

Same for audio - no real separations and both sound the same but the Momentum has the optional subtitles which might be a benefit for some who have trouble with the accents.

Extras go the way of the NTSC but in the end the price of the UK disc is practically free at present for those who aren't sensitive to PAL speedup. Highly memorable film - Morton's performance is haunting.

***

ON THE NTSC DVD:

Palm Pictures delivers a very good anamorphic image with fine detail, color, and black level. Ramsay has chosen an eclectic soundtrack, offered here in a choice of stereo or 5.1, both of which are well done. The interviews are brief and not terribly interesting.

It's been brought to my attention that some people may have difficulty with the thick Scottish accents and with fluctuations in sound level in this film. I personally found the dialogue easier to follow than that in Ratcatcher, but Criterion's Ratcatcher's DVD has the advantage of optional subs, while the lack of subs on Morvern Callar might be considered a disservice.

-

Donald Brown
---
DVD Menus
(Palm Pictures - Region 0 - NTSC - LEFT vs. Momentum - Region 2 - PAL - RIGHT)
| | |
| --- | --- |
| | |
| | |
| | |
| | |
| | |
---
Screen Captures
Subtitle sample from Momentum Pictures DVD
---
(Palm Pictures - Region 0 - NTSC - TOP vs. Momentum - Region 2 - PAL - BOTTOM)
---
(Palm Pictures - Region 0 - NTSC - TOP vs. Momentum - Region 2 - PAL - BOTTOM)
---
(Palm Pictures - Region 0 - NTSC - TOP vs. Momentum - Region 2 - PAL - BOTTOM)
---
(Palm Pictures - Region 0 - NTSC - TOP vs. Momentum - Region 2 - PAL - BOTTOM)
---
(Palm Pictures - Region 0 - NTSC - TOP vs. Momentum - Region 2 - PAL - BOTTOM)
---
DVD Box Cover

Distribution

Palm Pictures

Region 0 - NTSC

Momentum Pictures

Region 2 - PAL
---