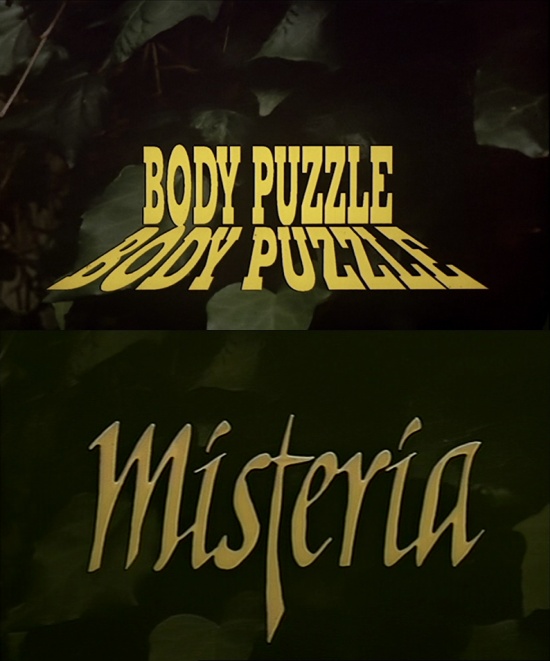 (aka "Misteria" )
directed by Lamberto Bava
Italy 1992
When a psychopath (François Montagut, DANGEROUS LIAISONS) butchers the proprietor of a candy shop, Detective Mike Livet (Tomas Arana, THE LAST TEMPTATION OF CHRIST) assumes that the killer made off with the victim's as a souvenir. When the ear winds up in the refrigerator of newly widowed Tracy Grant (Joanna Pacula, THE KISS), Livet suspects that the grisly gift may have something to do with the death of her husband Abe (whose corpse was disinterred from its grave the same night). When a woman is butchered in a shopping mall bathroom and a severed hand winds up on Tracy's doorstep, Livet looks into Abe's shady past and discovers sex, drugs, and a stalker who did not take Abe's nuptials all too well. After a third victim turns up and Tracy receives an even grislier present, Mike discovers that the absconded internal organs (taken in addition to the external souvenirs) were donated from Abe's corpse and that someone is trying to piece the dead man back together, and that there are more victims to come.

Lamberto Bava's BODY PUZZLE - scripted by former director Domenico Paolella (THE NUNS OF SANT'ARCANGELO) and Teodoro Agrimi (who previously scripted Mario Bava's 5 DOLLS FOR AN AUGUST MOON) - has more in common with Michael Apted's BLINK than any Italian giallo. Cinematographer Luigi Kuveiller - who so expertly lensed Dario Argento's DEEP RED and Lucio Fulci's NEW YORK RIPPER - captures everything in a slick yet bland manner, Carlo Maria Cordio's synth and sax score would not be out of place in any of the domestic or imported DTV erotic thrillers of the period, and one early grisly gore effect (courtesy of Franco Casagni, THE STENDHAL SYNDROME) misleads the viewer into thinking the gore quotient will escalate. Arana and Pacula go thorough the motions of the flatly-scripted flatfoot and damsel-in-distress who inevitably fall into bed; but the supporting cast features a couple Italian exploitation vets including Erika Blanc (KILL BABY, KILL) as a psychiatrist, Bruno Corazzari (THE PSYCHIC) as an asylum director, and Gianni Garko (THE COLD EYES OF FEAR) as Livet's image-minded chief who says things like "I kiss ass one day, and kick ass the next."
Posters
Theatrical Release: 20 March 1992 (Italy)
Reviews More Reviews DVD Reviews
DVD Comparison:
Image Entertainment - Region 0 - NTSC vs. Flamingo Video - Region 0 - PAL vs. Raro Video/eOne - Region 0 - NTSC
Big thanks to Eric Cotenas for all the Screen Caps!
(Image Entertainment - Region 0 - NTSC - LEFT vs. Flamingo Video - Region 0 - PAL - MIDDLE vs. Raro Video/eOne - Region 0 - NTSC - RIGHT)
DVD Box Covers

Distribution

Image Entertainment

Region 0 - NTSC

Flamingo Video
Region 0 - PAL
Raro Video/eOne
Region 0 - NTSC
Runtime
1:38:21
1:33:21 (4% PAL speedup)
1:38:30
Video

1.28:1 Open Matte format
Average Bitrate: 4.30 mb/s
NTSC 720x480 29.97 f/s

1.66:1 Original Aspect Ratio

16X9 enhanced
Average Bitrate: 5.58 mb/s
PAL 720x576 25.00 f/s

1.66:1 Original Aspect Ratio

16X9 enhanced
Average Bitrate: 5.87 mb/s
NTSC 720x480 29.97 f/s

NOTE: The Vertical axis represents the bits transferred per second. The Horizontal is the time in minutes.

Bitrate:

Image Entertainment

Bitrate:

Flamingo Video

Bitrate:

Raro Video/eOne

Audio
English Dolby Digital 2.0 stereo

Italian Dolby Digtal 2.0 stereo

English Dolby Digital 2.0 stereo

Subtitles
none
Italian, none
none
Features
Release Information:
Studio: Image Entertainment

Aspect Ratio:
Fullscreen - 1.28:1

Edition Details:
• none

DVD Release Date: 31 December 1999
Snapper Case

Chapters 14

Release Information:
Studio: Flamingo Video

Aspect Ratio:
Widescreen anamorphic - 1.66:1

Edition Details:
• Filmographies


DVD Release Date: 2006
Amaray

Chapters 16

Release Information:
Studio: Raro Video/eOne

Aspect Ratio:
Widescreen anamorphic - 1.66:1

Edition Details:
• DVD Credits
• Liner Notes Booklet by Chris Alexander


DVD Release Date: 6 December 2011
Amaray

Chapters 10
Comments

BODY PUZZLE was previously released twice on DVD in the US. Triboro had the US video rights and their tape (and Image laserdisc) featured video-generated titles and mono audio. When Image released their fullscreen, open-matte DVD in 1999, FCP had acquired the rights and went back to the original tape master, which featured the original credits and stereo sound (despite the mono Dolby Digital diagram on the back case - the Americanized credits on the back of the cover suggest they had no idea what they were releasing). A few years later, Liberty Entertainment acquired the film - and several other P.A.C. productions - and licensed it to Madacy Entertainment. That reelase made use of a newer non-anamorphic widescreen transfer (labeled fullscreen on the box), but the master was PAL-converted.

The Italian disc from Flamingo (there was a previous reportedly 4:3 disc from Prisma Entertainment) was the first anamorphic transfer, but the transfer was softish and occasionally marked by passages of black speckling. It was also incomplete by roughly a minute and a half (although the film was hacked down for an all ages rating for the Italian theatrical release, the missing portions here are mainly bits of dialogue [the gore is intact]). Raro's new anamorphic, progressive, single-layer transfer is a definite improvement. Due to legal issues, all released versions of the film replace Carl Orff's "Carmina Burana" during the murder sequences with Mussorgsky's "Night on Bald Mountain" although the English credits still credit the Orff composition (the Orff version was only screened at MIFED). Although Raro's case states that the film is in Italian with English subtitles and sports "New and improved English subtitles" - the credits on the back cover are also riddled with misspellings - Raro has only included the English track. There are no extras other than a list of DVD credits, although a liner notes booklet with an essay by FANGORIA's Chris Alexander is also included.
---
DVD Menus
(Image Entertainment - Region 0 - NTSC - LEFT vs. Flamingo Video - Region 0 - PAL - MIDDLE vs. Raro Video/eOne - Region 0 - NTSC - RIGHT)
---
Screen Captures
(Image Entertainment - Region 0 - NTSC - TOP vs. Flamingo Video - Region 0 - PAL - MIDDLE vs. Raro Video/eOne - Region 0 - NTSC - BOTTOM)
---
(Image Entertainment - Region 0 - NTSC - TOP vs. Flamingo Video - Region 0 - PAL - MIDDLE vs. Raro Video/eOne - Region 0 - NTSC - BOTTOM)
---
(Image Entertainment - Region 0 - NTSC - TOP vs. Flamingo Video - Region 0 - PAL - MIDDLE vs. Raro Video/eOne - Region 0 - NTSC - BOTTOM)
---
(Image Entertainment - Region 0 - NTSC - TOP vs. Flamingo Video - Region 0 - PAL - MIDDLE vs. Raro Video/eOne - Region 0 - NTSC - BOTTOM)
---
(Image Entertainment - Region 0 - NTSC - TOP vs. Flamingo Video - Region 0 - PAL - MIDDLE vs. Raro Video/eOne - Region 0 - NTSC - BOTTOM)
---
(Image Entertainment - Region 0 - NTSC - TOP vs. Flamingo Video - Region 0 - PAL - MIDDLE vs. Raro Video/eOne - Region 0 - NTSC - BOTTOM)
---
(Image Entertainment - Region 0 - NTSC - TOP vs. Flamingo Video - Region 0 - PAL - MIDDLE vs. Raro Video/eOne - Region 0 - NTSC - BOTTOM)