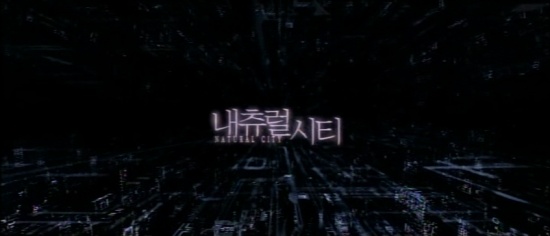 directed by Byung-chun Min
South Korea 2003
R and Noma are out to retire a group of outmoded cyborg warriors looking for a way to extend their waning life-cycles. Noma thinks that R's relationship with Ria is effecting his job but little does he know that Ria is a cyborg and R is using their missions to harvest and sell AI chips to scientist Dr. Giro in order to find another body to house Ria's memories and the perfect match seems to be fortune teller Cyon (whose own father requested he be buried with the AI chip of his own cyborg lover) but another rogue cyborg Cyper is also after her to extend his own existence. The problem with NATURAL CITY is not that it's plot is derivative of BLADE RUNNER (the director is very forthcoming about that) but that the relationship between its central couple is so flat. When we meet them, their doomed relationship is well underway and they seem more fashionably alienated than anguished. Ria is a blank slate without any human qualities (it could be argued that this is an effect of her winding down but we are shown nothing of what attracted R to her in the first place) and R isn't particularly likable (he is more interested in harvesting the AI chip of a cyborg that has massacred several of his fellow soldiers than the one other survivor barely clinging to life) nor as interesting as Noma (though only Cyon really stands out due to her more lively character). None of the cyborg deaths possess any of the resonance of their BLADE RUNNER counterparts either. The film's stylistic debt to BLADE RUNNER is more successful than its narrative debt. The neon-lit, rain-drenched exteriors and some interiors do not recall Jordan Cronenweth's work on the Ridley Scott film so much as replicate it, they actually have the look and feel of an eighties futuristic movie while some other views of the post-apocalyptic landscape bring to mind other memorable futuristic films of the eighties and nineties such as Richard Stanley's HARDWARE. On the other hand, the MATRIX-styled action scenes are less impressive and monotonously-staged. Although the film's aesthetic is derivative of earlier films, it looks refreshingly unique among its contemporary ilk (despite the use of the end credits to show off scans of production design sketches).
Posters
Theatrical Release: 5 September 2003 (South Korea)
Reviews More Reviews DVD Reviews
DVD Review: Tartan Video (Tartan Asia Extreme) - Region 1 - NTSC
Big thanks to Eric Cotenas for the Review!
DVD Box Cover

CLICK to order from:

Distribution

Tartan Video

Region 1 - NTSC

Runtime
1:52:36
Video

2.29:1 Original Aspect Ratio

16X9 enhanced
Average Bitrate: 6.12 mb/s
NTSC 720x480 29.97 f/s

NOTE: The Vertical axis represents the bits transferred per second. The Horizontal is the time in minutes.

Bitrate

Audio
Korean DTS 5.1 (half-bitrate); Korean Dolby Digital 5.1
Subtitles
English, Spanish, none
Features
Release Information:
Studio: Tartan Video

Aspect Ratio:
Widescreen anamorphic - 2.29:1

Edition Details:
• The Story of NATURAL CITY (4:3; 23:46 - English subtitles)
• Deleted Scenes (4:3; 5:58 - English subtitles)
• Ji-Tae Yoo Interview (4:3; 5:49 - English subtitles)
• Chan Yoon Interview (4:3; 7:49 - English subtitles)
• Rin Suh Interview (4:3; 4:09 - English subtitles)
• U.S. Theatrical Trailer (4:3; 2:14)
• Trailers for MAREBITO, OLDBOY, AB-NORMAL BEAUTY, VITAL, and SPIDER FOREST

DVD Release Date: 18 April 2006
Amaray in Cardboard Slipcase

Chapters 17
Comments

Tartan presents NATURAL CITY in an anamorphic and progressive transfer (single-layer without the audio streams) that looks only okay with some instances of aliasing on some backgrounds. Some of the image softness and haze might also be intentional owing to the film's heavy stylistic debt to BLADE RUNNER but I'm hoping that it is meant to look better than this. There does not seem to be much difference between the half-bitrate DTS 5.1 track and the Dolby Digital 5.1 version (no stereo downmix is included).

The Making-of, a few deleted scenes, and 3 short interviews have been carried over from the 2-disc Korean import but not the commentary. The theatrical trailer seems to be an American one with English language narration. Trailers for other Tartan releases round out the extras. The HK 2-disc release sports DTS and 5.1 tracks as well as the same reduced extras as the Tartan disc (and may have been the source for them) but might have the edge in picture since those few extras have been relegated to a second disc. Optimum's R2 UK import is an inferior choice thanks to large burnt-in subtitles and 2.0 audio only.

---

DVD Menus

---
Screen Captures
Subtitle sample
---
DVD Box Cover

CLICK to order from:

Distribution

Tartan Video

Region 1 - NTSC