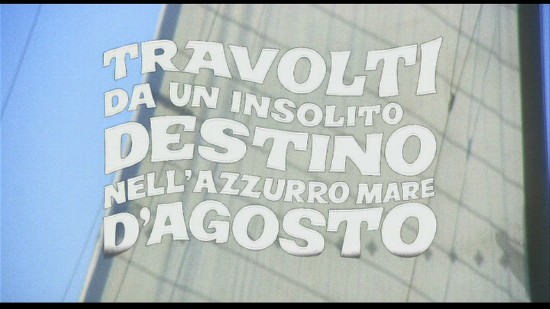 (aka "Swept Away...by an Unusual Destiny in the Blue Sea of August" or "Travolti da un insolito destino nell'azzurro mare d'agosto")
directed by Lina Wertmüller
Italy 1974
Guy Ritchie was lambasted for his 2002 remake of "Swept Away," but the 1974 original by Lina Wertmüller is nothing to brag about either. The full title of the film is actually "Swept Away… By An Unusual Destiny in the Blue Sea of August". Wertmüller likes to give long-winded, overblown titles to her films, which makes sense since she likes to make long-winded, overblown films. Maybe it's not her fault, since she was born with the name Arcangela Felice Assunta Job Wertmüller von Elgg Espanol von Brauchich. And you thought "Apichatpong Weerasethakul" was a mouthful.

Though it makes superficial stabs at profundity, the premise of "Swept Away" is as simple as could be. Raffaella Lanzetti (Mariangela Melato) is the snobby wife of an industrialist, or a "rich bitch" as salty sailor Gennarino Carunchio (Giancarlo Giannini) describes her. She gets her kicks by complaining about everyone and everything, and especially stupid, slovenly Southerners like Gennarino. He has to put up with her abuse because she has paid well to rent the yacht on which she works, but the tables are turned when the two of them wind up stranded on a deserted island.

On the island, money and social status no longer matter, only survival skills, which means the power structure has now been inverted. Gennarino takes full advantage of the switcheroo, and gets his revenge on his "rich bitch" by first verbally abusing and then beating the living hell out of her. The only reason he doesn't rape her is because he thinks she would like it. Naturally, this makes her fall madly in love with her "lord and master" and they struggle to maintain their burning love once they are rescued and returned to "normal" society.

The film is apparently intended to be a comedy, at least in part, though I'm not quite sure what we're supposed to laugh at. Is it the sight of a woman being punched in the face over and over again by a rutting pig who styles himself a man's man? Times change, and so do sensibilities, but it's difficult to believe anyone could ever have considered this film to be funny. The characters are broadly drawn and serve as proxies for just about every binary opposition you can think of: man-woman, Northern-Southern, bourgeoisie-proletariat; but that doesn't change the fact that we spend a lot of time watching a woman get beaten like Apollo Creed in "Rocky IV." The film's supporters will say I'm taking too limited a perspective on the material. I'll just have to learn to live with my limitations.

"Swept Away" is unpleasant, mean-spirited and simplistic. No wonder Guy Ritchie couldn't wait to remake it.

Posters
Theatrical Release: Italy - 1974, USA - 1975
Reviews More Reviews DVD Reviews
DVD Review: Koch Lorber - Region 1 - NTSC
Big thanks to Christopher Long for the Review!
DVD Box Cover

CLICK to order from:

Distribution

Koch Lorber

Region 1 - NTSC

Runtime
114 min
Video

1.85:1 Original Aspect Ratio

16X9 enhanced
Average Bitrate: 8.64 mb/s
NTSC 720x480 29.97 f/s

NOTE: The Vertical axis represents the bits transferred per second. The Horizontal is the time in minutes.

Bitrate

Audio
Dolby Digital 2.0
Subtitles
English, none
Features
Release Information:
Studio: Koch Lorber

Aspect Ratio:
Widescreen anamorphic - 1.85:1

Edition Details:

DVD Release Date: 04/04/2006

Chapters 28
Comments:

This DVD offers a "Digitally Restored and Re-Mastered" transfer of the film. Apparently, the original release (also by Koch) was dreadful. This one is quite good, though not perfect. The image is a bit soft, but the colors are rich, and the contrast is sharp. The transfer is particularly strong in the brighter shots - take a look at the last screen capture below with the sun glinting off the water. As nasty a film as "Swept Away" is, it is quite beautifully shot.

"Swept Away" has its supporters, but I'm certainly not one of them. The one and only reason to watch the film is for Giannini's dynamic physical performance, but you can watch him in much better films. Don't waste your time.
---

DVD Menus

---
Screen Captures