Sideways Blu-ray
(Alexander Payne, 2004)
Review by Gary Tooze
Studio: 20th Century Fox - Region FREE
Video:
Aspect ratio: 1.85:1
Chapters: 43
Feature film: 1080p /
MPEG-4 AVC
Disc Size: 45,177,613,541 bytes
Feature Size: 40,010,262,528 bytes
Time: Extended: 2:07:00.654
Total Bitrate: 42.00 Mbps
Bitrate: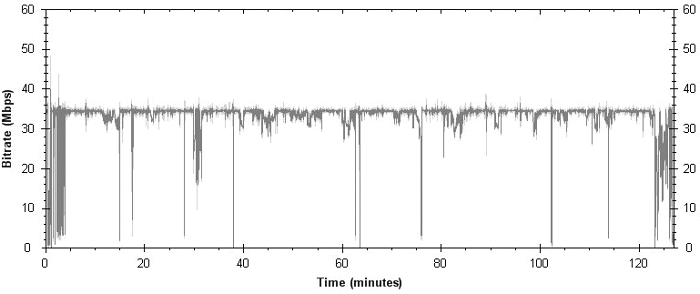 Audio:
DTS-HD Master Audio English 3661 kbps 5.1 / 48 kHz / 3661 kbps / 24-bit (DTS Core: 5.1 / 48 kHz / 1509 kbps / 24-bit)
DUBs: DTS Audio French 768 kbps 5.1 / 48 kHz / 768 kbps / 24-bit
DTS Audio Portuguese 768 kbps 5.1 / 48 kHz / 768 kbps / 24-bit
DTS Audio Spanish 768 kbps 5.1 / 48 kHz / 768 kbps / 24-bit
Commentary: Dolby Digital Audio English 224 kbps 2.0 / 48 kHz / 224 kbps

Subtitles:
English, Chinese (Traditional and Simplified), French, Korean, Portuguese, Spanish, none
Extras
• Commentary by Paul Giamatti and Thomas Haden Church
• 7 Deleted Scenes (17:14)
• Notes From Alexander Payne (2:10)
• Behind-the-Scenes Featurette (14:06)
• Project Searchlight (6:34)
S
tandard Blu-ray case
Release Date: February 3rd, 2009
Summary: A wine tasting road trip to salute Jack's (Thomas Haden Church) final days as a bachelor careens woefully sideways as he and Miles (Paul Giamatti) hit the gas en route to mid-life crises. The comically mismatched pair, who share little more than their history and a heady blend of failed potential and fading youth, soon find themselves drowning in wine and women (Sandra Oh and Virginia Madsen). Emerging from a haze of pinot noir, wistful yearnings and trepidation about the future, the two inevitably collide with reality...
The Film:
What happens between them all is the stuff of the movie, and must not be revealed here, except to observe that Giamatti and Madsen have a scene that involves some of the gentlest and most heartbreaking dialogue I've heard in a long time. They're talking about wine. He describes for her the qualities of the pinot noir grape that most attract him, and as he mentions its thin skin, its vulnerability, its dislike for being too hot or cold, too wet or dry, she realizes he is describing himself, and that is when she falls in love with him. Women can actually love us for ourselves, bless their hearts, even when we can't love ourselves. She waits until he is finished, and then responds with words so simple and true they will win her an Oscar nomination, if there is justice in the world.

Some terrible misunderstandings (and even worse understandings) take place, tragedy grows confused with slapstick, and why Miles finds himself creeping through the house of a fat waitress and her alarming husband would be completely implausible if we had not seen it coming every step of the way. Happiness is distributed where needed and withheld where deserved, and at the end of the movie we feel like seeing it again.

Alexander Payne has made four wonderful movies: "Citizen Ruth," "Election," the Jack Nicholson tragicomedy "About Schmidt," and now this. He finds plots that service his characters, instead of limiting them. The characters are played not by the first actors you would think of casting, but by actors who will prevent you from ever being able to imagine anyone else in their roles.
Excerpt from Roger Ebert at the Chicago Sun-Times located HERE
Image :
NOTE: The below Blu-ray captures were ripped directly from the
Blu-ray disc.
Sideways on Blu-ray doesn't resemble modern films put to 1080P - especially blockbusters. The intentional image is dusty, resembling films made a couple of decades previously and can often appear very 'Indie'. Payne attempt to achieve this look, with some manipulation, and he has succeeded. My only complaint is that it tends to be even grainer than some would appreciate. Colors, ex. skin tones, seem realistic but not particularly vibrant with the perception of 'flatness' overcoming any depth. Technically it reveals a strong bitrate with the disc data filling over 45 Gig of the dual-layered disc. The image allows for a comfortable and accurate presentation of Sideways just this may be on your last choices to demo' your system to your less HD-astute friends. But correspondingly, depending on your circumstances it may also be one of the best film to showcase to friends who have not had the opportunity to see it before.
CLICK EACH BLU-RAY CAPTURE TO SEE ALL IMAGES IN FULL 1920X1080 RESOLUTION
Audio & Music:

The DTS-Master 5.1 track is really only beneficial to jazzy-style music played throughout the film (Bonnie Raitt, Uli Lenz etc.) - there are some other very minor effect noises (bar, car traveling etc.)
but they are fairly inconsequential. There is original music by Rolfe Kent but nothing sounds demonstratively separated. This is not really a complaint as everything does have a crisp audible resonance to it - even dialogue. Fox offers many subtitle options and three foreign language DUBs, supporting the
Blu-ray
disc as region-free.
Extras:
We have a totally relaxed and effortlessly amusing commentary duplicated from the DVD release (as are all the supplements) from participants Paul Giamatti and Thomas Haden Church. There is a almost 20-minutes of 7 deleted scenes and an ad-hoc behind-the-scenes featurette
.
Not listed on the menu but accessible through the file structure is a shortish 'Project Searchlight' featurette made with a hand-held.
BOTTOM LINE : Super film. The Blu-ray isn't going to give a pristine appearance - but rightly so. This 1080 probably reproduces the theatrical faithfully. Fox has done a decent job and there are some viable extras. I think many will appreciate a few spins (it seems to get better the more you watch it) although expectations for the image appearance should probably be balanced to the film's unique style and intentional look. Recommended for the masterful film and best possible transfer for home theater representation. You better see this if you haven't yet.
Gary Tooze
January 28th, 2009