Max Payne (Unrated and Theatrical) Blu-ray
(John Moore, 2008)
Review by Gary Tooze
Studio: 20th Century Fox - Region 'A'
Video:
Aspect ratio: 2.35:1
Chapters: 28
Feature film: 1080p /
MPEG-4 AVC
Disc Size: 42,839,364,998 bytes
Feature Size: 23,970,170,880 bytes / 24,198,395,904 bytes
Time: Extended Unrated Cut - 1:42:58 / Theatrical - 1:39:52
Average Bitrate: 31.04 Mbps
Bitrate: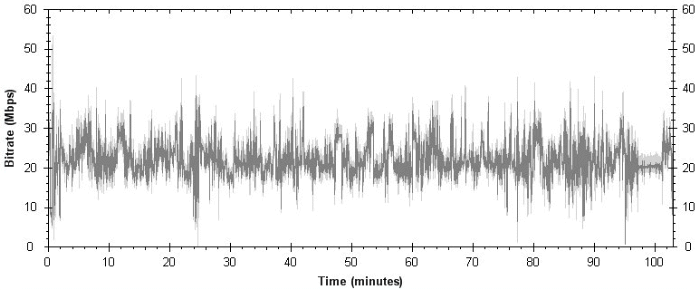 Audio:
DTS-HD Master Audio English 4073 kbps 5.1 / 48 kHz / 4073 kbps / 24-bit (DTS Core: 5.1 / 48 kHz / 1536 kbps / 24-bit)
Dolby Digital Audio French 448 kbps 5.1 / 48 kHz / 448 kbps
Dolby Digital Audio Spanish 448 kbps 5.1 / 48 kHz / 448 kbps
Dolby Digital Audio English 224 kbps 2.0 / 48 kHz / 224 kbps
DTS Express English 96 kbps 1.0 / 48 kHz / 96 kbps / 24-bit
DTS Express English 96 kbps 1.0 / 48 kHz / 96 kbps / 24-bit
Subtitles:
English, French, Chinese (traditional + simplified), Spanish, Korean, none
Extras
• Commentary by John Moore, David Dorrance and Everett Burell
• Picture Documentary (divided into 2 parts) - 57-minutes
• BONUSVIEW - Walkthroughs + Cheats - Making Max Payne (picture-in-picture) and Behind the scenes with director John Moore (picture-in-picture)
•
Michelle Payne Graphic Novel (in HD!)
• Enhanced D-Box Motion Control System
• Theatrical trailer
Digital Copy
Two
discs in a standard Blu-ray case.
Release Date: January 20th, 2009
Summary: Mark Wahlberg delivers an explosive performance in this action-packed thriller based on the legendary, hard-hitting video game. Max Payne (Wahlberg) is a maverick cop with little regard for rules and nothing left to lose. Hell-bent on revenge, he's determined to track down those responsible for the brutal murder of his family, but his obsessive investigation takes him on a nightmarish journey where dark fantasy collides with stark reality. As the mystery deepens, Max is forced to battle enemies beyond the natural world...and face an unthinkable betrayal that will drive him to the edge of his own sanity...
The Film:
"Max Payne" is a real "eh" endeavor, which is to say that it doesn't do anything that makes me want to praise it, but it also didn't do much to make me want to severely criticize it. Simple, it is as by-the-books formulaic as can be, and there's not a surprise around that the corner that isn't obvious immediately.

Max Payne (Wahlberg) is a detective whose wife and child were murdered during a home burglary attempt, about ten minutes before he arrived home to find and kill two of the assailants while a third escaped. The film picks up as Payne, working in the cold cases department, is still trying to track down his wife and child's murderer. Office drone by day, hunter by night, Payne finds himself at an informant's house party, wherein he meets the attractive, and drug addicted, Natasha (Kurylenko), who goes home with him and, within minutes of getting into his apartment, offends him and is sent out into the cold alone. And then the "mystery" begins.
Excerpt from Mark Bell at Indie Threat located HERE
Image :
NOTE: The below Blu-ray captures were ripped directly from the
Blu-ray disc.
In DVD we called it 'seamlessly branched' and it didn't work too well - but here in the land of excessive space - it seems to pull off without a hitch. I can see by looking at the film system of the disc it switches for the extended scenes but remains the same for most. So, you get an immediate option of 2 cuts of the film - the theatrical and 3-minute 6 second longer version called 'Unrated-Extended Cut'. Then I got an SD advert for Valkyrie that only played in the upper left corner of my plasma.
I wasn't particularly enamored with the
Blu-ray
image transfer here by Fox. This may very well be how the film looks - and maybe that's what I am not keen on. I could appreciate the film's darkness but the detail and shadow strength was not as abundant as we have seen on other hi-def transfers of modern films. The bitrate is just over 30 which is fine, but not stellar. Really the image is not too bad - it's probably just the film itself that I don't like. Black levels are very strong but there is limited depth. There is not a lot of color is the film so when it does surface (green laser lights) it look strong. I would say the image in Max Payne does not overwhelm.
CLICK EACH BLU-RAY CAPTURE TO SEE ALL IMAGES IN FULL 1920X1080 RESOLUTION
Audio & Music:

We are given a crisp
DTS-HD Master
track although, for what some may expect, the film may not be as dynamic as expected. This is supposed to be more a mystery than an action story anyway... but Hollywood being Hollywood they are giving the machismo what it wants and there is enough gunplay - excessive when utilized - to bounce around the room with aggressive intent during a few select sequences. I imagine this track does exactly what it was intended to do here. While limited in the subtleties - it still reaches the corners - thumbs up here for a variety of intense effect noises - albeit too loud for this reviewer. There are 5.1 DUBs and removable English subtitles as well as a few other language options.
Extras:

Commentary from the filmmakers (only available on the 'Unrated' version) gives sound production details but more so than I would care to know about. It gets quite technical and, to be honest, boring even though they mention Toronto - where the film was made - my hometown. The trio seem comfortable with each but this is fairly flat. We have a huge featurette (almost an hour) divided into 2 parts. It is simple entitled 'Picture' and has a lot of behind the scenes cast and crew tidbits - following people around with a hand-held or as they sit between shoots. I wasn't particularly interested. Michelle Payne Graphic Novel seemed pretty cool and fans may get a kick out of the visual style. There is a theatrical trailer in HD (only seemingly accessible on the Unrated version) and both Bonus view (with PiP) and Enhanced D-Box Blu-ray-exclusive bells and whistles unique to this release.

BOTTOM LINE : I kept thinking of Constantine with Keanu Reeves as I watched this. But I enjoyed that film more as it didn't seem to take itself too seriously. What I liked about Max Payne was the constant 'Noir' embeds - be it Art-Deco store signs, 1940's men's hats, diners and the eternal darkness and shadows. The Blu-ray feels a little stingy though. I double checked the theatrical vs. Unrated sequences and I didn't see any strong appeal. I know this has a legion of fans and I don't mean to step on any toes but I wasn't thrilled with my viewing - neither the transfer nor the film itself appealed to me. I liked the goals but it didn't achieve. Others may differ.

Gary Tooze

January 18th, 2009