Groundhog Day
Blu-ray
(Harold Ramis, 1993)
Review by Gary Tooze
Studio: Sony Pictures - Region 'A'
Video:
Aspect ratio: 1.85:1
Chapters: 16
Feature film: 1080p /
MPEG-4 AVC
Disc Size: 31,829,391,366 bytes
Feature Size: 26,590,912,512 bytes
Time: Extended: 1:41:04.058
Average Bitrate: 35.08 Mbps
Bitrate: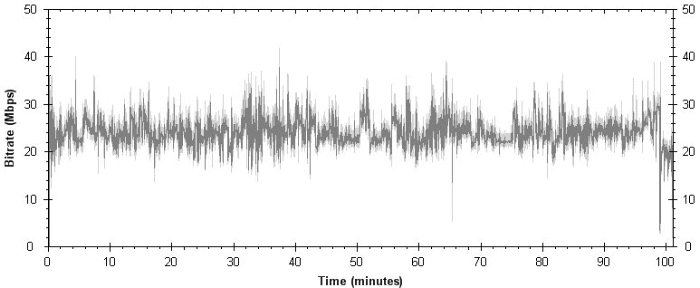 Audio:
Dolby TrueHD Audio English 1681 kbps 5.1 / 48 kHz / 1681 kbps / 16-bit (AC3 Core: 5.1 / 48 kHz / 448 kbps)
DUBs: Dolby TrueHD Audio French 1490 kbps 5.1 / 48 kHz / 1490 kbps / 16-bit (AC3 Core: 5.1 / 48 kHz / 448 kbps)
Dolby TrueHD Audio Portuguese 1284 kbps 5.1 / 48 kHz / 1284 kbps / 16-bit (AC3 Core: 5.1 / 48 kHz / 448 kbps)
Commentary: Dolby Digital Audio English 192 kbps 2.0 / 48 kHz / 192 kbps / Dolby Surround
DTS Express English 192 kbps 2.0 / 48 kHz / 192 kbps / 16-bit

Subtitles:
English, Arabic, Chinese, Dutch, French, Indonesian, Korean, Portuguese, Spanish, Thai, none
Extras
• Needle Nose Ned's Picture-in-picture track
• Audio Commentary with director Harold Ramis
• "A Different Day" - An interview with Harold Ramis (9:48 in HD!)
•
"The Weight of Time" documentary (24:44 in SD 4:3)
• "The Study of Groundhogs: A Real Life Look at Marmots" (6:24 in HD!)
• Six Deleted Scenes
• Trailer (Pink Panther 2006 - 1:37 in HD!)
•
Trailer (The Adventures of Baron Munchausen - :52 in HD!)
S
tandard Blu-ray case
Release Date: January 27th, 2009
Summary: Bill Murray is at his wry, wisecracking best in this riotous romantic comedy about a weatherman caught in a personal time warp on the worst day of his life. Teamed with a relentlessly cheerful producer (Andie MacDowell) and a smart-aleck cameraman (Chris Elliott), TV weatherman Phil Connors (Bill Murray) is sent to Punxsutawney, Pennsylvania, to cover the annual Groundhog Day festivities. But on his way out of town, Phil is caught in a giant blizzard, which he failed to predict, and finds himself stuck in small-town hell. Just when things couldn't get any worse, they do. Phil wakes the next morning to find it's Groundhog Day all over again... and again... and again...
The Film:
It's deja vu gone mad. Groundhog Day is one of the most original comedies to grace the screen in months. With as much repetition as there is, it would be easy for the film to get bogged down. Solid directing, combined with judicious editing, eliminate the problem. The only time we see a scene repeated is when there's something new added, and even then we are re-shown little more than what's necessary for the effect.

The humor is of a higher caliber than that found in most so-called comedies. Absent are the inane sight gags and puns of films like Hexed and Loaded Weapon 1. Instead, Groundhog Day finds its humor in situations and characters. Making use of Bill Murray's talent as a comedian, the film encourages him to play off of the more serious Andie MacDowell. While the chemistry between them isn't smouldering, they work well together. Their characters' romance is credible because it's low-key.
Excerpt from James Berardinelli at Reel Reviews located HERE
Image :
NOTE: The below Blu-ray captures were ripped directly from the
Blu-ray disc.
This is a reasonably impressive image with some decent depth. I kept sensing edge-enhancement, but I couldn't readily identify any even when zooming in. Detail and colors seem reasonably strong - and the film is over 15 years old now (how is that possible?). This Blu-ray shows some minor artifacts in black textured segments in the frame - and more noise that I would find ideal. Good grain is also present at times. I wouldn't say this is a stellar Blu-ray but it easily surpasses standard definition. Technically this is a bit better than a single-layered Blu-ray with the dual-layered disc utilizing 31 Gig of space and the feature taking up 26 Gig of that. The bitrate is a 35 mbps. I'd say the Blu-ray image supports the film well and there are some moderately eye-opening sequences (ex. Andie MacDowell looks stunning) but overall it shows some weaknesses as well and is not of the best image that this format can produce. Saying that I find it is probably faithful to the original appearance of the film and as good as Groundhog Day is likely to get.
CLICK EACH BLU-RAY CAPTURE TO SEE ALL IMAGES IN FULL 1920X1080 RESOLUTION
Audio & Music: The TrueHD 5.1 track is really only beneficial for the music with some cool selections like Sonny & Cher's "I Got You Babe', 'The Pennsylvania Polka', Lerner & Loewe and even Rachmaninoff.
Dialogue is clean and crisp and there are minimal effect noises reaching to the rear speakers. Sony offers many subtitle options and two foreign language DUBs, so, I strongly suspect that this is region-free
Blu-ray
.
Extras:
Repeated from the last DVD release are a sometimes humorous commentary from director Harold Ramis. There are some gaps but he does a pretty good job explaining occasional location (Woodstock, Illinois) and weather difficulties - plus some amusing anecdotes. The featurette "The Weight of Time" documentary approaching 1/2 an hour is also there plus six rather bland deleted scenes. New in HD we have "A Different Day" - An interview with Harold Ramis running about 10 minutes as he reflects back on the entire experience of making and public exposure and reaction to Groundhog Day. Amusing for its impractical inclusion is "The Study of Groundhogs: A Real Life Look at Marmots" which end up being informative even at only over 5 minutes. There are HD trailers for The Adventures of Baron Munchausen and the new Pink Panther.
Blu-ray
exclusivity goes to Needle Nose Ned's Picture-in-picture track with factoids popping up during the presentation. It disturbs the flow of the film and I can't see anyone getting that much of out it for an initial viewing
.
BOTTOM LINE : I like Groundhog Day more each time I see it. It's a unique comedy and the Blu-ray gives it a worthy presentation. This is another charmer that will encourage revisitation in the future - a very good casual film to show with friends over. The Blu-ray isn't pristine but I'll wager this is a as good as it will look and sound for a long while for your home theater. Sony's done a decent job and there are some new extras. Recommended for the film and competent transfer.
Gary Tooze
January 24th, 2009