Body of Lies Blu-ray
(Ridley Scott, 2008)
Review by Gary Tooze
Studio: Warner - Region FREE
Video:
Aspect ratio: 2.35:1
Chapters: 34
Feature film: 1080p /
VC-1 Video
Disc Size: 39,264,889,346 bytes
Feature Size: 27,381,719,040 bytes
Time: Extended: 2:08:18.273
Total Bitrate: 28.45 Mbps
Bitrate: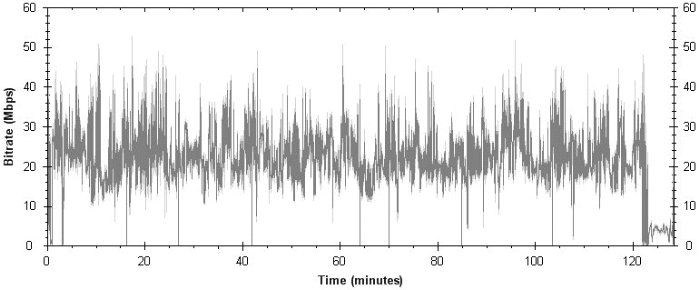 Audio:
Dolby TrueHD Audio English 1532 kbps 5.1 / 48 kHz / 1532 kbps / 16-bit (AC3 Core: 5.1 / 48 kHz / 640 kbps)
Dolby Digital Audio English 640 kbps 5.1 / 48 kHz / 640 kbps
DUBs: Dolby Digital Audio French 448 kbps 5.1 / 48 kHz / 448 kbps
Dolby Digital Audio Portuguese 448 kbps 5.1 / 48 kHz / 448 kbps
Dolby Digital Audio Spanish 448 kbps 5.1 / 48 kHz / 448 kbps
Commentary: Dolby Digital Audio English 192 kbps 2.0 / 48 kHz / 192 kbps / Dolby Surround

Subtitles:
English, French, Portuguese, Spanish, none
Extras
• Audio Commentary with Director Ridley Scott, screenwriter William Monahan, and author David Ignatus
• Deconstructing Body of Lies (HD, 8 - segments - 1:25:00)
• Interactive Debriefing (HD, 19 minutes)
• Four Deleted Scenes (with introduction 14:43) & Alternate Ending (HD, 1:58) - optional commentary on all by Ridley Scott
• BD-Live
2nd disc - Digital Copy
S
tandard Blu-ray case inside cardboard sleeve
Release Date: February 17th, 2009
Summary: The CIAs hunt is on for the mastermind of a wave of terrorist attacks. Roger Ferris is the agencys man on the ground, moving from place to place, scrambling to stay ahead of ever-shifting events. An eye in the sky a satellite link watches Ferris. At the other end of that real-time link is the CIAs Ed Hoffman, strategizing events from thousands of miles away. And as Ferris nears the target, he discovers trust can be just as dangerous as it is necessary for survival. Leonardo DiCaprio (as Ferris) and Russell Crowe (as Hoffman) star in Body of Lies, adapted by William Monahan (The Departed) from the David Ignatius novel. Ridley Scott (American Gangster, Black Hawk Down) directs this impactful tale, orchestrating exciting action sequences and plunging viewers into a bold spy thriller for our time...
The Film:
If you take a step back from the realistic locations and terse dialogue, Ridley Scott's "Body of Lies" is a James Bond plot inserted into today's headlines. The film wants to be persuasive in its expertise about modern spycraft, terrorism, the CIA and Middle East politics. But its hero is a lone ranger who operates in three countries, single-handedly creates a fictitious terrorist organization, and survives explosions, gunfights, and brutal torture. Oh, and he falls in love with a local beauty. And of course he speaks Arabic well enough to pass for a local.

This is Roger Ferris (Leonardo DiCaprio), who seems to operate as a self-directed freelance in the war against a deadly terrorist organization (obviously a double for al-Qaeda). His brainstorm is to fabricate a rival terrorist organization out of thin air, fabricate a fictitious leader, create a convincing evidence trail and use it to smoke out Al Saleem, the secretive leader of the real terrorists (a surrogate for Osama bin Laden). Why will Al Saleem risk everything to come out of hiding? Jealousy, I think. Guarding his turf.

I can imagine a similar story as told by John Le Carre, even right down to the local beauty. Some of the characters seem worthy of Le Carre, especially Hoffman (Russell Crowe), Ferris' CIA handler, and Hani Salaam (Mark Strong), the brilliant and urbane head of Jordanian security. But Le Carre would never be guilty of such preposterous thriller-style action. Here we have a spy who doesn't come in from the cold, crossed with Jason Bourne.
Excerpt from Roger Ebert at the Chicago Sun-Times located HERE
Image :
NOTE: The below Blu-ray captures were ripped directly from the
Blu-ray disc.
Body of Lies utilizes a few obtuse camera angles and foreground articles that balance the frame making detail a lesser factor - excepting in close-ups which bring out the clandestine clarity. The image is somewhat heavy - undoubtedly intentional, and can appear slightly saturated at times with a tint appearing on some scenes. Contrast and colors give way to this impression muting vibrancy but escalating black levels to pitch proportions. Alexander Witt's cinematography runs the gamut of styles which seem dutifully supported by the Blu-ray transfer. I couldn't shake the feeling of some digital manipulation but my findings (zooming-in) came up blank. If there is some - it is slight enough to ignore. Technically the disc is dual-layered with under 30Gig allocated to the presentation. Warner again relies on their VC-1 encode and it appears to come through with flying colors. Without undue background noise the image seems to be flawless in capturing the theatrical intent of Body of Lies very nicely.
CLICK EACH BLU-RAY CAPTURE TO SEE ALL IMAGES IN FULL 1920X1080 RESOLUTION
Audio & Music:
Warner offers a highly aggressive
TrueHD 5.1 track that, like the onscreen activity, explodes through your Surround system.
It is competent and penetrating even for less-intrusive effect noises. Marc Streitenfeld's fluid score may be somewhat drowned out at times by the highly dynamic effects running through all channels. While my windows didn't actually rattle - it is fair to say this mix is not far from that distinction with heavy bass response. For non-English dialogue there are burned-in English subtitles in a yellow font. There are DUBs and subtitle options and unless this differs from all other Warner
Blu-ray
discs - this is region FREE.
Extras:

Director Ridley Scott is an old hand at commentaries now and he seems comfortable with screenwriter William Monahan, and author David Ignatus joining him for this discussion covering production and a variety of elements in the creation of the film. While an acceptable commentary I would wager interest is directly proportional to your enjoyment of the film. There are HD featurettes with an 8-segment Deconstructing Body of Lies piece leading the way for almost 1.5 hours in many different aspects- including much lesser known minutia. Again I'd say those keen might get more out of this than your average film fan - it can get very specific which lends itself from 'highly interesting' to 'who cares'. There is an Interactive Debriefing where you choosing Ridley Scott, Russell Crowe, or Leonardo DiCaprio on certain subjects prompts a 1-2 minute sound byte. There are also 4 deleted scenes (with Ridley introduction) running almost 15 minutes and an alternate ending fro a scant 2 minutes. All are in HD and all offer an optional commentary by Ridley Scott. This disc also allows access to BD-Live and there is a 2nd disc of the digital copy of the film for your portable device.

BOTTOM LINE : Although I knew nothing about Body of Lies prior to my viewing - it was generally what I was anticipating. Both leads never seemed to soar in their characterizations but the action was encompassing and supported the film well enough. Ridley is Ridley and his films have a certain sameness. It has some edge-of-seat moments but didn't seem to knock the ball out of the park. This Blu-ray is impressive for a viewing experience in both audio and visual elements. I appreciated the altering of style and how the disc supported that very well. Audio fans may find this demo' material which can give your senses a highly memorable presentation.

Gary Tooze

February 11th, 2009