Akira
Blu-ray
(Katsuhiro Ôtomo, 1988)
Review by Gary Tooze
Studio: Honneamise - Region FREE
Video:
Aspect ratio: 1.85:1
Chapters: 36
Feature film: 1080p /
MPEG-4 AVC
Disc Size: 41,446,908,828 bytes
Feature Size: Theatrical: 39,757,596,672 bytes
Time: 2:04:28.461
Total Disc Bitrate: 42.59 Mbps
Bitrate: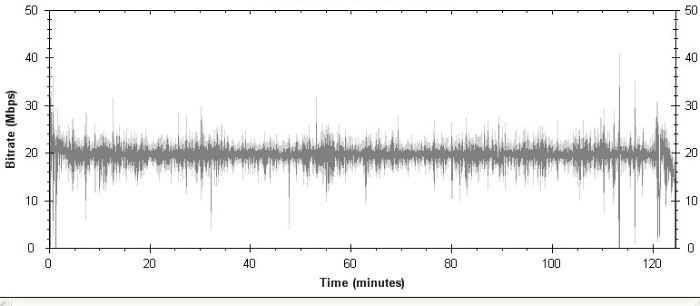 Audio:
Dolby TrueHD Audio English 1466 kbps 5.1 / 48 kHz / 1466 kbps / 16-bit (AC3 Core: 5.1 / 48 kHz / 640 kbps)
Dolby TrueHD Audio Japanese 14340 kbps 5.1 / 192 kHz / 14340 kbps / 24-bit (AC3 Core: 2.0 / 48 kHz / 192 kbps / Dolby Surround)
Dolby Digital Audio Japanese 640 kbps 5.1 / 48 kHz / 640 kbps
LPCM Audio Japanese 1536 kbps 2.0 / 48 kHz / 1536 kbps / 16-bit

Subtitles:
English, Japanese, none
Extras
• Teasers, trailers, TV Commercials, Storyboards
S
tandard Blu-ray case inside cardboard box
Release Date: February 24th, 2009
Description: On July 16, 1988, Tokyo was destroyed by what was believed to be a new type of bomb, triggering World War III. Thirty-one years later, in 2019, Neo-Tokyo has arisen from ashes under Japan's new political system; but the glittering city is built on foundations of poverty, ignorance and despair. Kaneda and his friends, a bunch of juvenile delinquents, rumble with a rival group of bikers. While the police attempt to disperse a riot with tear gas, the rumble continues. Tetsuo takes the lead and, after disposing of his opponents, nearly runs down what looks to be a 100-year-old baby. Tetsuo's bike suddenly explodes and he is taken prisoner by the top-secret Akira Project where he is subjected to a series of tests which unleash his latent psycho-kinetic powers. But he is really more powerful than anyone imagined and breaks out, creating a swathe of destruction across the city as he mutates into another life form.
The Film:
Katsuhiro Otomoto's "Akira" is the most expensive animated feature ever made in Japan (over 1 billion yen) and it's easily the most impressive, as well. The two-hour film is adapted from Otomoto's popular biweekly comic and, in the manner of contemporary Japanese comics, it is super-colorful, explicitly violent, intellectually provocative and emotionally engaging with its Perils-of-Pauline pace. Otomoto has condensed the narrative sprawl of the comics to provide coherence, though there's a bit of "Back to the Future Part II" incompleteness to the story. That hardly matters, since the film moves with such kinetic energy that you'll be hanging on for dear life.

"Akira" is set in Neo-Tokyo in 2019, 31 years after World War III. The rebuilt city, looking like an animated "Blade Runner" prototype, is under military rule, though barely: Packs of motorcycle-riding cyberpunks race through the streets engaging in deadly jousts. One pack, led by Kaneda, has a run in with a physically withered but telekinetically charged child named Takashi. As a result, one of Kaneda's pals, the emotionally scarred Tetsuo, is captured by the mysterious military-scientific coalition that rules Neo-Tokyo. Soon, Tetsuo's powers grow out of control and he becomes the focus of a battle between oppressive authorities, an underground resistance group, Kaneda's gang and a trio of fellow psychics terrified that he will unleash "Akira" and once more destroy the world. All of this unfolds at a fast-forward pace.

What makes it work is the astounding animation, 160,000 cells worth. The detail is exceptionally realistic, fluid and multidimensional, suggesting both a futuristic world and ancient quests. Otomoto's neon-lit Neo-Tokyo is a marvel of post-apocalyptic tension and desires. "Akira" is equally astounding for its color design, whether in the brightness of Neo-Tokyo, the damp darkness of its underground or the steely edge of its scientific outposts and military hardware. It's a complete world sprung from Otomoto's pen and imagination, and realized in 327 colors.
Excerpt from Richard Harrington of the Washington Post from December 25, 1989 located HERE
Image :
NOTE: The below Blu-ray captures were ripped directly from the
Blu-ray disc.
NOTE: I should state that my copy arrived with a 'sample' sticker on it. After perusing it closely I don't doubt it will be exactly the same as the consumer edition. If I miss anything, especially in the way of extras, I guess this is my 'out'.
The image looks pretty flawless if a bit gritty at times. This was pre-modern digital animation days but you wouldn't know it as this image seems reasonably artifact free, super clean and very bright. A few years back Akira was restored by Pioneer Entertainment at a cost of $1 million for the release on home video and DVD. The results were highly impressive in SD. Once at this level of strong theatrical reproduction for animation - the major issue becomes the style of the visuals and whether you like... or dislike. I found it refreshing and didn't think it lost a step to more modern representation of the genre. The 'film' itself takes up almost 40 Gig of space, on the dual-layered Blu-ray, and while I found motion not quite a smooth as more recent animation, it didn't take long to accept it. Overall, I am not experienced enough in these animations, having reviewed maybe a dozen in my life, but I'd have to say this looks extremely good and I can find no prominent weaknesses. This is probably as good as anything else I can remember seeing except it may be marginally flatter with less depth and a touch more textured than some may anticipate. This is certainly no fault of the transfer - this is the way that Akira originally looks.
NOTE: The image has a black border circumventing the frame marginally limiting the horizontal resolution. We've see this before in Japanese animation to counter overscan on production TV sets, but as this will be on HD systems it seems inappropriate.
CLICK EACH BLU-RAY CAPTURE TO SEE ALL IMAGES IN FULL 1920X1080 RESOLUTION
Audio & Music:
You immediately get the choice of Japanese or English 'buttons' and then Akira starts accordingly (after an FBI warning and about a minute of Production logos!). There are audio options in original Japanese TrueHD or an English DUB - also in TrueHD. There is also Japanese 5.1 DD and Linear PCM choices. There are optional subtitles in both language options. Audio sounded extremely strong (I listened to the original Japanese TrueHD for most of the film). There were some explosive, more aggressive moments (motorcycle) and even some subtlety (Japanese music). There seems to be excellent range in the mix with powerful low frequency response. This track had come impressive moments and seems consistent. Although I only tested it briefly the English DUB seems to match the English subtitles. We've been informed that this release is indeed region-free!
Extras:
As I mentioned - this is a 'sample' copy and if anything is missing - I suspect it would be here. I could only access some trailers, teasers, a commercial and a short piece the storyboards for the film. The box does not state anything further.
BOTTOM LINE : Akira has a huge following - and rightly so. It could be one of the rare examples of a seminal film that revolutionized its own genre - defining it for years after. It's DVD incarnations have been highly lauded and this Blu-ray looks and sounds pretty awesome! It can be a complex tale with some adult violence - so those sensitive should beware. As opposed to all the accolades it might be best to judge it for yourself with an open mind. This was also available in a very popular Criterion LaserDisc - looking at this HD image it seems we have come quite a long way since those days! I would expect that fans and novices to Akira will be equally impressed with this Blu-ray presentation.
Gary Tooze
February 4th, 2009