(Jon Favreau, 2008)
Paramount
Review by Gary W. Tooze
Video
Video codec: MPEG-4 AVC
Video resolution: 1080p
Aspect ratio: 2.35:1

Audio
English: Dolby TrueHD 5.1 DUBs: French: Dolby Digital 5.1, Spanish: Dolby Digital 5.1

Subtitles
English, English SDH, French, Spanish, Portuguese, none

Disc
REGION FREE
50GB Blu-ray Disc
Supplements:
Disc 1:
• Extremis and Beyond (HD 25:28)
• Ultimate Iron Man (HD 3:59)
• Hall of Armor
• The Invincible Iron Man Origins
• Friends & Foes
• The Definitive Iron Man
• Demon in a Bottle
• Deleted/Extended Scenes in HD!
BD Live: Iron Man IQ
Feature: 32.
6
Gig
2:06:01
Disc: 50GB (dual-layered)
Disc 2:
• I Am Iron Man The Journey Begins (7-parts) - HD!
• The Suit that makes the Iron Man
• The Walk of Destruction
• Grounded In Reality
• Beneath the Armor
• It's All in the Details
• A Good Story, Well Told
• Wired: The Visual Effects of Iron Man HD!
• Robert Downey Jr. Screen Test HD!
• The Actor's Process (rehearsals with cast) HD!
• The Onion "Wildly Popular Iron Man Trailer to be Adapted into Full Length Film"
• Trailers / Image Galleries
Released: September 30th, 2008
Standard Blu-ray case
24 chapters
Product Description:
Suit up for action with Robert Downey Jr. in the ultimate adventure movie you've been waiting for, Iron Man! When jet-setting genius-industrialist Tony Stark is captured in enemy territory, he builds a high-tech suit of armor to escape. Now, he's on a mission to save the world as a hero who's built, not born, to be unlike any other. Co-starring Gwyneth Paltrow, Terrence Howard and Jeff Bridges, it's a fantastic, high-flying journey that is "hugely entertaining" (Joe Morgenstern, The Wall Street Journal)...
****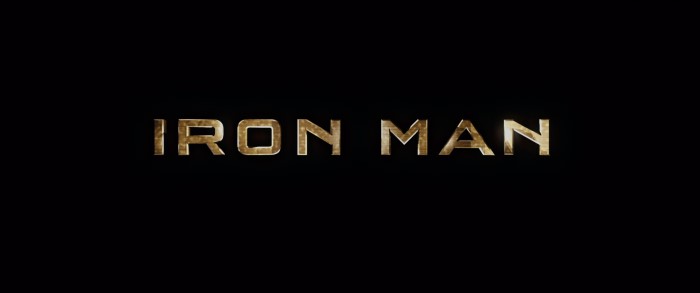 The Film:
Consider the characters of Pepper Potts (Gwyneth Paltrow), Stark's loyal aide, and Obadiah Stane (Jeff Bridges), Stark's business partner. They don't feel drummed up for the occasion. They seem to have worked together for awhile.
Much of that feeling is created by the chemistry involving Downey, Paltrow and Bridges. They have relationships that seem fully-formed and resilient enough to last through the whole movie, even if plot mechanics were not about to take them to another level. Between the two men, there are echoes of the relationship between Howard Hughes and Noah Dietrich in Scorsese's "
The Aviator
" (2004). Obadiah Stane doesn't come onscreen waving flags and winking at the camera to announce he is the villain; he seems adequately explained simply as the voice of reason at Stark's press conference. (Why did "Stark," during that scene, make me think of "staring mad?"). Between Stark and Pepper, there's that classic screen tension between "friends" who know they can potentially become lovers.

At the end of the day it 's Robert Downey Jr. who powers the lift-off separating this from most other superhero movies. You hire an actor for his strengths, and Downey would not be strong as a one-dimensional mighty-man. He is strong because he is smart, quick and funny, and because we sense his public persona masks deep private wounds. By building on that, Favreau found his movie, and it's a good one..
Video: NOTE: The below Blu-ray captures were ripped directly from the Blu-ray disc.
This transfer looks dang impressive. Detail is exceptional - colors appear very true and balanced while noise is at a bare minimum. Even in vast panoramic vistas of Malibu or the desert mountains the noise is so consistently fine that it appears much more like grain. Contrast as well is at pristine levels - bordering saturation but never reaching it with solid competent black levels and keen, underblown, brightness. Aside form the overblown finale battle the effects are gratifyingly more restrained (until that point) and the inherent haziness -and fast motion camera movement to hide it- is never obvious or bothersome. The latter action is conveniently set at night to again hide the facets of lower level realism. This transfer could be used for demo purposes on many systems. This
Blu-ray
doesn't export any subtle values - everything is clean, crystal clear and in your face - just as the filmmakers of of
Iron Man
appeared to strive for. This 1080P transfer achieves. If there is DNR filters (I'd heard
Iron Man
had some grain utilization but this transfer is velvety smooth) or edge enhancements I certainly couldn't detect from 12 inches away to 15 feet. I hope the large screen grabs can give you a good idea of how it will perform on your system. The
Blu-ray
gave me an extremely satisfying image presentation of
Iron Man
- one of the best of this strong year so far.
Screen Captures
CLICK EACH BLU-RAY CAPTURE TO SEE ALL IMAGES IN FULL 1920X1080 RESOLUTION
Audio: The Dolby TrueHD 5.1 supports the bombastic audio of Iron Man extremely well. I turned my head more than once. Some scenes can get very aggressive and the track hold its own. Dialogue can get a shade blown back by the rampant effects (missiles, fire blasts, smashing autos etc.) There are subtle background noises also well rendered -and the TrueHD doesn't simply engage the dynamic sound references. I enjoyed the original music score by Ramin Djawadi - it was flexible showing great range. While AC/DC's "Back In Black" pulsated the animated theme from Iron Man snuck in itself - perhaps as a small homage. There are two untested optional DUBs offered (French and Spanish) and optional English, English SDH, French, Spanish or Portuguese subtitles available.
Extras:
No commentary but some tidbits on the feature disc and an entire second
Blu-ray
with an outrageous number of supplements - most in HD. Highlights (stuff I actually remembered) were; the half-hour
Extremis and Beyond
with 'core'
Iron Man
developers from Marvel Comics on up to screenwriters.
Robert Downey Jr. Screen Test
and rehearsals were a bit of a hoot. Most of these extras though seem to cater far more to the hardcore fans who should gobble them up with relish.
OR
they may actually create more hardcore fans (perhaps the point?) for those who wade through all of them. A heck of a lot of effort went into these extras and I can't see anyone being derisive about something being omitted. They are quite detailed and unbelievable - touching on production, the story development and just about every facet of Mr. Stark (including origins and a 'hall of his suits of armor') run the gamut. Depending on the age of your children - these may also be appealing for them with a fair number of references to the actual comic books (remember them? - I owned
Iron Man
#1 at one point). Paramount really went to incredible lengths and should be commended although many, I'm sure, will not indulge in the bloated second disc. Different strokes...
Extras
BOTTOM LINE: I was less enthusiastic about the film than some friends were - but this Blu-ray viewing may have pushed me over the top. Wow. I'm more one to appreciate the character development and plot than the excessive action sequences but Downey and Paltrow were so strong that it's hard to deny Iron Man's appeal. The Blu-ray format gives an incredible visual and aural presentation of a solid entertaining super-hero film and add on the bountiful extras and this 1080P package is strongly recommended!
Gary Tooze
September 17th, 2008