(Oliver Stone, 1991)
Lions Gate
Review by Gary W. Tooze
Video
Video codec: MPEG-4 AVC
Video resolution: 1080p
Aspect ratio: 2.35:1

Audio
English: DTS-HD Master Audio 7.1

Subtitles
English, English SDH, Spanish, none

Disc
50GB Blu-ray Disc
Supplements:
•
Full-length audio commentary from director Oliver Stone
• Featurette: "The Doors in L.A." (19:37)
• Featurette: "A Poet in Paris" (52:08)
• Featurette: "Road to Excess" (38:42)
• Featurette: 'Original 'Making of...' featurette
• 14 Deleted Scenes
• Original Trailer and TV Spots

Disc
Feature: 35.5 Gig
2:20:39
Disc: 50GB (dual-layered)
Released: August 12th, 2008
Standard Blu-ray case
24 chapters
Product Description:
Jim Morrison (Val Kilmer) one of the most sensual and exciting figures in the history of rock and roll explodes on the screen in THE DOORS the electrifying movie about a time called the sixties and a legendary outlaw who rocked America's consciousness-forever...
****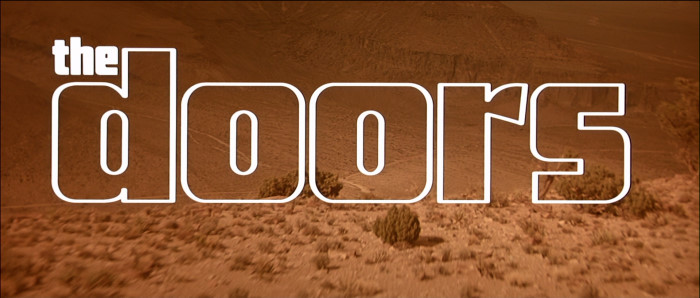 The Film:
Jim Morrison, the lead singer and lyricist of the Doors, was equal parts poet, provocateur and snake-oil salesman. You might say the same of Oliver Stone, the writer-director (
Platoon
,
Born on the Fourth of July
) who has turned Morrison's short life -- he died of heart failure in 1971 at the age of twenty-seven -- into a film of wretched and splendid excess. You expect in-your-face from Stone and Morrison. Both are products of the turbulent Sixties. The decade jazzed them, molded their sensibilities, taught them that art should be violent and dangerous: Feel it, mock it, even fake it, but keep it larger than life.
The Doors
is a thrilling spectacle -- the King Kong of rock movies -- featuring a starmaking, ball-of-fire performance by Val Kilmer as Morrison. I can't recall a film that evokes the myth of the Sixties more potently. It's not all free love, psychedelic drugs and electric blues, either. The cruelty, delusion and self-destruction are included, along with the dopey hippie rhetoric. Stone goes to extremes -- the movie is too much of everything -- but the eerily alluring music of the Doors helps him capture the dark side of a decade.
Video: NOTE: The below Blu-ray captures were ripped directly from the Blu-ray disc.
I wouldn't say this
Blu-ray
is of demo quality for the image (although some of the audio portions may be good to 'show-off' to friends). It's consistently strong - far superior to SD - but, perhaps because of the film's age, lacks the pristine quality of more modern transfers. Colors are fairly soft-palette and although detail has some superb moments - generally it is underwhelming for high-definition. Technically dual-layered (the feature takes up over 35 Gig!), and is consistently rendered to 1080P using the AVC encode. The feature is reasonably bright, skin tones seem true and un-manipulated, background noise exists but I can't really find any fatal flaws with the way this
Blu-ray
looks. I don't see evidence of any DNR filters or edge enhancements. I hope the large screen grabs can give you a good idea of how it will perform on your system.
Screen Captures
CLICK EACH BLU-RAY CAPTURE TO SEE ALL IMAGES IN FULL 1920X1080 RESOLUTION
Audio: The DTS-HD Master Audio 7.1 is VERY strong and supports the music of the film wonderfully with decent range. It seemed dynamic at times and I really have no complaints although perhaps other English language options could have been included (for this critic to compare). There is a French 2.0 channel DUB offered in my edition. I doubt any fans will be disappointed in the audio strength of this Blu-ray - at times it can really be bombastic! There are optional English or Spanish subtitles available.
Extras:
Supplements are duplicated from Lions Gate's 15-Year Anniversary Edition SD
HERE
from December of 2006. Stone's commentary is not his best but he always makes for an interesting listen. This might be the third time I've heard it and I still think it has
some
merit despite the film's laborious length forcing him to 'dig' deep. Featurettes include "
The Doors in L.A.
" running close to 20 minutes and "
Road to Excess
" running twice as long. Some will find the French documentary "
A Poet in Paris
", nearly an hour, worthwhile viewing. I would have dearly liked Morrison's student film broached early in Stone's feature (condemned by his classmates) - but perhaps that remains lost. There is a '
Making of...
' entitled 'original featurette' and 14 deleted scenes - with Stone explaining their lack of necessity in the final cut, plus a trailer and TV Spots. Overall we push past 2 hours of supplements (not including the commentary). It appears there are no unique
Blu-ray
additions or hi-def bells or whistles.
Extras
| | |
| --- | --- |
| | |
| | |
| | |
BOTTOM LINE: A lot of critics crap on this film (as they do with a lot of Stone's work) and I thought it was extremely entertaining... which was perhaps its goal. I've seen it at least three times now. Stone paints Morrison as exactly how he was culturally perceived - as a type of God - although perhaps a misunderstood one. His overwhelming penetration into, now, mimicked rock and roll is undeniable. This guy was the precursor and there has never been such an 'original' - he is a fascinating character study. I can't image a better profile, albeit with Stone's perceived poetic license. Kilmer is at his best - to date (and probably ever) with the role seemed patterned for his chameleon thespian-ism alone. This Blu-ray is imperfect but the definitive way to see The Doors - coming closest to its 35mm roots. It's worth it for the audio alone. Recommended for the monumental effort of the film and its adept and stirring presentation in 1080P.
Gary Tooze
August 7th, 2008