Magnolia Home Entertainment
Review by Gary W. Tooze
Video
Video codec: MPEG-4 AVC
Video resolution: 1080p
Aspect ratio: 2.35:1

Audio
English: DTS-HD Master Audio 5.1, English, Dolby Digital 5.1

Subtitles
English, English SDH, Spanish, none

Disc
50GB Blu-ray Disc
Supplements:
• Commentary with director Vadim Perelman and production designer Maia Javan (in 2.0)
• Featurette: Flashback: Behind The Life Before Her Eyes (54:24)
• Documentary: "Reflections Back and Beyond: The Other Side" (11:42)
•
Deleted Scenes / Alternate Ending 11:59 / 12:58
• Eva Amurri Casting Tape (3:49)
•
Flower Photo Gallery
• Trailer for film 2:19 HD
• Trailer - What Just Happened 2:32 HD
• Trailer - The Host 2:12 HD
• An advert for HDNET

Disc
Feature:
16.3 Gig
1:29:37
Disc: 25GB (single-layered)
Released: August 19th, 2008
Standard Blu-ray case
24 chapters
Product Description:
Based on the novel by Laura Kasischke this powerful drama starring Uma Thurman unfolds in out-of-sequence flashbacks. Recklessly hedonistic teenager Diana (Evan Rachel Wood) and her best friend a Christian virgin (Eva Amuri) come face to face with a machine-gun-wielding classmate one morning at school in a situation reminiscent of Columbine. Thurman plays the grown-up version of Diana who has a perfect life in the same small town 15 years after the tragedy. On the anniversary of the shooting unpleasant flashbacks haunt her as she takes her daughter to school lectures on Gauguin to a bored art history class and possibly spots her older professor husband out with a younger woman. As the events cohere and time collapses one realizes nothing is certain and life renews and ends on a moment-by-moment basis. Under the helm of Vadim Perelman (HOUSE OF SAND AND FOG) a spiritual presence is imbued in lovingly photographed close-ups of flowers dirty dishes cats ants spiders bees on flowers leaves and Wood diving in and out of a swimming pool in slow motion. The dialogue is peppered with believably offhand philosophical inquiry and if the film does nothing else it makes one reevaluate one's perspective on the sanctity of every life decision--and to feel a degree of awe and reverence for the acting skills and beauty of both Thurman and Wood who meld believably into the same complex character...
****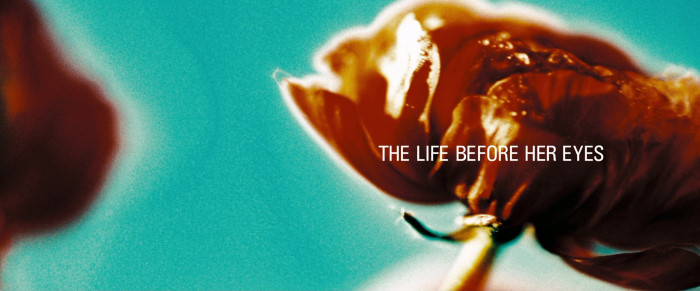 The Film:
The non-chronological approach creates an intellectual puzzle but limits the ability of the audience to relate to the characters. And the marked physical differences between Evan Rachel Wood and Uma Thurman make it a little difficult to accept that both the teenage Diana and the adult Diana are the same individual. Rarely is it not possible to see a 32-year old in her 17-year old self. This might seem like a minor thing but in a movie like this, it gains importance.
Technically, the movie is impressive. Cinematographer Pawel Edelman has composed a series of memorable insert shots that show the details of everyday life we often don't notice. If nothing else, it can be said that The Life Before Her Eyes offers variety for the eyes. Even the most mundane scenes are set up with a sense of confidence and James Horner's score is one of the most subtle and least intrusive he has composed in some time. Perelman understands the importance of technical aptitude; his previous feature, House of Sand and Fog, exhibited strong photographic and musical components.
Video: NOTE: The below Blu-ray captures were ripped directly from the Blu-ray disc.
Marginally dark and saturated this
Blu-ray
seems to export the more subtle values that the film was attempting to instill. This may be a direct contrast to those seeking a standard; brighter, cleaner, sharper image from their 1080P transfer. It's consistently strong - far superior to SD - but, perhaps because of the film's style it lacks the pristine quality visage of other modern transfers. Technically it is single-layered (the feature takes up just over 16 Gig) and shows a moderately grainy appearance. This doesn't look like noise to me - due to its even separation and consistency but I suspect many may not appreciate the visual intentions. Colors are not particularly brilliant but maintain the same subtle hues throughout the film and skin tones seem true and un-manipulated. I don't see evidence of any DNR filters or edge enhancements. I hope the large screen grabs can give you a good idea of how it will perform on your system. I was impressed with the film-like appearance which gives due credit to Perelman's style.
Screen Captures
CLICK EACH BLU-RAY CAPTURE TO SEE ALL IMAGES IN FULL 1920X1080 RESOLUTION
Audio: The DTS-HD Master Audio 5.1 can jump to life in certain scenes and gives decent range. It seemed dynamic when infrequently called upon. There is a standard 5.1 English Dolby digital track that I only briefly tested (just to prove that it existed). The film can be fairly contemplative at times and those expecting an consistent workout from the rear speakers by this
Blu-ray
will be disappointed. Simply put - it seems to do the job. There are optional English or Spanish subtitles available.
Extras:
I'll assume these are duplicated from Magnolia's, simultaneously released, SD edition
HERE
. Actually the SD would be lucky to get all of these supplements. Firstly there is an excellent commentary with director Vadim Perelman and production designer Maia Javan (in Dolby Digital 2.0). Perelman takes the lead through most - initially advising those who have not seen the film - to do so BEFORE listening to his commentary. He brings up some highly interesting points of interest and I give it a thumbs up to, that minority, of those interested in listening to commentary tracks. Then there are about 1.5 hours of featurettes and deleted scenes etc. I enjoyed the, almost hour long
Flashback: Behind The Life Before Her Eyes
with input soundbites from cast and crew - Perelman seems a smart cookie and I craved more input from him (hence my approval of the commentary). There is a kind of avant-garde documentary about people who have had 'near death experiences' entitled "
Reflections Back and Beyond: The Other Side
". The participants responses seem convincing... and interesting although some may find it hokey - its just over ten minutes long. There are over ten minutes each of deleted scenes and an alternate ending - probably signifying the competent choices made for the final cut. Those very keen on the film may wish to indulge. We have about 4 minutes of Eva Amurri's casting session, a striking flower photo gallery, some HD trailers and an advert for HDNET. I can't be positive but it appears there are no unique
Blu-ray
additions - certainly no hi-def bells or whistle screen-in-screen factoids or games etc. Overall - very good inclusions with the commentary being the highlight.
Extras
BOTTOM LINE: I had similar feelings to Perelman's House of Sand and Fog - I thoroughly enjoyed it - if feeling it was somehow imperfect - again characterizations may have been at the crux. Still this is a very good film that we encourage watching, especially in the
Blu-ray
format which may not export the usual majesty of 1080P but DOES look as we expect the director intended. So, recommended for the beautifully poignant movie, its film-like presentation in 1080P and the extensive extra features.
Gary Tooze
August 9th, 2008