(Stephen Chow, 2008)
Sony Pictures
Review by Gary W. Tooze
Video
Video codec: MPEG-4 AVC
Video resolution: 1080p
Aspect ratio: 2.40:1

Audio
Mandarin: Dolby TrueHD 5.1
DUBs: English: Dolby TrueHD 5.1, French: Dolby TrueHD 5.1, Cantonese: Dolby Digital 5.1, Thai Dolby Digital 5.1

Subtitles
English, English SDH, French, Arabic, Chinese (traditional), Indonesian, Korean, Thai, none

Disc
25GB Blu-ray Disc
REGION FREE
Supplements:
•
Full-length commentary by Stephen Chow - cast and crew
• Featurette: "Story of CJ7"
• Featurette: "CJ7 TV Special"
• Featurette: "Anatomy of a Scene"
• Featurette: "How to Make a Lollipop"
• Featurette: "How to Bully a Bully"
Disc
Feature: 19.6 Gig
1:25:47
Disc: 50GB (dual-layered)
Released: August 12th, 2008
Standard Blu-ray case
24 chapters
Product Description:
Co-Writer/Director Stephen Chow (Kung Fu Hustle, Shaolin Soccer) stars as Ti, a poor but loving father who works such long hours that he barely has any time to spend with his young son. Unable to afford the latest toy his boy desperately wants, Ti instead brings home a mysterious 'pet' he finds at a local junkyard. When the cuddly creature turns out to be a fun-loving extraterrestrial able to perform miraculous deeds, both father and son are about to learn some important lessons that change their lives in this delightful science-fiction fantasy for the whole family...
****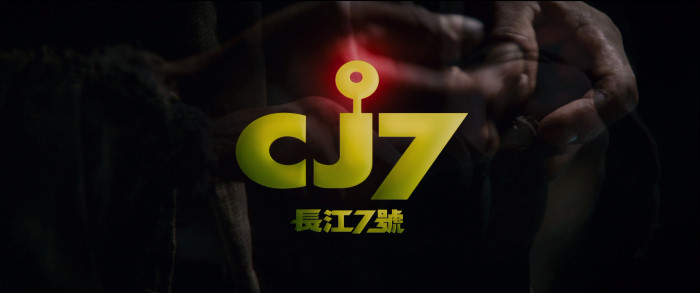 The Film:
"
CJ7
" offers a mixed assortment of "messages" for children. On one hand, it seeks to show that poverty is nothing to be ashamed of and that integrity and forgiveness are more worthwhile values than competition or class status. (The greedy villain is a kid Dicky's age who proclaims his entrepreneurial lust for global domination to the entire schoolroom.)
Chow's movie does not seem to be a cynical marketing tool. However, the moment retail and fast-food outlets start pushing their own CJ7 toys made of potentially toxic materials, all its moral lessons will be rendered moot, and the movie will seem as crass and venal as "Mac and Me." Also, Dicky's dad really shouldn't have pushed his son into a small wooden box and then locked him in there.
But for those who are struggling with the consequences of their seemingly uncontrollable emotions, "
CJ7
" presents an illustration of why you should never say things you don't mean, even when you lose your temper. This is a fable of forgiveness and regeneration, but it delves into a child's deepest, darkest fears. Fortunately, things turn out OK in the end.
Excerpt from Roger Ebert's review at the Chicago Sun Times located HERE
Video: NOTE: The below Blu-ray captures were taken directly from the Blu-ray disc.
Firstly, there is a Honk Kong
Blu-ray
of
CJ7
available
HERE
and I am unsure of the differences although suspect the video transfer to be the same but there are no supplements on the HK
Blu-ray
release. This appears to be region-free and therefore will be accessible on
Blu-ray
players world-wide.
Although technically single-layered, I thought the image quality was exceptionally strong. Sharp detail and colors look well-rendered to 1080P using the MPEG-4 AVC encode. The feature is bright, skin tones true, background noise is 'reasonable' and I can't really find any strong complaints with the way this Blu-ray looks. I don't see evidence of any DNR filters although possibly some edge enhancement may be visible in a one or two scenes. Overall, I was very pleased with the Blu-ray presentation of CJ7. I hope the large screen grabs can bear this opinion out.
Screen Captures
CLICK EACH BLU-RAY CAPTURE TO SEE ALL IMAGES IN FULL 1920X1080 RESOLUTION
Audio: There are three strong lossless TrueHD 5.1 tracks offered - original Mandarin and DUBs in English and French - plus two more Dolby Digital 5.1 DUBs - in Cantonese and Thai. As I'm not a fan of DUBs, and I only briefly tested the English, French, Cantonese and Thai. Comparatively the lossless tracks had the expected punch and cleanliness of sonic bass and pitch. The film is no action thriller but does have infrequent use for surround speakers and the separation seemed quite deft and buoyant when called upon. Bottom line is that I doubt any fans will be disappointed in the audio of this Blu-ray. There are a host of optional subtitles available including English and English SDH.
Extras:
The supplements seem to mimic the SD edition with a laid back, fun commentary from, Chow and cast plus some featurettes showing behind the scenes shooting as well as younger adult related presentations. Subtitles are also available for the extra features in English and French. They are under an hour but some may find them worth exploring - especially if you enjoyed the film.
Extras
BOTTOM LINE: Very warm and it's nice to see another side of Chow from the usual zany antics we see in his films. I was very touched by many of the scenes supported well by the strong performances. Chow shows he can produce wonderful results when he is also creating in a more controlled milleue. This is a super family film and this Blu-ray is only the definitive way to see it your home - with many touting the image over their theatrical viewing. I thought it was a well crafted story with some uniqueness and being a parent I could relate to some of the topics broached. As long as you aren't expecting the energy of Kung Fu Hustle, I expect many will also enjoy the experience and hopefully be as impressed by the Blu-ray as I was.
Gary Tooze
August 6th, 2008