(Preaw Sirisuwan, 2006)
Navarre Corporation
Review by Gary W. Tooze
Video:
Video codec: VC-1
Video resolution: 1080p
Aspect ratio: 2.35:1
REGION-FREE
Running time: 1:43:25
Feature - 17.5 Gig

Audio:
Thai 5.1 PCM (uncompressed), DUB: English: Dolby Digital 2.0

Subtitles
English, none

Disc
25GB Blu-ray Disc
Supplements:
interview 5:54
trailer 1.57
teaser .59
video 3:55

Disc: 25GB (single-layered) Blu-ray Disc
Released: July 29th, 2008
Standard Blu-ray case
32 chapters
Product Description:
A team of police officers must track down a group of ruthless criminals who have entered a mysterious forest that is said to be cursed. Once inside the forest the police and the criminals discover a bizarre world where mythical creatures exist and the curse of ancient treasure hidden within the forest is in fact real. As they make their way through the forest they must fight against the creatures within and each other - in hopes of escaping alive....
****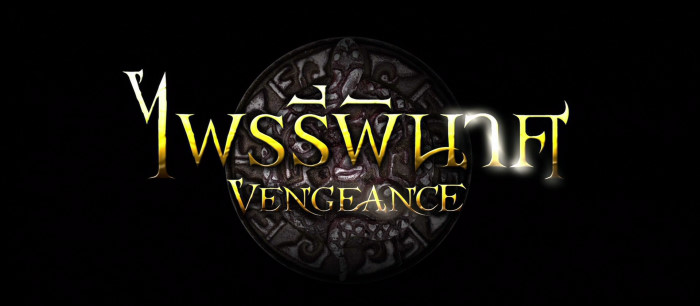 The Film:
VENGEANCE
is the twin stories of young men Wut and Naso, both of whom are tied to a tragedy they experienced as boys and now each occupying opposite ends of the legal and moral spectrum. Wut is the captain of a small police force that follows Naso's band of thieves and killers deep into forbidden mountains and jungles. Neither realizes that the large coin that Naso has in his possession is at the center of their misfortune and is the nexus of the evil that grips the cursed forests of the Thai-Myanmar border. As the chase descends more deeply into darkness, the groups are attacked by malevolent animals and even more malicious creatures, some of them not fully human. It is only when Captain Wut reaches the center of the paradox of his life that he is able to gain an empty victory over lawlessness and evil.
VENGEANCE
is what VAN HELSING should have been.
VENGEANCE
is a film for people who like their action to be a mix of guns, knives, creatures, chases and bloody violence, and then blend it with a jungle setting as well as mysticism and fantasy elements that take the story out of the realm of realism and make it something more. Even with all that,
VENGEANCE
takes a breather now and then to develop its story, explore characters and create a degree of drama. In fact, the first one-third of VENGEANCE takes its time building its momentum, moving in a patient slither like a snake stalking its prey, allowing the last one-third of the movie to become the appropriate thrill ride that it is supposed to be, just like a snake when it strikes.
Video: NOTE: The below Blu-ray captures were ripped directly from the Blu-ray disc.
With some intense black levels the transfer shows some moiring but it certainly very sharp and colors look strong. Aside from the creature CGI stuff, which looks weak-ish, the outdoor scenes and close-ups are much better than I was anticipating from this, kinda cheesy, horror flick. It had moments of looking very impressive - especially inside the flora and fauna of the jungle. The 2.35 ratio is not perfectly utilized but it's nice to see the scope push the edges of occasional scenes. I doubt fans would be disappointed at the visuals. The feature film on the Blu-ray takes up 17.5 Gig of the dual-layered disc.
Screen Captures
CLICK EACH BLU-RAY CAPTURE TO SEE ALL IMAGES IN FULL 1920X1080 RESOLUTION
Audio: The audio appears to be an uncompressed 5.1 PCM track and it has some strong moments of deft separation with creature and jungle noises penetrating through the rear channels. The main language of the film is Thai and there is a 2.0 channel English DUB offered as well - and optional English subtitles for the feature and the supplements.
Extras: Nothing really to speak of here - a poor looking, short, interview with the producer, a trailer and an, unintentionally humorous, music video.
Extras
BOTTOM LINE: Well, what can you say? It's obvious who this film is appealing to and in that respect for its genre conditioning - it does a good job. I couldn't drag my eyes away in certain scenes and the 'thriller' build-up may be cheesy - but it works. The Blu-ray looks as good as this film ever will and for the current price - it's not a bad deal as long as you are aware of the intent of the film - it's meant to illicit emotion - fear, suspense and yes even vengeance. It achieves its goals and it's no masterpiece of the genre but I was keen to see it for its international roots as I'd never seen a Thai horror. No question - this film has some appeal - but it's still cheese - just not stilton or camembert, more like pre-shredded Monterey Jack - and that's not so terrible given the right atmosphere.
Gary Tooze
July22nd, 2008