(Stephen Sommers, 1999)
Universal Pictures
Review by Gary W. Tooze
Video:
Video codec: VC-1
Video resolution: 1080p
Aspect ratio: 2.35:1

Audio
English: DTS-HD Master Audio 5.1
French: DTS 5.1
Spanish: DTS 5.1

Subtitles
English SDH, French, Spanish, none

Disc
50GB Blu-ray Disc
Supplements:
Three optional commentary tracks
- writer/director Stephen Sommers with editor Bob Ducsay
- actor Brendan Fraser (solo)
- actors Oded Fehr, Kevin J. O'Connor, and Arnold Vosloo
Visual and Special Effects Formation (5-part in 480 res.) "Plate Photography," "Composed Shot," "Visual Effects Elements" + "Final Feature Sequence."
Unraveling the Legacy of 'The Mummy (480 res., 8:08)
Building a Better Mummy (480 res., 50 minutes)
A Storyboard to Final Film Comparison (480 res.)
3 deleted scenes (480 res., 2:21),
Stills Gallery (480 res.),
Promotional for The Mummy: Tomb of the Dragon Emperor
Blu-ray U-Control system

Disc: 50GB (dual-layered) Blu-ray Disc
Released: June 22nd, 2008
Standard Blu-ray case
16 chapters
Product Description:
Deep in the Egyptian desert, a handful of people searching for a long-lost treasure have just unearthed a 3,000-year-old-legacy of terror. Combining the thrills of a rousing adventure with the suspense of the legendary 1932 horror classic, The Mummy is a true nonstop action epic, filled with dazzling visual effects top-notch talent and superb storytelling...
****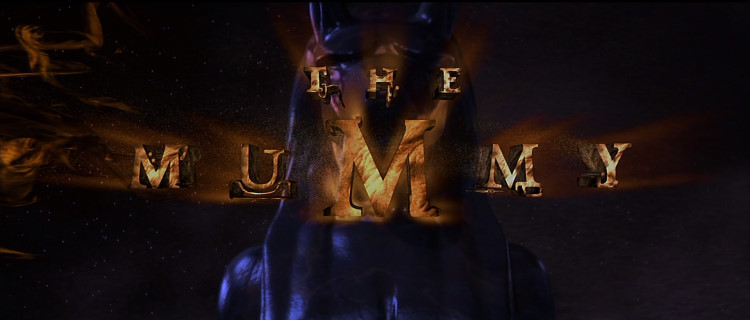 The Film:
None of this has anything to do with the great horror classic "The Mummy" (1932), which starred Boris Karloff in a strangely poignant performance as a long-dead priest who returns to life and falls in love with the modern reincarnation of the woman he died for. The 1932 movie contains no violence to speak of; there's hardly any action, indeed, and the chills come through slow realizations (hey, did that mummy move?). This 1999 mummy does indeed mumble something about his feelings for Evelyn, who may be descended from the pharaoh's mistress on her mother's side. But the bass on his voice synthesizer was set to "rumble," and so I was not quite sure what he said. It sounded vaguely affectionate, in the way that a pit bull growling over a T-bone sounds affectionate, but how can Imhotep focus on rekindling a 3,000-year-old romance when he has 10 plagues to unleash? There's a lot of funny dialogue in the movie, of which my favorite is a line of Evelyn's after she hears a suspicious noise in the museum library: "Abdul? Mohammed? Bob?" I liked the Goldfinger paint job on the priests in ancient Thebes. And the way a beetle burrowed in through a guy's shoe and traveled through his body, a lump under his flesh, until it could dine on his brain. And the way characters were always reading the wrong pages of ancient books and raising the dead by accident.

Look, art this isn't. Great trash, it isn't. Good trash, it is.
Excerpt from Roger Ebert's review at the Chicago Sun Times located HERE
.
Video: NOTE: The below Blu-ray captures were ripped directly from the Blu-ray disc.
In the early days of the new formats I owned the HD of
The Mummy
(which, by the way, must be different than this VC-1 transfer as it takes up over 30Gig on the
Blu-ray
which would exceed the capacity of the older HD format) and it
was
one of my 'demo-discs'. This 1080P
Blu-ray
is also worthy of such a premium, oft-reached for, place in the library. It looks absolutely pristine. I don't know whether it was the desert landscapes with a penetrating bright sun, or how it was shot but - 35 mm (Eastman), Panavision (anamorphic) - but for whatever reason this image quality is ridiculously detailed, super tight, piercing black levels and contrast infusing a deep, rich color palette. Visually - it is truly marvelous. My only issue would be that I suspected edge-enhancement but could never really prove it in zooming-in or standing close to my viewing screen. There may be a touch in the brim of the hat of the first capture below but if it does exist it is minimal enough to dismiss. So, in the end, it is one of the best
Blu-ray
images I have seen to date (making it one of the best images in my DVD collection - period.)
Screen Captures
CLICK EACH BLU-RAY CAPTURE TO SEE ALL IMAGES IN FULL 1920X1080 RESOLUTION
Audio: Another big part of this superlative home-theater experience is the lossless DTS-HD Master Audio 5.1 track which is a sharp as a tack. Separation was frequent and buoyant - the action sequences are supported to the nth degree. There are some fitting musical cultural soundtrack selections including "Al Nahla Al 'Ali (The Tall Palm Tree)" and "Al Bahr Al Gharam Wasah (Love Is As Vast As A River)" as performed by group 'The Musicians of the Nile'. These came through along with chilling sound effects to rival the image quality for depth with exemplifying sonic extravagance. This borders on a reference disc for audio as well. There are optional English SDH, English, French, or Spanish subtitles available.
Extras: In a word -'stacked'. Three (count'em three) commentaries to choose from. I think they each have their place although, despite, my enjoyment of Brendan Fraser - he seems to have some trouble supporting a full length one here with plenty of gaps. I'm not a huge fan of special effects (and it would be my least favorite part of this film - feeling it was overdone) and so I wasn't particularly keen on the 5-part Visual and Special Effects doc. piece. I can see fans eating it up though. Ditto for the, almost hour long, Building a Better Mummy. I enjoyed the 10 minute Unraveling the Legacy of 'The Mummy.
Personally, I just don't feel this is a film that merits excessive discussion but it's there is you are keen. There are storyboards, 3 deleted scenes, a cheapo stills gallery, a 3 minute promotional bit for The Mummy: Tomb of the Dragon Emperor and everything is, unfortunately, NOT in HD. The unique BRD effort is a Blu-ray U-Control system and I just played with it momentarily but it seemed pretty cool. I can't see anyone feeling short-changed with this package of supplements.
Extras
BOTTOM LINE: The film is... the film - and it's one you may either embrace or discard to varying degrees. But one thing no one will deny is that The Mummy may be approaching the current height of what the Blu-ray format can offer. This "Deluxe Edition" disc excels in all areas - visuals, audio and extras. Sure, I wish it was Antonioni or Bresson, but this is simply a precursor for what can come... and I, for one, am thrilled about the heights this is reaching for home theater experiences. The next few years, with Criterion, and many other production houses jumping in, should prove very beneficial to the consumer. Never before have we, so reasonably, been able to reproduce the theatrical cinema experience with such a high level of accuracy. Don't worry, I know this is only The Mummy but the future looks truly unbelievable. Okay Universal - how about some classic Noir now. The next few years will prove to be an amazing time for home theater film fans.
Gary Tooze
July 14th, 2008