(Scott Derrickson, 2005)
Sony Pictures
Review by Gary W. Tooze
Video
Video codec: MPEG-4 AVC
Video resolution: 1080p
Aspect ratio: 2.40:1

Audio
English: Dolby TrueHD 5.1
DUBs: French: Dolby TrueHD 5.1
Portuguese: Dolby TrueHD 5.1
Spanish: Dolby Digital 5.1

Subtitles
English SDH, English, French, Spanish, Portuguese, Chinese, Korean, Thai, Indonesian, none
Feature
32.5 Gig (2 layers)
1:43:33

Disc
50GB Blu-ray Disc
Supplements:
Commentary track by director Scott Derrickson
Featurette: "Genesis Of The Story," (4:3 19:48)
Featurette: "Casting The Film" (4:3 12:23)
Featurette: "Visual Design" (4:3 18:48)
Deleted Scene with optional commentary (HD 18.00)

Disc: 50GB (dual-layered) Blu-ray Disc
Released: June 22nd, 2008
Standard Blu-ray case
16 chapters
Product Description:
Emily Rose (Jennifer Carpenter) was an average teenage girl who was the target of terrifying demonic forces that would ultimately shock a town and torment her soul. But was she, as many believed, possessed? In an attempt to clear the clergymen who exorcised Emily, a skeptical attorney (Laura Linney) awakens to the discovery that powerful spiritual forces may actually exist. This harrowing film unfolds like a recurring nightmare form which there is no waking....
****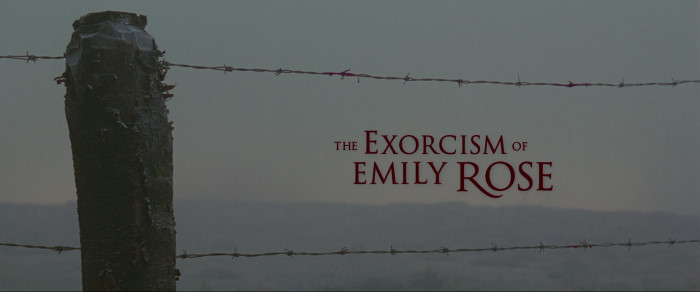 The Film:
If director and co-screenwriter Scott Derrickson makes one great decision in his execution of this strange legal-horror hybrid, it's to never come down on a definitive side of the central argument that his movie presents: was Emily Rose, based on a real-life girl, really possessed by demons, or was her terrifying behaviour the result of a serious medical condition? We see relatively little of the actual story of Emily (ferociously played by newcomer Carpenter, with a hell of a set of lungs), instead reliving her story through the court case that followed when police decided Emily's death was down to Father Moore's negligence in not seeking medical help for his charge.

Linney's naturally fierce — but in a cuddly way — screen presence clutches the viewer as she fights for the freedom of a man who represents beliefs she doesn't hold, but gradually opens up to the possibility that darker forces may be at work. A lesser actress might have succumbed to the desire to play the spooky moments with horror-movie fright, but Linney remains consistently a defence lawyer who happens to be experiencing some freaky shit. You're never forced to take a particular viewpoint (Campbell Scott provides stoic counterpoint as the prosecution) which makes this much more of a brainteaser than it could have been.
Excerpt from EmpireOnline located HERE
Video: NOTE: The below Blu-ray captures were ripped directly from the Blu-ray disc.
Despite the film's over 32Gig size on the dual-layered disc the image quality never reaches the heights that 1080P can offer. It looks very good - clean, fairly sharp, muted color palette - but there are no stellar sequences of high-resolution brilliance. There's no doubt in my mind this towers about the SD editions (of which I do not own) and in a strange quirky twist - I actually liked this, infrequently cheesy offering, more than I appreciated the transfer. I have no strong complaints with the image - and it is quite consistent, I am just suggesting that there are plenty of other discs that can really showcase the vast improvement of
Blu-ray
over standard definition DVD. So, although I am not recommending upgrading, I can endorse first time viewing via this new format. The picture quality is smooth and seems reasonably film-like and although you may not be bowled over by the image - you shouldn't be disappointed either.
Audio: I expected the True HD track to give my system a real workout with expected 'horror' sequences of the film. Surprisingly, there are not that many and the chills are kept to much of the unseen (and unheard). The rears didn't come into play often but I did appreciate their usage for the more subtle moments. I would say, like the film, not to have expectations too high that The Exorcism of Emily Rose overly resorts to the cheesy use of audio as a scare tactic. It does to a certain degree but most of the film is dialogue driven from the center channel (in the courtroom). There are optional English SDH, English, French, Spanish, Portuguese, Chinese, Korean, Thai or Indonesian subtitles available - plus three foreign language DUBs.
Extras: Duplicated from the Dec 2005 Unrated SE starting with a decent, if uninspired, commentary track by director Scott Derrickson. There are also three featurettes: "Genesis Of The Story," (4:3 19:48), "Casting The Film" (4:3 12:23), "Visual Design" (4:3 18:48) with self explanatory titles and input from the likes of Derrickson, Laura Linney, Tom Wilkinson and Jennifer Carpenter. The first, "Genesis Of The Story," held some interest for me - especially from the lead actors as I was keen to know their motivation for starring in such a film of this genre. Finally we have a long-ish deleted scene with optional commentary (in HD).
Extras
BOTTOM LINE: The film has more depth than I was anticipating. Obvious comparison as the lesser cousin to The Exorcist are expected. To be honest I wouldn't have given this a glance if not for both Linney and Wilkinson whose work I enjoy a great deal. Without them this film would sink with more notice-ability to all the standard horror genre clichés that don't permeate this film as often as most other modern stabs at box-office profits. I guess what I am trying to infer is that this is not that bad.... or perhaps - that it could have been a lot worse and conversely could have been a bit more polished. To the filmmakers credit they don't over indulge in the screams and visions and let Linney and Wilkinson carry the film more. Another weakness is the script and the courtroom finale - you'd really have to suspend your belief but if you are keen to see this film (for the first time) this Blu-ray is a decent way to spend a late Friday night. It did give me the shivers and I was wishing I was not home alone at the time.
Gary Tooze
July 18th, 2008