(Robert Zemeckis, 2007)
Paramount
Review by Gary W. Tooze
Video
Video codec: MPEG-4 AVC
Video resolution: 1080p
Aspect ratio: 2.35:1

Audio
English: Dolby TrueHD 5.1
DUBs: French: Dolby Digital 5.1
Spanish: Dolby Digital 5.1

Subtitles
English SDH, English, French, Spanish
Supplements:
• "A Hero's Journey: The Making of Beowulf" (HD 23:55)
• "Beasts of Burden: Designing the Creatures of Beowulf" (HD 7:03)
• "The Origins of Beowulf" (HD 5:13)
• "Creating the Ultimate Beowulf" (HD 2:31)
• "The Art of Beowulf" (HD 5:13)
• 6 deleted scenes in HD

Disc
Feature: 33.5 Gig
1:54:42
Disc: 50GB (dual-layered)
Released: July 29th, 2008
Standard Blu-ray case
15 chapters
Product Description:
From Academy Award-winning director Robert Zemeckis comes a visionary and critically acclaimed adventure unlike anything you have ever seen before! Zemeckis' masterful use of digitally enhanced live action transports you to a world beyond imagination and brings the fierce battlegrounds of an ancient time to breathtaking life. Featuring incredible footage not seen in theaters and starring Oscar winners Anthony Hopkins and Angelina Jolie, along with Ray Winstone, Robin Wright Penn and John Malkovich, the Beowulf Director's Cut is groundbreaking filmmaking of epic proportions....
****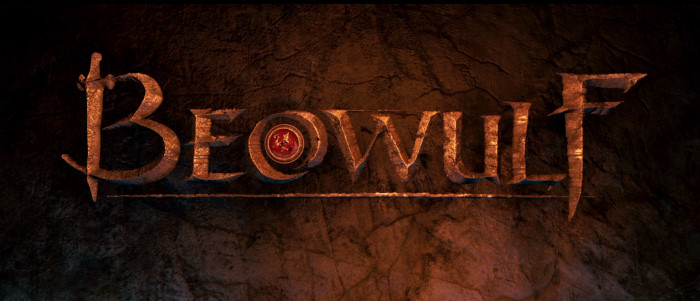 The Film:
You don't need to wait for Angelina Jolie to rise from the vaporous depths naked and dripping liquid gold to know that this "Beowulf" isn't your high school teacher's Old English epic poem. You don't even have to wait for the flying spears and airborne bodies that — if you watch the movie in one of the hundreds of theaters equipped with 3-D projection — will look as if they're hurtling directly at your head. You could poke your eye out with one of those things! Which is precisely what I thought when I first saw Ms. Jolie's jutting breasts too.

Ms. Jolie plays the bad girl in "Beowulf," a wicked demon, the mother of all monsters — here, Grendel, played by Crispin Glover — who can switch from hag to fab in the wink of a serpentine eye. If you don't remember this evil babe from the poem, it's because she's almost entirely the invention of the screenwriters Roger Avary and Neil Gaiman and the director Robert Zemeckis, who together have plumped her up in words, deeds and curves. These creative interventions aren't especially surprising given the source material and the nature of big-studio adaptations. There's plenty of action in "Beowulf," but even its more vigorous bloodletting pales next to its rich language, exotic setting and mythic grandeur.
Video: NOTE: The below Blu-ray captures were ripped directly from the Blu-ray disc.
Firstly - this is also the 'Director's Cut' of the film. Personally, I was hoping that this 1080P transfer would diminish some of the plasticized, mannequin-looking visuals of
Beowulf
. Perhaps Angelina Jolie would look more 'real' in her dripping gold nakedness - but alas her breasts and the rest of the film's images remain in an even more obvious cartoon-like representation. It doesn't make the film any better (maybe worse depending on your suspension of disbelief) but as I got re-used to this aspect of the film's technicals, I admit I did enjoy parts of it again. The extensive CGI makes things look quite blurry in motion and I honestly was not very taken with this film on
Blu-ray
. Some may disagree and enjoy the less-then-real visuals more than I - but I just didn't find it translated as well to high-definition as much I was hoping it would. The latter half of the film especially can look quite ridiculous at times and I preferred the similar mythologizing
Beowulf and Grendel
, also available in
Blu-ray
.
Screen Captures
CLICK EACH BLU-RAY CAPTURE TO SEE ALL IMAGES IN FULL 1920X1080 RESOLUTION
Audio: The Dolby TrueHD 5.1 lossless sound track gets very aggressive at times with some various sound effects pushed to the rear speakers. Bass response has some intense moments. Voices are always clear and clean. Like many other Blu-ray's there are a couple of 5.1 DUBs if required. There are also optional English SDH, English, French, or Spanish subtitles available.

Extras: Aside from the unique Blu-ray feature Beowulf in the Volume with picture-in-picture touting behind the scenes information as the film runs, the supplements are all duplicated from the SD (but are all in HD!) What I said in our SD review as " There is no commentary but there are some featurettes and such. "A Hero's Journey: The Making of Beowulf" runs almost 25 minutes and is exactly how it's titled with some background production information on shooting and input from director Zemeckis and other principles. Following that is a 7 minute spiel on "Beasts of Burden: Designing the Creatures of Beowulf" - then something a bit more intriguing - "The Origins of Beowulf" which is what I found more worthwhile as it explained much or the lore and legend of the story. "Creating the Ultimate Beowulf" is but 2.5 minutes long and "The Art of Beowulf" runs 5. There are also 6 deleted scenes - they are visually incomplete but give a general idea of what options were put forth to conclude at later production date." The HD'ing of all the extras (including the deleted scenes) is appreciated and worth noting.
Extras
BOTTOM LINE: No, I don't think I'll recommend this. I was never crazy about the violence in the film and, for reasons stated above, the appearance seemed almost comical to me now - perhaps more so in Blu-ray. It might deserve a spin for its unique technical aspirations but perhaps I wasn't in the mood and I doubt I'll be revisiting this disc anytime soon - if ever at all. To each his own.
Gary Tooze
July 27th, 2008