(Steve Hickner and Simon J. Smith, 2007)
Dreamworks Animated
Review by Gary W. Tooze
Video
Video codec: MPEG-4 AVC
Video resolution: 1080p
Aspect ratio: 1.85:1

Audio
English: Dolby TrueHD 5.1, DUBs: French: Dolby Digital 5.1, Spanish: Dolby Digital 5.1

Subtitles
English SDH, English, French, Spanish

Disc
50GB Blu-ray Disc
Supplements:
Commentary track with Seinfeld, co-writer Barry Marder, co-directors Simon J. Smith and Steve Hickner, producer Christina Steinberg, and editor Nick Fletcher.
The Animator's Corner
Three deleted scenes (HD, 5:00)
Six alternate endings (HD, totaling 14:40)
Inside the Hive: 'The Cast of 'Bee Movie' (HD, 14:40)
Jerry's Flight Over Cannes (HD, 3:03),
Tech of 'Bee Movie' (HD, 7:33)
We Got the Bee (HD, 2:13)
DreamWorks Kids featurettes - Build-A-Bee - The Buzz About Bees (HD, 7:08) - The Ow! Meter (HD, 33:46) - That's Un-Bee-Lievable
Two trailers (HD, 4:14)

Disc: 50GB (dual-layered) Blu-ray Disc
Released: June 3rd, 2008
Standard Blu-ray case
16 chapters
Product Description:
Bee Movie is a comedy that will change everything you think you know about bees. Having just graduated from college a bee by the name of Barry B. Benson (Jerry Seinfeld) finds himself disillusioned with the prospect of having only one career choice honey. As he ventures outside of the hive for the first time he breaks one of the cardinal rules of the bee world and talks to a human a New York City florist named Vanessa (Renee Zellweger). He is shocked to discover that the humans have been stealing and eating the bee s honey for centuries. He ultimately realizes that his true calling in life is to set the world right by suing the human race. That is until the ensuing chaos upsets the very balance of nature. It is up to Barry to prove that even a little bee can spell big changes in the world....
****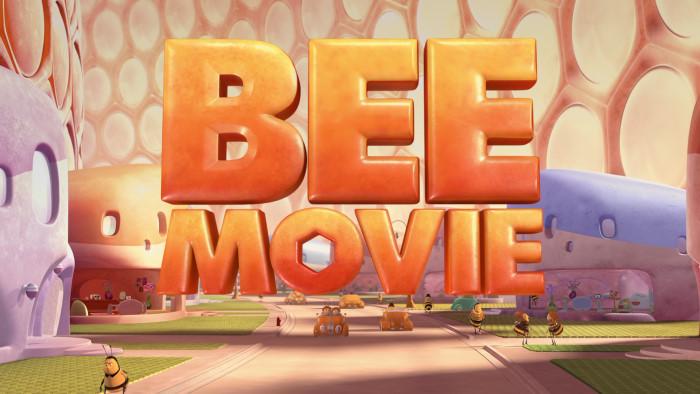 The Film:
It's been nearly a decade since Jerry Seinfeld ended his era-defining namesake show. Since then we've barely seen him, apart from the odd commercial, YouTube short or documentary on stand-up (if you have region 1 DVD). Many mistook the public 'retiring' of his show for retirement altogether, but the comic did still want to work. Never a fan of his own acting, Seinfeld wanted to a) perform new material, and b) not do it in front of a camera. The answer became obvious, and here we are, with a new animated effort from Dreamworks.
Wisely, we open on a nice piece of natural absurdity. A narrator points out that bees shouldn't, by any human understanding of aerodynamics or logic, be able to fly, but that bees have never really cared. So we're happily launched into Barry the Bee's colourful, impossibility-free life, in a hive full of rollercoaster roads and colourful, vaguely Jetson-like homes. From there, it should be easy.
Bee ventures outside, bee meets girl (human). So far, so good. Bee discovers humans are harvesting honey from bee farms. Bee decides to sue. Cue courtroom drama, visions of slavery and upsetting the delicate balance of the ecosystem among the usual guest voices and pop covers of old songs. A strange brew indeed…

[...]

Which brings us to the leading man himself. Initially there concerns whether Seinfeld could shoulder a whole movie, but those are answered early on, as his breezy manner gels with the bright colours and silly shapes. His style is as much a pleasure as ever it was – if you're familiar with it.
Excerpt from Empire review located HERE


Video: NOTE: The below Blu-ray captures were ripped directly from the Blu-ray disc.
The MPEG 4-AVC image quality looks solid and impressive. This dual-layered BRD transfer has exceptional detail and colors. I can't add too much more than simply viewing the captures (and the full resolution ones - linked to the resized below). Colors show a consistent brilliance and I feel certain the film looked equally as strong on the theaters as it does on this Blu-ray. Contrast seems as adept with piercing black levels and smooth consistent brightness in outdoor scenes. Overall, it is a very satisfying image presentation that I feel confident excels over the SD - in all the expected areas. The feature film on the Blu-ray takes up 27.6 Gig of the dual-layered disc.
Screen Captures
CLICK EACH BLU-RAY CAPTURE TO SEE ALL IMAGES IN FULL 1920X1080 RESOLUTION
Audio:
The Dolby TrueHD 5.1 lossless sound track sounded quite adept... if never overpowering. The film doesn't really support any grandiose separations but there were enough to rate it as acceptable. Dialogue was clear and consistent. The soundtrack had some varied music interludes from "
Pomp and Circumstance
" to "
Sugar Sugar
" (by the Archies) to George Harrison's "
Here Comes the Sun
" (as performed by Sheryl Crow!). All good. There are also optional English SDH, English, French, or Spanish subtitles available.

Extras:
For the most part have duplicated content from the SD edition - there is a good commentary track with Seinfeld and a whole gang and it runs smoothly seeming a shade more prepared than you might expect for such a large group. I won't get into all the extra featurettes, but found them a bit of overkill. Thankfully they are all in HD and look beautiful. I enjoyed the 15 minute one on the cast etc. Lots of fune. There is also some kids stuff - educational and worthwhile seeing for the young ones. They all add up to over 45 minutes in total and after the commentary few will be energetic enough to indulge but their inclusion is still appreciated for those who may wish to partake.
Extras
BOTTOM LINE:
Once again I disagree with a few critics who ganged-up to pan this. I liked it enough and it was something I could watch with my kids in the room. It was light and fun with Seinfeld's own brand of humor shining through in a few places. I was laughing as much as just simply relaxed and comfortable. There was one, seemingly set-up, lawyer joke at the end that was a highlight in the humor department but overall this is not just for the comedy. It has some subtle, or not-so-subtle warm values to impart as well. The Blu-ray is magnificent. How can anyone complain about the image, audio or extras? They represent the film about as perfectly as you could expect for home theater viewing. The decision will be more based on liking
Bee Movie
enough - and I can see
my
family revisiting this one a few times through the year. Anyway, technically the Blu-ray disc is very much up to snuff. No worries, at all, on that front.
Gary Tooze
July 11th, 2008