Review by Gary Tooze
Studio
Theatrical: Columbia Tri-Star
Blu-ray: Sony Pictures
Transfer:
Video codec: MPEG-4 AVC
Video resolution: 1080p
Aspect ratio: 1.85:1
Region FREE

Audio
English: TrueHD 5.1
DUBs: French: TrueHD 5.1
Portuguese: Dolby TrueHD 5.1
Spanish: Dolby Digital 5.1
Thai: Dolby Digital 5.1

Subtitles
English SDH, English, French, Spanish, Portuguese, Bahasa, Chinese, Korean, Thai, none
Supplements:
• Commentary by director Barry Sonnenfeld and Tommy Lee Jones "enhanced telestrator" option
• Technical commentary track Sonnenfeld, make-up artist Rick Baker, and members of Industrial Light & Magic
• Trivia game called "Intergalatic Pursuit"
• Interactive game - Frank the Pug.
• "Metamorphosis of Men in Black" 23 minutes
• Promotional featurette (6 minutes)
• Photo gallery
• Music Video
• Trailer
Disc: 50GB Blu-ray Disc
DVD Release Date: June 17th, 2008
Product Description:
Men in Black follows the exploits of agents Kay (Jones) and Jay (Smith) members of a top-secret organization established to monitor alien activity on Earth. The two MiB find themselves in the middle of the deadly plot by an intergalactic terrorist (Vincent D'Onofrio) who has arrived on Earth to assassinate two ambassadors from opposing galaxies.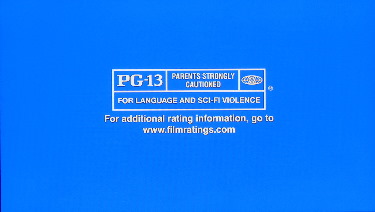 The Film:
A central image in Men in Black is the goo that issues from squashed, pulverized, or drooling insects--splattering a windshield in the opening gag and periodically drenching various characters thereafter, especially the heroes. (A typical exchange between agents: "Humanoid?" "You wish--bring a sponge.") The working-class and ethnic sites associated with the aliens--a truck transporting illegal Mexicans, an exterminator's van, and, in New York, a pawnbroker's, a ghetto jewelry store, and an eastern European soup kitchen--reinforce the overall impression of funkiness. This funkiness is explicitly contrasted with the sleek anonymity of the Men in Black--Tommy Lee Jones as the wizened pro, Will Smith as a fresh recruit, and Rip Torn as the home-office manager--whose deliberate lack of emotional ties and distinguishing traits, such as fingerprints, is the natural correlate of their secret headquarters and high-tech equipment. A central tool, employed only by the wizened pro, is a pocket-size magic wand: the Neuralizer erases short-term memories and replaces them with posthypnotic suggestions. Allegorically, this nifty gadget implies a good deal not only about cultural consumption--the process by which we forget, say, last week's summer blockbuster in order to make room for this week's--but also about the self-imposed cultural amnesia of immigrants hoping to adjust to American life.
.
Excerpt from Jonathan Rosenbaum's review at the Chicago Reader located HERE
Image:
Very Impressive - no glaring flaws - some minor noise
. Detail has occasional striking moments. The
MPEG-4 AVC transfer approaches 'stunning' as a descriptive. Night scenes are held intact. No untoward manipulations. I can't see anyone complaining about the visual quality of this 1080P presentation.
Audio & Music:
As good as the image the TrueHD 5.1 track compliments Elfman's score and the many sound effects can sometimes punch there way out of the rear channels. There are a host of TrueHD DUDs and well as subtitle options (including, of course, English)
.
Extras: There are some rather interesting supplements with new effects features added. Director Barry Sonnenfeld and Tommy Lee Jones give a decent commentary that can be played on the fly but also moved to "enhanced telestrator" mode where you see them silhouetted in the background and can (like a weatherman) make specific points akin to using a telestrator. This may be enterprising but is tantamount to being a bit gimmicky. There is a second, more tech oriented commentary with Sonnenfeld, make-up artist Rick Baker, and members of Industrial Light & Magic. There are two, untested games, "Intergalatic Pursuit" and another featuring Frank the Pug. Duplicated from the Deluxe SD Edition, released in 2002, is "Metamorphosis of Men in Black" - a 20 minute featurette an a promo running over 6 minutes. Much of those supplements focus on the special effects which, frankly, I found a bit boring. There is a Photo Gallery, trailer and music video... ohh, and "alien subtitle track" - hmmm... after a few seconds of it I don't know who would bother indulging further.
Bottom line:
I can't see how fans of this film (and they appear to be many) could ask for too much more from this Blu-ray package. It presents the film in a glorious transfer - equally appealing HD audio, tons of extra features and it is fairly reasonably priced. I'm not
that big
a fan of this film (it is kinda cute) but this Blu-ray is pretty much perfect. Amazing job Sony - now let's work on some vintage titles. Recommended!
Gary Tooze
June 22nd, 2008