5 Centimeters per Second – a chain of short stories about their distance [Blu-ray]
(aka "5 Centimeters per Second ")
(Makoto Shinkai, 2007)
Review by Leonard Norwitz
Studio:
Theatrical:
Blu-ray: CoMix Waves Films
Disc:
Region: A
Runtime: 63 minu
Chapters: 13
Case: Standard Blu-ray case
Release date: April 18, 2008
Video:
Aspect ratio: 1.85:1
Resolution: 1080p
Video codec: AVC / MPEG4
Subtitles: None
Extras:
• Trailers & TV Spots in HD
• Music Video in HD
The Film: 9>7
For quite some time now those in the know have been declaring Makoto Shinkai the next Hayao Miyazaki. Starting with short films animated purely by himself on his home computer Shinkai has steadily built a fiercely loyal following around the globe, his fans drawn by his clean lines, attention to detail and willingness to let his character's breathe. Shinkai, like Miyazaki, is one of those very rare film makers - even more rare in the animation world - who understands that less can often be more, that the quiet moments often tell us more than any amount of action or dialog ever could, and he has an uncanny knack for capturing the pregnant pauses that open the souls of his characters. While Shinkai's latest, a triptych of interconnected stories titled 5 Centimeters Per Second, does not quite raise him to the current level of the great master it definitely represents a huge step forward and is exactly the sort of film that you would expect to come out of Miyazaki's Studio Ghibli on one of their better days. Yes, though the film has its weaknesses, Shinkai really is that good.

5 Centimeters Per Second - named for the speed at which cherry blossoms fall to the ground - is made up of three stories surrounding Takaki, a Japanese boy, at three different stages of his life. We meet him when he is young, just in junior high and coping with the departure of Akari - his closest friend, a girl for whom he has developed feelings he cannot express - the year before while also preparing for his own move away from Tokyo and to a remoter part of the country. We then move to Takaki at the final stages of high school, preparing to move on to the next stage of his life and completely, blissfully ignorant of the feelings Kanae, a girl in his class has for him. Finally, we meet Takaki again as a young adult, twenty six and giving in to disillusionment. – [Todd Brown - December 7, 2007]

Image: 10 (10/10)
The score of 10 indicates a relative level of excellence compared to other Blu-ray DVDs. The score in parentheses represents: first, a value on a ten-point scale for the image in absolute terms; and, second, how that image compares to what I believe is the current best we can expect in the theatre.

If this isn't my first 10/10/10, it's certainly uncommon in my scorecard library. Shinkai Mikoto's watercolor palette positively glows with life. The color is dense and translucent by turns, brilliant and quiet, realistic, fanciful and lyrical. The HK AVP SD-DVD edition, as lovely as it is, is marred by edge-enhancement, which you can just make out in these screen shot comparisons, but is readily apparent on large screen front projection.

Hong Kong SD Edition TOP vs. Japanese Blu-ray BOTTOM
Hong Kong SD Edition TOP vs. Japanese Blu-ray BOTTOM
Audio & Music: 10/8
This is quite simply a stunning audio track: subtle, atmospheric – you can almost feel the heat of the day or the chill of the night. Realistic train sounds feature prominently.

Operations: 8
As with other Japanese language DVDs I found these menus easy enough to sort – it's nice that everything is in roughly the same place with much the same function.
Extras: 3
The Bonus Features, such as they are, are in 1080p. They all look great, as they amount to little more than a string of beautiful images. The music video ("One more time, One more chance") has that going for it. The one major fault of this DVD is that it includes no substantive extra features. There is a 2-disc Region 3 SD edition HERE that, in addition to a trailer and the same music video, also includes: an Interview with the Director, Storyboards, Interview with Voice Actors, and a Production Gallery. I believe it has English subtitles for both the feature and the extras.

| | |
| --- | --- |
| | |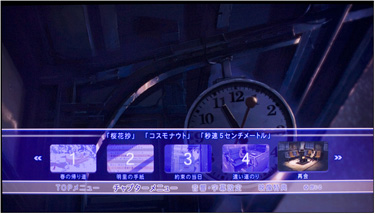 Bottom line: 9
My feeling is that the final third of this film devolves into the mundane at a cost to the bulk of the story's time and emotional appeal. It matters little to me that childhood romanticism gives way to adult triviality (as it does for most of us), unless this idea is developed. Instead, the final (and thankfully also the shortest) part soon gives way to a pop music video. I would want the director spend some time with Ray's Apu Trilogy to learn about what he's missing. This could have been quite the little masterpiece instead of the gem it turned out to be.

Despite my high score for the image, you should not leap on this BRD any too quickly. Remember it has no subtitles, nor any extra features to speak of in any language – and it has a good deal of voiceover narration. And it's expensive – about a dollar a minute at current prices. On the other hand, after watching a subtitled version, perhaps one part at a time – this is a short film after all – you should be able to immerse yourself into one of the best looking - and sounding - videos on the planet. Hypnotic.

One final travel advisory: you may come across timings for this film around 103 minutes. This is incorrect. I believe it derives from a translation misunderstanding. The total time for the feature film is 1 hour, 3 minutes.
Leonard Norwitz
May 18, 2008