Predator
- BRD
(
John McTiernan
, 1987)
Studio:
Theatrical: 20th Century Fox (USA)
DVD: 20th Century Fox Pictures Home Entertainment
Review by Leonard Norwitz
Video:
Aspect ratio: approx. 1.85:1
Feature film: 1080p / MPEG2 @ 19 MBPS
Supplements: 1080p
106 minutes
25 chapters
Audio:
English DTS 5.1 HD Master Lossless
English DD 4.0 Surround
French Stereo
Spanish Mono
Subtitles:
English, Spanish, Chinese and Korean
Extras
• Enhanced for D-Box Motion Control Systems
• Theatrical Trailers in HD
Standard Blu-ray case: 1 disc
25 GB single layer
Release Date: April 15, 2008
Comment
Director John McTiernan (Die Hard) learned his lessons well from the master of modern horror. No, not Brian De Palma. I refer to Steven Spielberg, as he once was in Jaws. You will remember that Spielberg introduces the effects of the monster long before we see the cause. No point in going over the similarities scene for scene. These films are both classics of the genre so this is all very obvious. Jaws, of course, has the benefit of an actual screenplay: there is no analogous moment in this script that echoes "I think we're going to need a bigger boat." All the same, McTiernan makes the most of the idea in images that rivet the imagination. And it pays off. Predator is one scary movie.
First, there is the jungle. And a very convincing one it is. As beautiful, as it is menacing. Lots of shots looking up into the arms and faces of big men, all very determined not to weaken in the face of the inexplicable. Lots of glancing over their shoulders or posing with other big men, ready for action. Lots of shots of big men trying not to look frightened out of their wits. Lots of shots of big men looking frightened out of their wits, their ability to explain and rationalize an unexpected enemy gradually whittled down, as are their numbers.
I couldn't help thinking that Predator would have made a great comic book, which as you may or may not know (I didn't until I researched it), it did – a few years later. It's a reversal of what has since become commonplace.
The really cool thing about the screenplay is what it doesn't say. Instead of a verbal explanation, McTiernan shows us point-of-view shots that amply show Predator learning – first human tactics, then our language. Not content with this coup, writers Jim & John Thomas eventually reveal that our extra-terrestrial interloper is a hunter in search of a worthy adversary.
The Score Card
The Movie : 8
A team of crack commandos arrive in the jungles of some undesignated Latin American country, ostensibly to rescue some sort of "cabinet minister" from the hands of some nameless rebel group. But when they come upon several men hanging from a tree upside down and skinned, they realize that the opposition is not simply a group of terrorists, however well armed. Such as they are, said "rebels" are dispatched by our stalwart team in a fury of gunfire and explosions. There is only one survivor, and she is a great deal of trouble (perhaps not as much as Mrs. Pedecaris). Little by little their true adversary is revealed, both to them and to us. Predator is a hunter, something like General Zaroff in Richard Connell's The Most Dangerous Game. In this, he is not unlike Schwarzenegger's character, Dutch, who is sick of the politics of cold war assassinations and steps up to the plate offered by Predator with zeal and smarts. It's a good match.
Image : 8.5 (6~9/9)
The score of 8.5 indicates a relative level of excellence compared to other Blu-ray DVDs on a ten point scale. The score in parentheses represents: first, a value for the image in absolute terms; and, second, how that image compares to what I believe is the current best we can expect in the theatre.
I gave up on any hopes for an acceptable image on video long ago, finding it all too often a montage of smoke, sweat and grain. . . lots of grain. Not so, here. Oh, there's plenty of smoke, sweat and grain. There are even some frames whose grain/noise structure is evidently messed with. We can see it plainly on Pause e.g.: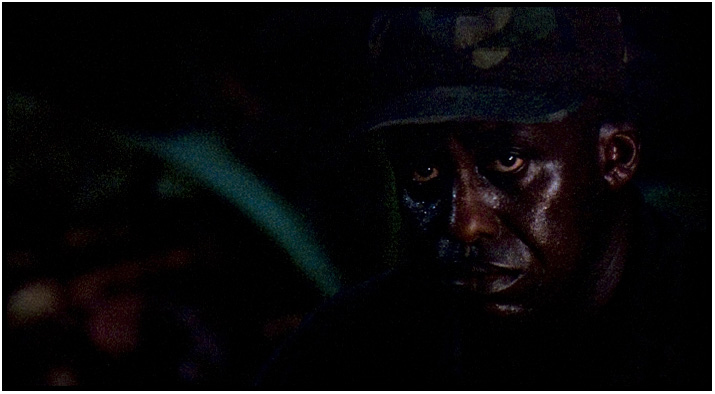 But most of the time it isn't all that much different from the theatrical showing. More likely, the image will be sharper and more coherent here than you would have seen it twenty years ago simply because the projectionist would have been asleep at their job. (A picture such as this is hard to focus on, and many projectionists don't think to focus on the credits.)
Comparisons with the 2004 "Widescreen Collector's Edition" SD are striking. While bit rates tend to be only in the mid-20s or so for the BRD, the SD image is thinner, brighter (for all the wrong reasons) and greener (the BRD might even be a little too red). The Blu-ray picture does not hesitate to get dark, confident that it will not simply noise-out. Differences in color and image density are tangible. Improved resolution is as you would expect. I trust these screenshots will demonstrate the facts of the case.
Blu-ray Subtitle Sample
SD TOP vs. Blu-ray BOTTOM
SD TOP vs. Blu-ray BOTTOM
SD TOP vs. Blu-ray BOTTOM
More Blu-ray
Captures
Audio & Music : 8/9
From the outset, Alan Silvestri strikes the right mood. I felt like I was at a performance of Wagner's Ring: Mythic, Teutonic forces are at work here. I thought the audio was more dynamic than the SD, though there is at least one instance of the bass being enhanced on the BRD to a point where it loses punch. My feeling is that "dynamic" is generally to be preferred to "bass" for the sake of bass.
Operations : 7
Fox lets us get right to the menu before we even have a chance to return to our seats. Chapters are titled, but thumbnails do not enlarge.
Extras : 1
Look ma, no Extras! Well, none to speak of, anyway: only a handful of theatrical trailers - in HD, at least.
Recommendation : 9
This Blu-ray is the best you're going to see this for some while to come and very likely better than what you saw in the theatre twenty years ago. But do try to see this on a front projection system with all the trimmings. Highly Recommended, despite the high retail and absence of Extras.
Leonard Norwitz
LensViews
March 29th, 2008